If you have a general interest in "the tech industry" but you aren't sure what tech careers are available and what they involve, this is the podcast episode you need!
Disclosure: I'm a proud affiliate for some of the resources mentioned in this article. If you buy a product through my links on this page, I may get a small commission for referring you. Thanks!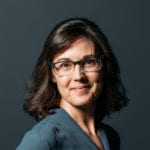 Londa Quisling, currently the Chief Product Officer at Treehouse, has over 20 years' experience leading product development at high tech start-ups and Fortune 500 companies. She also mentors TalentPath apprentices from underrepresented groups who are pursuing computer science careers. With all of this experience, Londa has a firm grasp on what kinds of tech careers are out there and what they entail — and she's sharing the details in today's episode!
The tech careers list below is split up first by category, and then by role. It spans from straight development to tech data careers to the best IT jobs. While this is by no means an exhaustive list of all careers that involve technology, it's a great starting point!
Web Development
There are actually multiple sub-types of web development, depending on what "side" of the site you're working on. Let's look at the three types of tech jobs you can get if you want to be a web developer!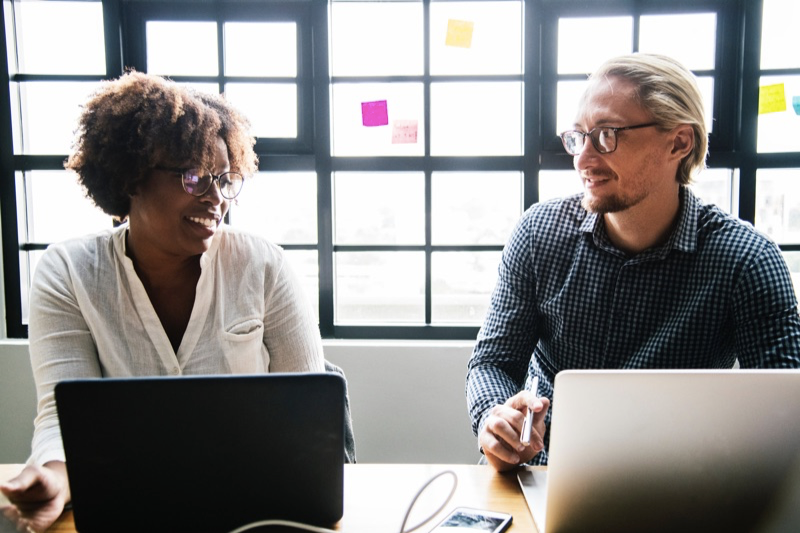 Tech Career #1: Front-end developer
Front-end developers work on the side of the site that a user sees in their browser.
"A front-end developer will usually be learning HTML, CSS, and JavaScript," Londa explains. This makes it one of the more beginner-friendly tech careers, as these three languages are often considered the best languages to start with.
📖 For more info on what it takes to be a front-end developer, see the comprehensive guide here!
Tech Career #2: Back-end developer
On the flip side, back-end developers work on the "behind the scenes" part of a website. They write the code that powers the site but that users don't see directly.
"Back-end developers are working with business logic and data on the server side and serving up all that data to the front end to deliver to the user," says Londa.
📖 If you want to learn more about back-end development, check out the beginner's guide to back-end developer languages.
Tech Career #3: Full-stack developer
Full-stack developers are capable of handling back-end and front-end development. It's more to learn, but it helps expand your options as a jack-of-all-trades. Build websites and apps start-to-finish, take on a development team leadership role, or get jobs or clients on either side of the development world. Python and JavaScript are great languages for aspiring full-stack developers to learn, as they can be used on either end.
💻 Where to learn web development on Team Treehouse:
📖 For a comprehensive list of platforms and course reviews, see The Best Places to Learn Web Development Online.
🎧 Interested in getting a sneak peek into what transitioning into web development is really like? On previous episodes of the podcast, hear from these two women who changed careers into web development:
Design
Similarly, there are three sub-careers within the design category. Let's take a look!
Tech Career #4: User experience (UX)
UX, in a nutshell, deals with how a user interacts with a company's products and services. The front end of a website might be coded by a developer, but first, the interface is designed by UX specialists.
"We have a killer design team here at Team Treehouse," says Londa. "They're highly creative, they're very close to understanding user problems, and what types of use cases they're developing for. And then they'll work in design tools to mock up what an interface might look like. And then they usually will hand that over to a front-end developer."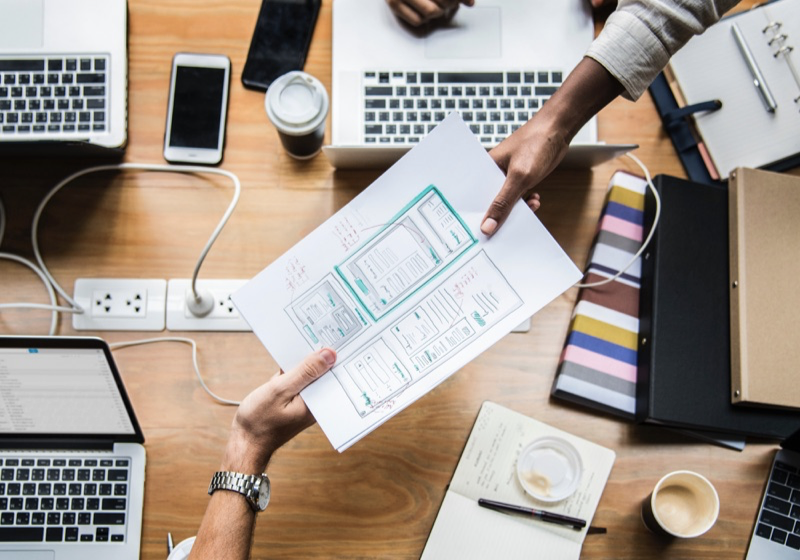 💻 Where to learn UX on Team Treehouse: UX Design track
📖 Read more about UX design on LTCWM!
Tech Career #5: User Interface (UI)
Newcomers to the design field are often confused about the difference between UX and UI. In short, UX primarily deals with how things work, while UI is strictly about the visual elements of how things look.
A UI designer works on the appearance of screens, pages, buttons, icons, and the other elements of a product or website.
💻 Where to learn UI: User Interface Design Specialization on Coursera

Tech Career #6: Product Management
Product management isn't just a design-based role. However, UX design in particular "overlaps a lot with product management," says Londa. "Our product management team helps us understand what we should build next, the problems that we're trying to solve, or the opportunities that we're trying to bring forward with applications and new features or new product."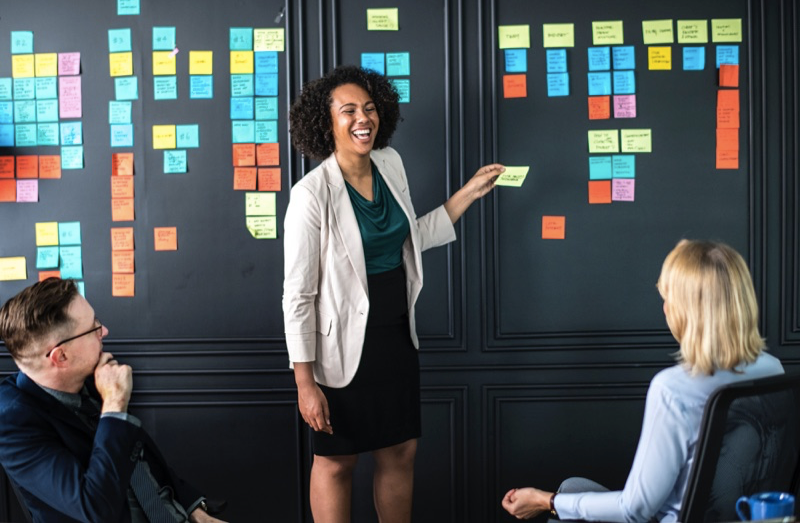 This role is a tech industry "bridge" where it's not strictly technical, but technical knowledge and expertise is necessary to help guide decisions.
According to Londa, product management often involves "Doing a lot of early user interviews and research to understand what is the problem and how we might solve it, surveys, getting data from multiple users and the market, interviews where you're actually calling a prospect or user up and asking them a series of questions, putting mockups or designs in front of the user, and asking them what they think. Then, the process will usually move into basic UX design mockups, whether that's wireframes or prototypes, but they're usually low fidelity, very quick graphics or screen prototypes, they can put it front of users and stakeholders to get feedback."
All of this happens before moving into the final design and development stages. It allows a team to get a sense of what's working and not working before devoting too much time to a single iteration.
🎧 A product manager on the podcast: S3E4: Software Product Management and Building a Startup with Sam Gimbel!
Data
Within tech, data careers are highly lucrative. There are two main types of data tech jobs: analysts and scientists.
Tech Career #7: Data analyst
Data analysts will be usually given a data set to work with, then use reporting tools like Mode or Excel to help identify key insights, and lastly create reports for all different departments within a business to help make business decisions. If you're coming from a background like finance, you'll have an easy transition.
💻 Where to learn on Treehouse: the data analysis course library
🎧 A data analyst on the podcast: How to Get Started in Data Analytics with Ben Collins
📖 For more, read What Is Data Analysis and How Can You Start Learning It Today? on the blog.
Tech Career #8: Data scientist
A data scientist is a more advanced data role. They need a background in statistics and mathematics. According to Londa, they do more predictive analysis than after-the-fact data sorting. "Many products will have end users, and they're trying to understand how the user uses their product, and what features are most popular and how to drive certain adoption," she says.
"The data scientists are behind the scenes, predicting what the trends will be."
💻 Where to learn on Treehouse: Data Science Basics
🎧 Data scientists on the podcast:
Software Testing
Tech Career #9: Software tester/quality assurance engineer
This can be a hybrid role, but the two may also be separate. Software testers guarantee the viability of a product by thoroughly testing it before it goes to market. This doesn't necessarily require complicated technical knowledge, as you'll spend a lot of time thinking like a user. "It's a great entry-level role into a development team to go the software tester route," says Londa. This makes it a natural transition for someone in a customer service role in a company, who already has an intimate knowledge of their products and users.
A quality assurance engineer might be a bit of a step up from a pure software tester, as they're often in their own right developers and coders too. "These are individuals that are dedicated to both understanding the requirements really well, creating the acceptance criteria and the test plan, and execute the tests when software is developed," Londa says.
💻 Where to learn on Treehouse: Quality Assurance course selection
IT/Operations
People in IT careers are responsible for the internal technology of a company. In other words, the department doesn't deal with the customer-facing product or service, but with the technology used by the company itself, from servers to email to software. Within an IT/Operations team, there are usually several roles.
Here are a few of the best IT jobs:
Tech Career #10: System administrators
"System administrators are the ones that actually manage all the servers and the operating system and software installed on the servers," says Londa.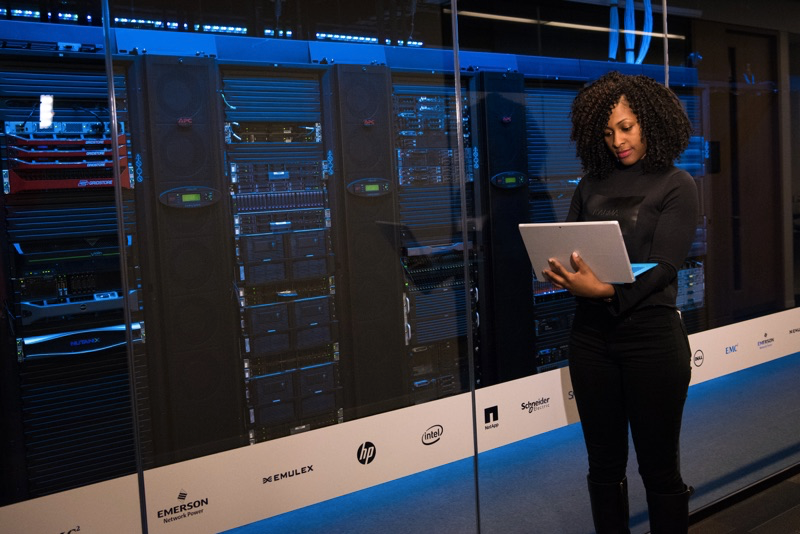 🎧 A Salesforce sysadmin on the podcast: High School Dropout to Salesforce Admin with Zac Otero
Tech Career #11: Database administrators
"They're responsible for managing all of the databases that may exist on the systems that the company is running," Londa explains. "That includes making sure that it's running the latest up-to-date software for that database, that it's secure, that they're running daily, or that they're creating incremental backups and have a restore policy. So there's a lot of highly technical stuff with database administrators."
Tech Career #12: DevOps
Originating from a mashup of the words "development" and "operations," DevOps is a relatively new field. "It really bridges the gap between the development team and the operations team," Londa says. "They help make sure that the production servers of the company's software are up and running, and that you can publish your code to those servers."
🎧 DevOps on the podcast: How to Break into a Devops Career with Nicole Forsgren
Tech Career #13: SREs (Site Reliability Engineers)
This is a more advanced role, but it's very in-demand right now, because every company needs reliable websites and applications. "They usually come from a highly technical development background," says Londa. "They understand what it means to run applications at scale, and how to scale out systems so that you can handle more and more users that you're delivering it under a certain SLA or level of quality."
🎧 SREs (and related careers) on the podcast: Careers in Security with Veracode Co-founder Chris Wysopal
Tech Career #14: Cybersecurity
Cyberattacks are becoming more and more common, which makes it crucial for companies to protect themselves. There are many different job types under the cybersecurity umbrella, and the demand is extremely high, with 350,000 unfilled positions right now and an estimated 3.5 million by 2021.
💻 Where to learn on Treehouse: Security course selection
📖 Learn more about cybersecurity careers on the blog!
Bonus: "Middle skills" jobs
The terminology here is "in reference to the growing technical complexity of many roles that traditionally weren't technical," says Londa. "So even if you aren't aspiring to get a career in tech, having basic technical skills is very useful if not becoming a requirement in many roles and companies."
Here are some examples of non-tech departments that increasingly need staff with technical expertise:
Joe Previte is an example of a self-taught techie who was able to fill a gap in a non-technical department. "My first full-time job in tech was in digital marketing," he says. "How did I get it if I didn't have previous experience or a degree in the field? Simple: they hired me because I knew how to code. When offering me the job, my boss wanted me to serve in a hybrid role of marketing and web development. I even negotiated a higher salary because of my self-taught tech skills."
Pursuing these "middle skills" roles is a great way to transition into tech. "If you see a gap that needs filling, pitch it to your managers!" Londa suggests. "A lot of times, you can actually create your own role by understanding the need, and then figuring out how you would develop the skills that would allow you to address those pain points."
Ultimately, learning new tech skills allows you to "future-proof" yourself and make yourself more valuable to employers, and knowing the different types of jobs in tech will help you narrow down your focus. "I see opportunity everywhere," says Londa. Do you?
Links and mentions from the episode:
Where to listen to the podcast
You can listen to the Learn to Code With Me podcast on the following platforms:
If you have a few extra minutes, please rate and review the show in iTunes. Ratings and reviews are extremely helpful when it comes to the ranking of the show. I would really, really appreciate it!
Special thanks to this episode's sponsors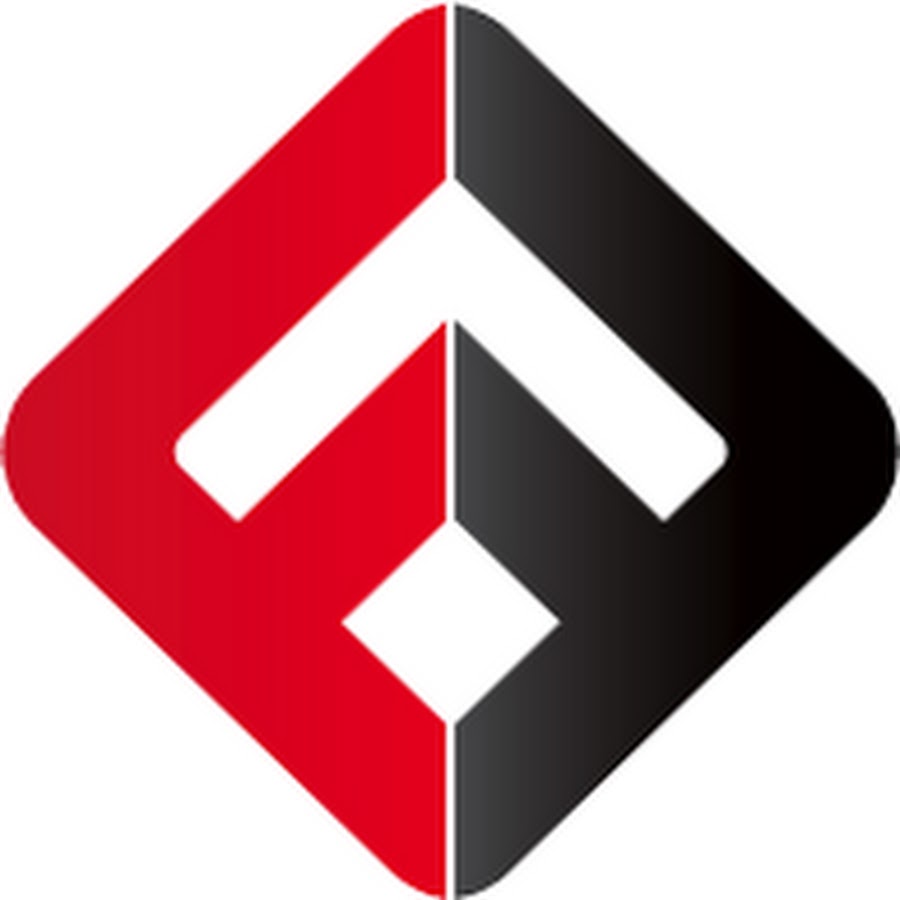 Fullstack Academy is a leading coding bootcamp that helps great people become great developers at top companies like Google and Facebook. Learn to Code With Me listeners get access to their comprehensive JavaScript course–for free. Visit fullstackacademy.com/learn to get started.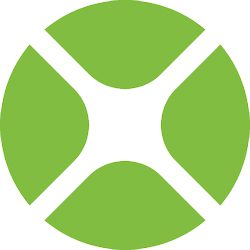 Xojo: Want to create native apps for desktop, mobile, web, and Raspberry Pi–all at the same time!? Xojo is a cross-platform development tool that makes building apps easier and faster than ever. Check out xojo.com/learntocode and get 20% off with the coupon code ICANCODE.