Not only is learning to code difficult, knowing where to learn is, too.
It can be overwhelming. And it's easy to spend too much time researching…and not enough time taking action.
That's why I created this "where to learn" page.
But before we get into it, let me introduce myself…
My name is Laurence Bradford. I am the creator of learntocodewith.me.
Here I am at my "home office". (It can get a little crazy sometimes…)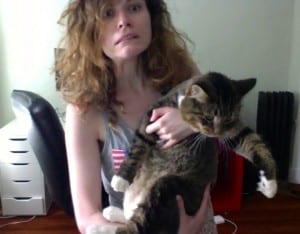 Yes, I am a girl.
(Don't worry, it's not your fault. Blame my parents for giving me such a misleading name.)
Now that we cleared that up…let's get to the good stuff!
If you are TOTALLY new, like you have *no idea* how the internet works or what a text editor is, stop reading.
Instead here's what I want you to do:
Go to my getting started page. Here you will learn how the internet works and what a text editor is and much more.
Learn about how the internet works, the difference between clients and servers, the different use cases for languages, etc.
When you have a basic understanding, go to Codecademy
Take their HTML and CSS Track (you do not need to finish the entire thing)
If you're not diggin Codecademy, go to my recent article featuring 45 places to learn to code for free and see if any there spark your interest for learning HTML and CSS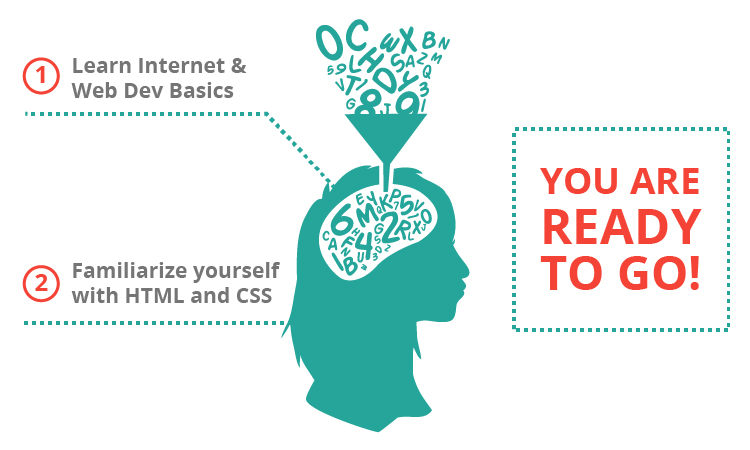 Why am I doing this? Because a lot of the materials cost money below. And if you are totally new, there is no reason to spend money on a coding course platform…yet.

In-depth platform overviews
A deep dive into some of the most popular learn to code platforms. (Only my favs!) Also – they are arranged in alphabetical order. :)
Code College, created by Brad Hussey, offers several frontend courses as well as a few more comprehensive courses on web development. While it doesn't offer a wide variety of options like some of the larger platforms, students love the Code College material. It also gets you up and running quickly.
Code School is all about web development. It's all video-based learning, with code challenges between lessons. Code School has courses as well as "paths" you can follow—like the "Ruby path".
Coursera is an online platform that aggregates courses from top universities around the world. They offer individual courses as well as specializations. Coursera also grants certificates upon program completion that you can easily showcase on your resume and/or LinkedIn.
Lynda is a massive online learning library with over 3,700 video courses at the time of writing. And they are always adding more. Topics range far beyond web design and development. They have courses from illustration to public speaking.
One Month is ideal for those who want to build their own "thing". Whether that "thing" is a business, app, or new career. Aside from teaching programming and web development, they also have marketing courses and others that relate to "building".
Team Treehouse has a solid course library. Their material has an emphasis on web development and design. However, they also have some business and "digital literacy" courses. They offer individual courses as well as recommended tracks to follow, like "web design".
Udemy has 35,000 courses and counting. Unlike other platforms, anyone can upload and sell a course on Udemy. Offerings on the platform cover a variety of topics from knitting to programming. Prices range from free to $300 per course. On Udemy there is something for everyone.

Individual course reviews
Individual course reviews by yours truly <3 <3 (Tried and tested.)
9 of the Best Web Dev Courses on Udemy
A look at the nine highest-rated web development courses on Udemy. Course topics range from HTML and CSS to NodeJS.
My experience taking the One Month Rails course. Even though I don't do RoR today, I enjoyed it.
Team Treehouse JavaScript Basics Course
A review of my experience in the Team Treehouse JS Basics course.
Resources on building custom Tumblr themes are limited. GA Dash has one of the few Tumblr theme tutorials out there. Even better? It's free.
Udacity's Intro to Object Oriented Programming
One of my older reviews of a Python course on Udacity. Note: Udacity has a changed a lot since I took the course.

Other helpful "Where to learn?" resources
Even more shizzle about where to learn how to code online (and offline, too).
45 Places to Learn to Code for Free
As the name says: 45 places where you can learn to code online, for absolutely free. The mega list is broken down into sections including HTML and CSS, the command line, Python, and more.
The Most Epic Guide to Online Coding Bootcamps, Ever
This guide looks at eight online coding bootcamps. Aside from covering basic information on the programs, I also included insights from previous students. It's a can't miss!
17 Places Where Women Can Learn to Code
This article features 17 in-person and online organizations where women can learn to code. It even has a special section for girls (that is, those in high school and middle school).
Treehouse vs. Udemy: Which is better?
In this guest post by Lee Hughes, the differences between learning on Team Treehouse and Udemy are considered. Lee covers the pros and cons to each platform.
Learning Tools for Graphic Designers
Taken from the LTCWM advice column, this short article discusses where graphic designers can learn how to code. It takes into consideration more design-related platforms.
…EVEN MORE "Where to learn" resources
Hi, overachievers. Not satisfied, huh? Well…here are even more, "Where should I learn how to code?" articles/guides. Vetted by yours truly <3
Programming Books
The Ultimate List of Programming Books on Simple Programmer
In this article by John Sonmez, he breaks his book recommendations into a few categories including foundational, professional development, architecture based, agile, and more.
The 8 Best Programming Books to Read Right Now if You Want to Distinguish Yourself on Coding Dojo
8 of the must-read programming books for people who want to set themselves apart and become a coding powerhouse. Book recommendations include ones on how to master interviewing to web usability.
100 Best Free Programming Books on Devzum
100 of the best and free programming books. Sorted based on programming language, such as JavaScript, PHP, C++, and more.
In-person Coding Workshops and Events
13 Meetup Groups You Need to Join If You're New to Tech on Skillcrush
Written by Liz Eggleston, this article highlights 13 meetups for those who are new to the world of tech.
Learn To Code In Person: 9 Local Resources on Code Conquest
Featured on the Code Conquest blog, this article covers nine places where you can learn how to code in real life.
Coding Bootcamps
The Comprehensive 2014 Guide to Coding Schools and Bootcamps (and How to Choose One) on SwitchUp.org
This in-depth guide, written by Jonathan Lau, features the top 33 coding bootcamps from around the globe. The SwitchUp "method of analysis in creating this shortlist takes into account in price, location, job support, alumni reviews, instructor quality, and several other important indicators of quality."
10 best coding bootcamps for those on a budget on The Next Web
This post on The Next Web looks at 10 budget-friendly coding bootcamps. It highlights other relevant information.
Learn to Code Now: How to Pick the Right Dev Boot Camp for You on Daily Muse
This article helps you work through the questions you'll need to answer before choosing a bootcamp to attend, such as language, learning style, budget, location, and more.
Have an awesome resource that you think should be included? Hit me up at laurence@learntocodewith.me. Only truly amazing articles/guides/books/videos will be considered.