Everyone always talks about the lack of women in tech—and I can't argue with the statistics. But it doesn't have to stay that way!
These days, there are more resources than ever to help women break into the technology industry. Let's explore some of the awesome places where women and girls can learn to code (oftentimes at little or no cost!).
It's broken down into three sections: intensive bootcamps, classes and workshops, and coding for girls under 18.
Table of Contents
Start coding now
Stop waiting and start learning! Get my 10 tips on teaching yourself how to code.
Intensive Bootcamps
1) Ada Developers Academy
Website: adadevelopersacademy.org
Course: Software development
Price: Free
Duration: Seven months of intensive in-class instruction, followed by five months of internship (one year total)
Location: Seattle, WA
Ada is a long-term females-only developer academy lasting a full year. The first six months take place in a full-time classroom setting, while the latter six months involve on-the-ground training.
It is a sponsor-supported initiative, with many big-name contributors, including Amazon, Zillow, EMC, and others. At Ada, you learn Ruby, Rails, HTML and CSS, JavaScript, Git, and Source Control.
While it is a free program, realize that you will still need to cover living expenses and any relocation fees if coming to the Seattle area from elsewhere.
2) Hackbright Academy
Website: hackbrightacademy.com
Courses:
Full-Time:
Software Engineering Fellowship
Part Time:
Intro to Programming
Front-End Development
Full-Stack Development
Price: $3,000 for part-time, $15,000 for full-time
Duration: 10 weeks
Location: San Francisco, CA
Hackbright Academy is a females-only developer bootcamp based in San Francisco. They teach Python and have both part-time and full-time offerings. Part-time offerings include front-end web development and back-end development. Hackbright also has a full-time Software Engineering Fellowship that combines both front-end and back-end learning.
However, Hackbright's courses will cost you a pretty penny. By far Hackbright is the most expensive option on this list.
3) Skillcrush
Website: skillcrush.com
Courses:
UX & Web Design
HTML & CSS
JavaScript
jQuery & APIs
Intro to WP
Ruby, Git & Sinatra
Price: Career blueprints cost either three monthly payments of $149 or a one-time payment of $399. (So, if you choose the latter, you save $48.)
Their individual classes are $175 apiece.
Duration: Three months for blueprints, three weeks for individual courses
Location: Online
Skillcrush offers entirely online learning.
They offer two types of courses. The first is a three-month-long "career blueprint," targeted at preparing you for the career you desire. Blueprints offered include web designer, web developer, and freelance WordPress developer. You could also choose individual classes (or a free 10-day bootcamp).
Skillcrush is about empowering all kinds of people from varying backgrounds—nationality as well as gender. While women make up the majority of their student population, about 25% of the online class takers are men.
Check out other similar intensive online courses here.
Classes and Workshops
4) Codebar.io
Website: codebar.io
Courses:
HTML & CSS
JavaScript
Ruby or Python
Price: Free
Location: London, Brighton and Cambridge (UK)
Upcoming events: Join their in-person workshops here.
UK-based Codebar offers free weekly coding workshops for those under-represented in the tech industry—catering primarily towards women and LGBTQ communities.
Their London and Brighton events typically gather 20-30 women per week to engage in free one-on-one or one-on-two mentoring in HTML, CSS, and Javascript.
They also have free learning material online, covering HTML, Version Control, JavaScript and Ruby.
5) Code First:Girls
Website: codefirstgirls.org.uk
Courses:
Beginners' courses:
HTML
CSS
JavaScript
Git
GitHub collaboration
and more front-end programming
Advanced/Follow-on courses:
Python or Ruby
Rails
Sinatra
Heroku
other frameworks (back-end programming)
Price: Free
Duration: Courses are taught in two ways. The standard option is taught in the evenings for six to eight weeks. You could also choose a summer-intensive option, which packs the learning into only four weeks.
Location: UK
Upcoming events: You can find out more information on their event page here.
Code First:Girls is strictly in the UK. (But it sounds like a really cool group; I wish I had this option when I was in college!)
Please note: In order to apply for a university course, you must be a student at the university. Only CodeFirst:Girls' General London and summer-intensive courses are open to graduates up to three years out of university.
Mainly, CodeFirst:Girls holds free workshops for girls at college campuses. These classes take place for two hours a week and last for 4-6 weeks.
The organization has other things going on as well. This past summer they also offered a hack school (a longer-term summer program) for girls. Additionally, CodeFirst:Girls hosts career talks for women interested in getting into the tech industry.
6) CodeChix
Website: codechix.org
Courses:
Algorithms and Data Structures
Languages
Hardware/Firmware
Operating systems
Price: Free (or affordable)
Location: Three locations around the US (and growing):
Upcoming events: Join their in-person workshops in one of their three locations.
Founded in 2009, CodeChix hosts events that are sometimes female-specific, sometimes open to all. (Check the event listing in advance to make sure!)
According to the website, a few of their workshop topics include:
"Wikipedia's Operations Infrastructure, Algorithms and Directed Acyclic Graphs, Mobile/Graphic Design for Engineers Workshop, Toy Robotics: My little Pleo, OpenShift Workshop, and Android Installfest & App Building 101."
Aside from those above, they have a long list of other workshop topics. Unlike other organizations on the list, CodeChix is primarily geared towards female engineers.
7) Girl Develop It (GDI)
Website: girldevelopit.com
Courses: The GDI core curriculum is as follows:
HTML + CSS (part I and II)
JavaScript
Intro to Git & Github
Web Accessibility
All chapters teach the core courses at minimum, but at many GDI chapters, you can also find additional courses on widely varying topics like Sass, content strategy, and even SEO.
Price: Varies, depending on the workshop; typically ranges from free to $90
Duration: Workshop lengths are different from chapter to chapter, but typically last between two and eight hours. Workshops can either be a one-time thing, or involve multiple sessions.
Location: 47+ chapters across the US and now in Canada
Upcoming meetups: You can check out their upcoming events by clicking your preferred city.
GDI offers affordable web-development classes for women. (However, men can attend if desired.) Some of their events are even free! GDI has chapters across the US, and they just keep on growing! Seriously, every time I head back to their site I see that new chapters have been added.
8) Ladies Learning Code
Website: ladieslearningcode.com
Courses:
Digital Drawing
HTML & CSS
Video Creation
WordPress
Game Design
Price: About $50 for a workshop
Duration: 3 to 16 hours
Location: Cities across Canada
Upcoming workshops: Find out what schedule and location best suits you by checking out the upcoming events on their homepage.
Ladies Learning Code is a part of Learning Labs, an organization that also includes Girls Learning Code, Kids Learning Code, and other groups promoting computer education.
Ladies Learning Code has in-person classes in 18 cities around Canada. Course topics vary, but mostly focus on front-end web skills like CSS and jQuery.
9) PyLadies
Website: www.pyladies.com
Workshops: Vary based on location
Price: Free or affordable
Locations: Dozens of locations both inside and outside the US. View the full list here.
Upcoming events: Check out your chosen location's meetup page
Description:
In the most general sense, PyLadies offers support and networking for women in the Python community. It welcomes all levels of programming knowledge, from beginners to seasoned experts.
With PyLadies, the groups have a lot of autonomy. Each chapter decides their own workshop topics—or whether to even have workshops. Some groups use a more formal approach with classes, while others prefer hosting social events. Contact your local chapter to learn more about what they offer.
10) Rails Girls
Website: railsgirls.com
Workshop:
Price: Free
Location: Worldwide
Upcoming workshops: Check out their upcoming events here.
As the name reflects, Rails Girls is a Ruby-on-Rails-specific workshop. Their gatherings generally last one or two days. Boys can attend, but must accompany a girl. (Also, girls are given first priority when registering.)
The organization has events literally all over the world. In fact, a lot of the Rails Girls workshops don't even take place in the US.
11) RailsBridge
Website: railsbridge.org
Workshops:
Rails
Frontend
JavaScript
Ruby
Price: Free
Location: US and some countries outside
Upcoming events: Check out their upcoming events in all chapters here.
RailsBridge is very similar to Rails Girls: it's a free Ruby on Rails workshop, lasting one or more days in duration.
I attended a RailsBridge workshop in Cambridge, Massachusetts last year. The event was entirely free, including food, beverages, and even child-care. (However, I am not sure if all RailsBridge workshops are like this.) RailsBridge is for women only, but guys can attend with a gal, just like Rails Girls. At the event I went to, there were a few guys in the room. But nothing close to the number of girls.
Beyond workshops, RailsBridge has ongoing chapters in some cities. These appear to be primarily study groups.
12) Women's Coding Collective (WCC)
Website: thewc.co
Courses:
HTML Website Basics
CSS Basics
CSS Layouts
Search Engine Optimization
Javascript with JQuery
WordPress Basics
PHP Basics
Price: Online classes $50 apiece
Duration: Two weeks for online classes
Upcoming meetups: Join their meetup for in-person courses and events.
This is one of the few on this list that has online coding classes. And when they say women only, they mean women only!
Aside from their online learning offerings, the WCC has a thriving Boston Meetup group. The in-person WCC workshops they offer vary from mobile app development to building a website. Oftentimes the workshops get sold out. So they must be pretty awesome!
(Get $17 off your first WCC online class HERE!!)
Coding For Girls
13) App Camp For Girls
Website: appcamp4girls.com
Course: App Development
Price: $375 USD (and $375 CAD in Vancouver)
Locations:
Vancouver, BC
Seattle, WA
Portland, OR
Martinsville, NJ
Age Range: Middle school (8th and 9th grade)
Description:
App Camp For Girls is a non-profit organization, headquartered in Oregon, that offers summer camps for middle-school girls.
It teaches girls each phase of app development, from brainstorming to the actual app-building, all in one week.
The camp also calls itself a place where women can network and support each other as they volunteer to mentor the campers.
14) Black Girls Code
Website: blackgirlscode.com
Courses:
Workshop topics include:
JavaScript
Mobile App Development
Build a Game in a Day
And others
Price: $35 per student
Location: Cities across US
Age Range: 7 to 17 years old
Upcoming events: You can register on their website here.
Since launching in 2011, Black Girls Code has hosted multiple hackathons and learning expos across the country. The events primarily take place in large US cities such as Brooklyn, Chicago, Las Vegas, Memphis and others. Their events always happen on one day and generally last the full day, from 10 a.m. to 4 or 5 p.m.
According to the founder, Black Girls Code provides:
"young and pre-teen girls of color opportunities to learn in-demand skills in technology and computer programming at a time when they are naturally thinking about what they want to be when they grow up."
15) Girls Learning Code
Website: ladieslearningcode.com/program/girls-learning-code/
Courses:
Variety of topics:
HTML & CSS and Ruby
Image editing and blog creation
3D printing and hardware hacking with arduinos
Price: Vary depending on program
Location: Across Canada
Age Range: 6 to 17 years old
Upcoming events: View all their upcoming events here.
Like Ladies Learning Code, Girls Learning Code is part of the Learning Labs organization.
Girls Learning Code has workshops as well as after-school programs. While the single workshops are more affordable (around $60 give or take), the after-school program runs at around $355. Of course, the after-school programs are longer term, lasting 12 weeks.
Lots of these workshops are hosted in conjunction with Kids Learning Code, another Learning Labs program. For more info on Girls Learning Code and Kids Learning Code, check out this article about Kathryn Barrett, one of the course-content developers.
16) Girls Who Code (GWC)
Website: girlswhocode.com
Course: Computer Science Education in summer immersion programs and after-school clubs
Price: Free
Duration: Seven weeks for the summer immersion program and 40 hours per school year for the club
Location: Several cities across the US, such as Boston and New York
Age Range: Sophomores or juniors in high school (summer program) or 6th-12th grade girls (clubs)
Girls Who Code is a US-based organization that has been featured across news outlets as a voice promoting girls in technology. GWC has two kinds of programs: their summer immersion program and an after-school program.
Their summer program is full-time and lasts for seven weeks. It is strictly for girls in their current sophomore or junior year of high school, and combines instruction with mentorship.
To learn more about the Girls Who Code experience, check out Bernice's story. She attended the 2014 GWC summer immersion program in Boston and has since started a GWC after-school club.
17) TechGirlz
Website: techgirlz.org
Courses: Workshops and Summer Camps
HTML & CSS
Linux
Game Design
and more
Price: Free for the workshops, $250 for the camp (partial scholarships are available too)
Location: Predominantly eastern Pennsylvania
Age Range: Middle school
Upcoming workshops: Applications for the 2015 summer camp are now closed, but check out their upcoming events here.
TechGirlz is a non-profit organization primarily based in the Philadelphia area. However, they have "TechShopz" that take place around the US.
TechGirlz events are always completely free of charge and cater to middle school girls specifically, although younger girls do sometimes attend. TechShopz usually occur on a Saturday afternoon for a few hours. Instruction topics differ, but include everything from Scratch and Raspberry Pi to building video games.
To wrap things up, here is a table looking at all 17 women-friendly organizations.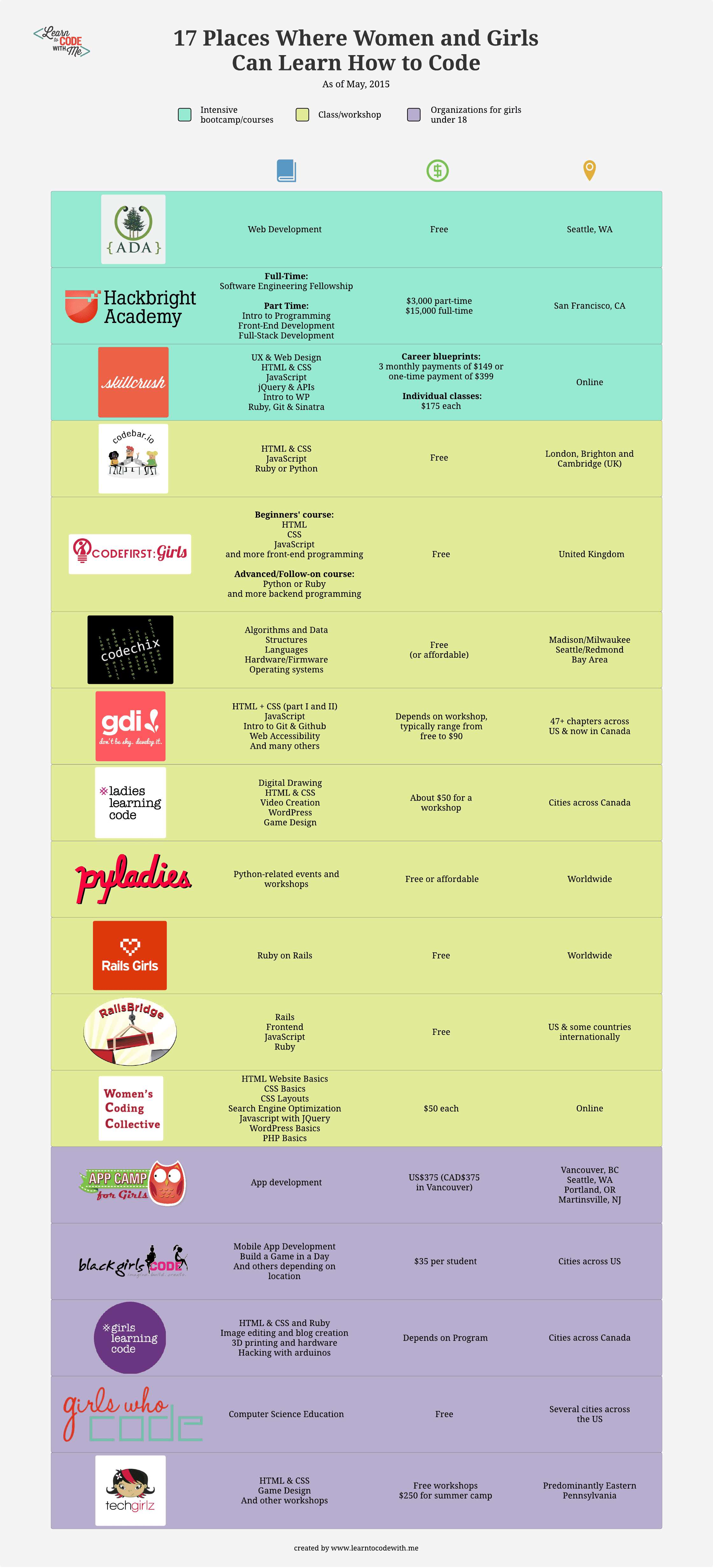 With so many options out there, it should be a breeze to find resources in your area to help you learn coding. Even if you live in the middle of nowhere, miles from a city, that's what online workshops are for! So what are you waiting for!? Check out one of these groups TODAY!