With some companies announcing "WFH forever," extending remote work until later on in 2021 or offering flexible schedules where remote work is more accepted, you may want to create a more efficient workspace in your home.
Or if you work as a freelancer, you may want to create a space in your home where you can get your work done more effectively.
Before we get started on home office product ideas, I want to clarify that you don't need a whole separate room to build yourself a cool home office! If you can carve out a corner of your living room, bedroom, or kitchen to dedicate to a small home office setup, you can still benefit from some quality home office furniture and accessories.
In this article, I'll go over some of the key things you can use to turn any area of your home into an office—including home office furniture like the best desks for home offices and the best home office chairs, things you need for a dual monitor setup, the best keyboards for programming, and much more.
We'll also look at "nice-to-have" things to keep you productive, energized, and comfortable in your home office, like desk accessories and home office decor.
Let's dive in!
Table of Contents
What Do You Need for a Home Office?
I'm going to start by recommending the most important home office essentials (e.g. desks and chairs!) to get an ergonomic workspace set up, then progress to categories like workstation setup, lighting, storage, and decor. I'll be mentioning some of the products that I personally have, but for more details, go check out my home office tour!
Disclosure: I'm a proud affiliate for some of the resources mentioned in this article. If you buy a product through my links on this page, I may get a small commission for referring you. Thanks!
Best Desks for Home Office
Your desk setup will be one of the most important decisions you make, as it will be the center and ultimate computer station of your home office. Let's go over the different kinds you can choose from!
Normal desks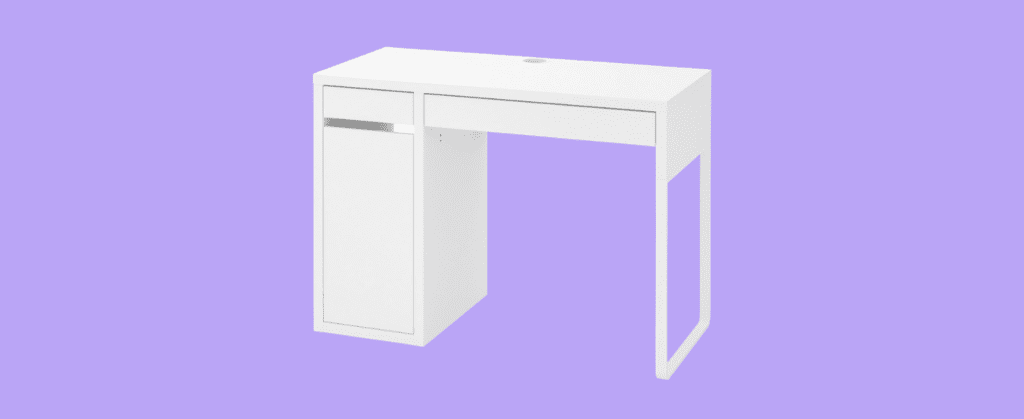 A traditional desk is a great option if you like to stay seated while you work and don't want to spend a lot of money. If you're looking for small home office ideas, another perk is that most normal desks have built-in storage like drawers and shelves—which standing desks typically don't have.
Some options to consider that won't break the bank:
If you want to rework your desk setup later on and work at a raised desk, you can always get a standing desk converter:
Best stand-up desk (or sit-to-stand)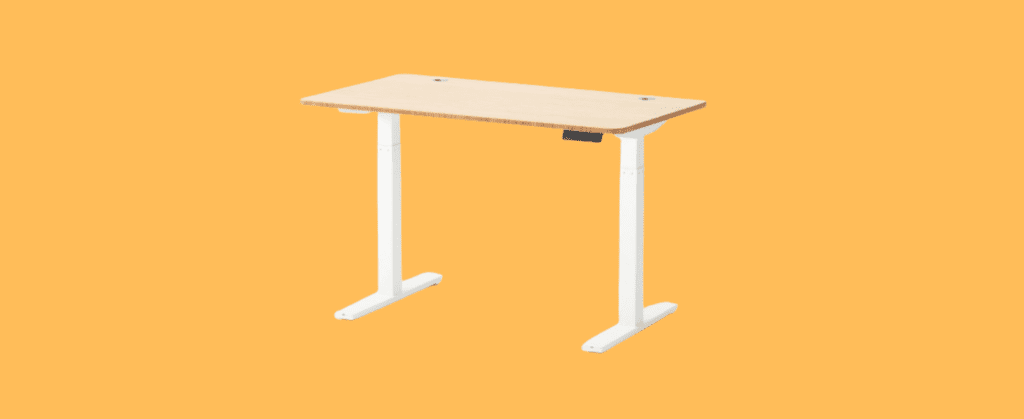 Within the category of stand-up working stations, there are a few different kinds to consider.
Sit/stand workstations, also known as adjustable desks, offer the best of both worlds, with a desk that raises and lowers so you can change between standing or sitting in a chair while you work. These are pricier, but come with a lot of flexibility. Most top coders have adjustable desks for standing and sitting.
Best adjustable desk options include:
Non-adjustable standing desks don't offer as much flexibility as an adjustable desk or a normal desk with a standing desk converter, but can be a good option if you enjoy standing while doing your work. They effectively force you to stand, which can be good for your posture—but the downside is that you might get tired of it after a long day.
Raised desk options in this category include:
A floor mat or balance board is almost essential if you have a standing desk. Floor mats make it easier and more comfortable to stand all day, while balance boards essentially let you "work out" while you're working and improve your energy and balance.
Standing mats:
Balance boards:
Sofa desk/laptop tray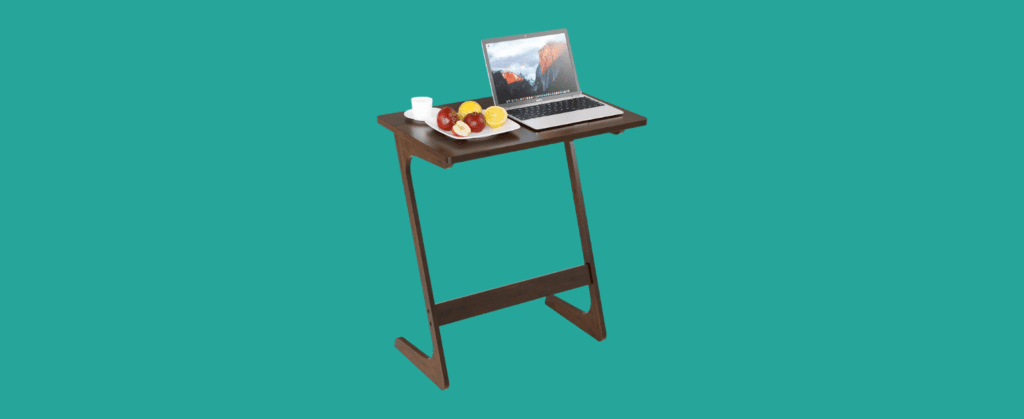 This last kind of "desk" is more an end table or tray, but they're great if you have limited space at home and need to turn your living room into your office (via the couch).
Check out these two:
➡️ My personal home office desk: Autonomous.ai Smart Desk 2 Home Office (the ones with the white base + bamboo top) ($429)
Head back to the table of contents »
Start coding now
Stop waiting and start learning! Get my 10 tips on teaching yourself how to code.
Best Home Office Chairs
Getting the right office chair is really important, since you'll probably be spending 8+ hours in it each day. Here are a few of my picks, based on what your priorities are for your home office chair.
Best ergonomic office chairs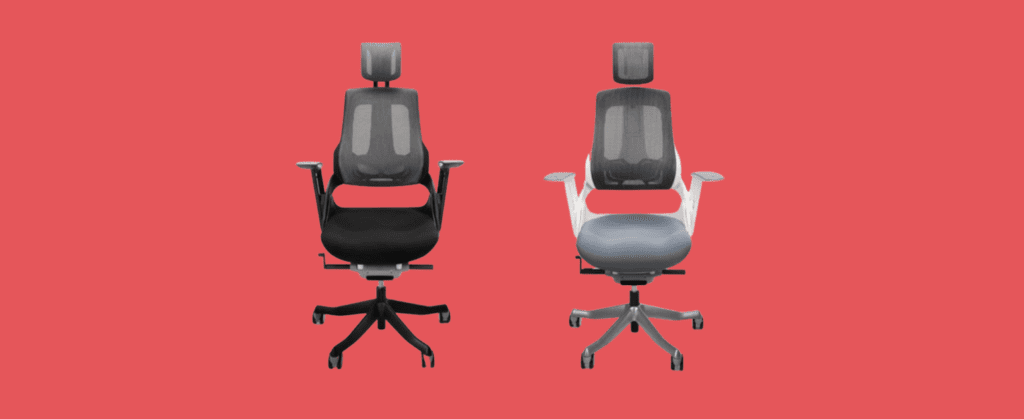 Perfect if you need help maintaining a good posture, spend long hours sitting down, or experience back/neck pain.
Pretty/stylish home office chairs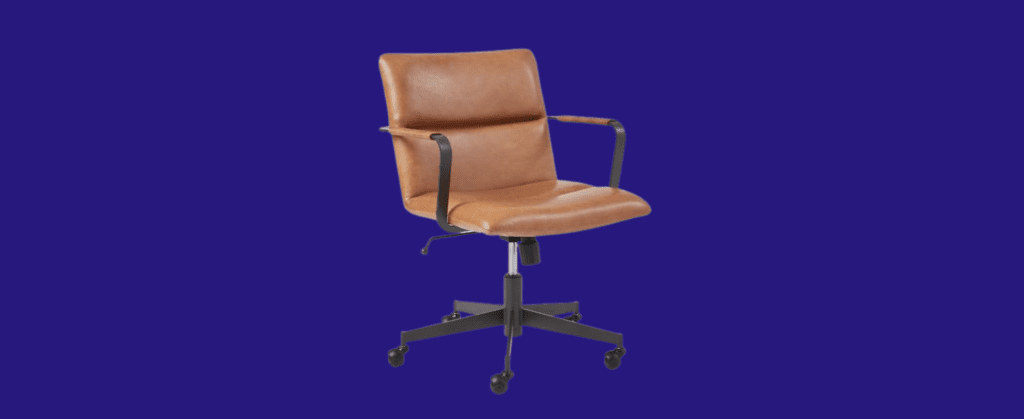 You may want a more stylish chair for your home office if aesthetics are important to you. Many stylish chairs are also super comfortable, so you won't necessarily be sacrificing ergonomics completely!
Unique/modern home office chairs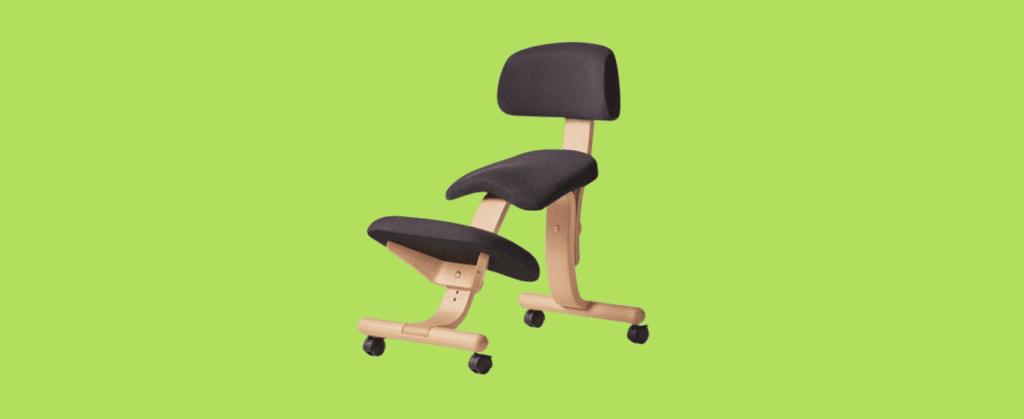 These options might not be the thing that comes to mind when you think "chair," but they're great for trying out different ergonomic options.
➡️ My personal home office chairs: Black/Gold Mesh Drafting Chair ($203.95) & Back Pneumatic Drafting Chair ($80.86) from Amazon
Head back to the table of contents »
Setting Up Your Computer Workstation
In this section, I'll cover the various products and tools that will help you set up an efficient and ergonomic workspace in your home office.
Looking for the right laptop? Check out this podcast episode on choosing the best laptop for programming.
Laptop stand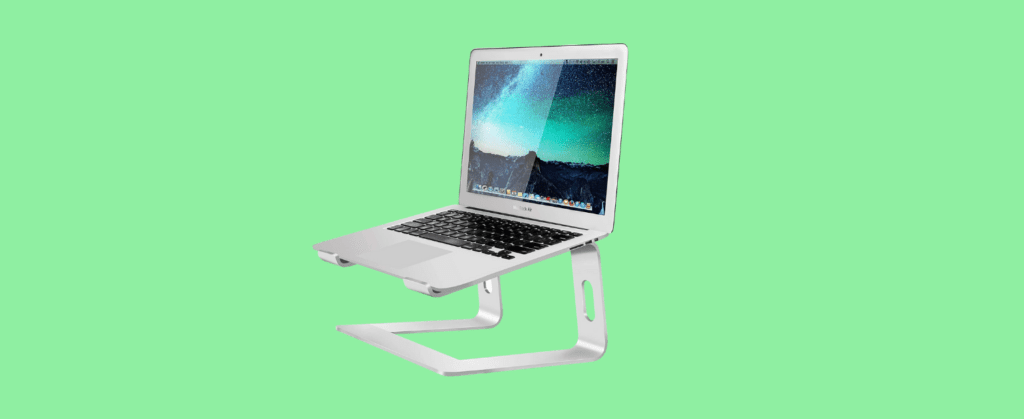 Lets you raise your laptop screen height to your eye level. Important for reducing physical strain in your neck, shoulders and upper back.
My laptop stand: Soundance Laptop Stand ($25.99)
Monitor stand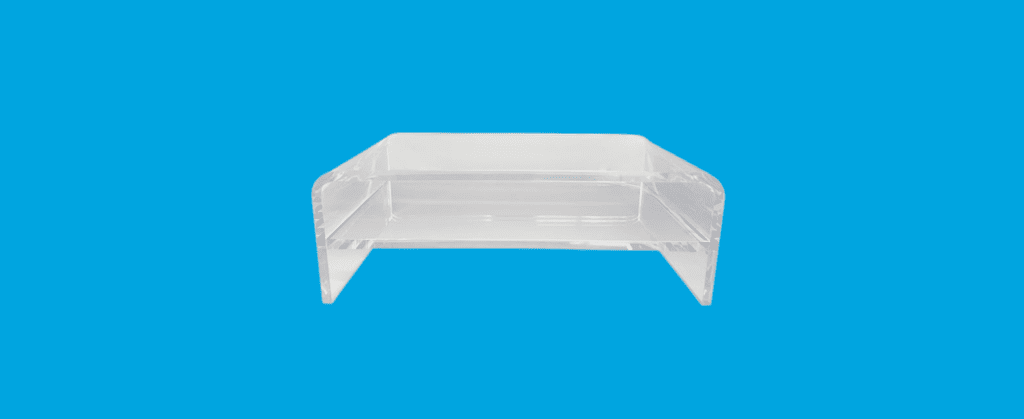 Whether you have a single or dual monitor, this stand raises it to the right height and also often comes with storage so you can put your keyboard under your monitor when you're not using it.
My monitor stand: Custom-made 2-Tier Acrylic Monitor Stand from Etsy (around $80)
Laptop/monitor desk mounts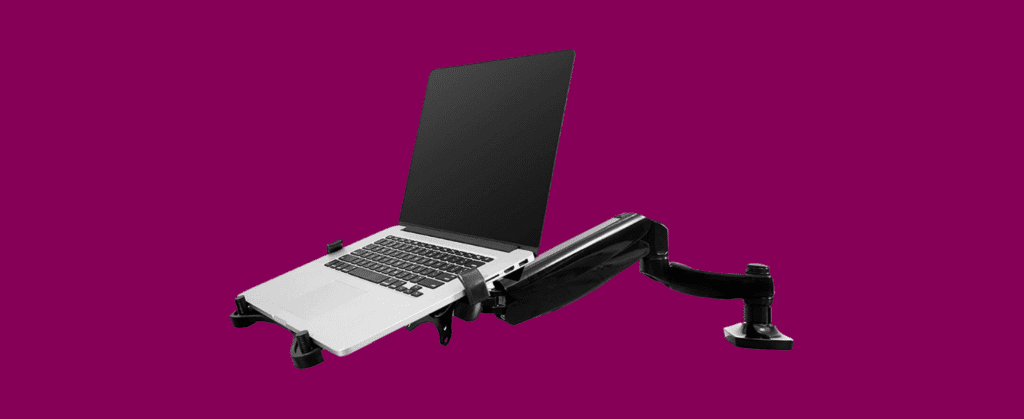 Desk mounts are another way to raise your laptop/monitor screen height to the right level. One of these may be a better option than a laptop stand if you have minimal desk space, since mounts allow your laptop to hover over your desk, leaving more room on your desk than a stand would. They're also great for a dual monitor setup for the same reason.
Mice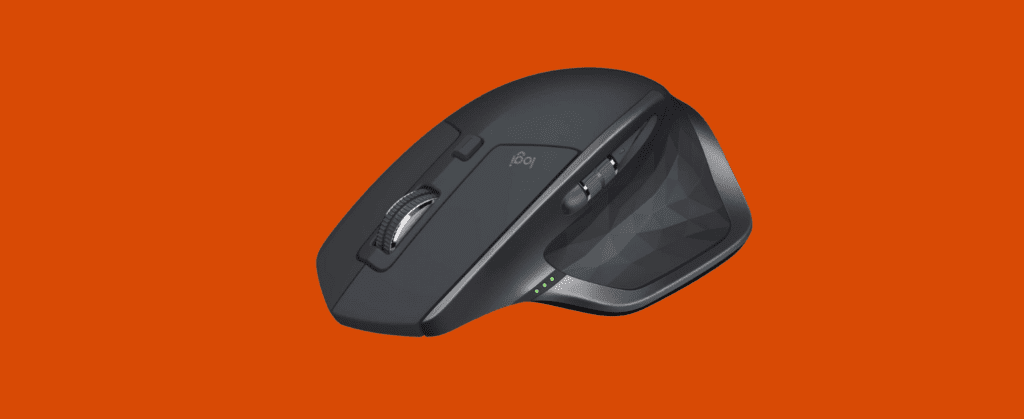 Choosing the right mouse for working from home is more important than you might think. A good mouse can make tasks easier and faster and help prevent injuries such as arthritis and carpal tunnel syndrome.
Keyboards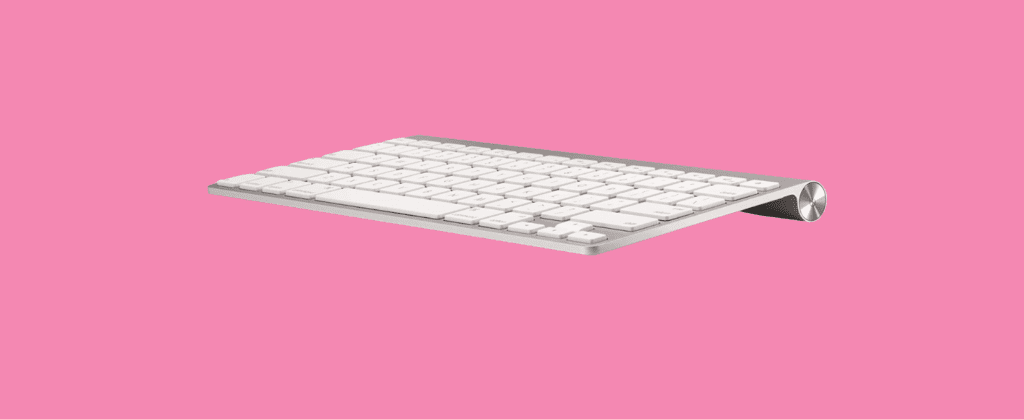 ➡️ My personal keyboard: Apple MC184LL/B Wireless Keyboard ($74)
Printers/scanners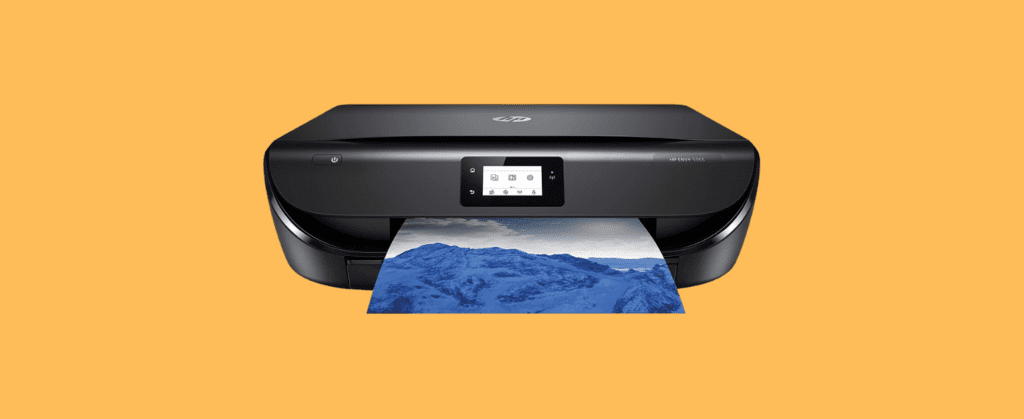 WFH life led me to finally buy my own printer, since I can't go to my coworking space to use theirs anymore. Granted, I use it rarely, but these days getting a home office printer is cheap enough to make it worth having one on hand when the need does arise.
➡️ My personal printer: HP ENVY 5055 Wireless All-in-One Photo Printer
Headphones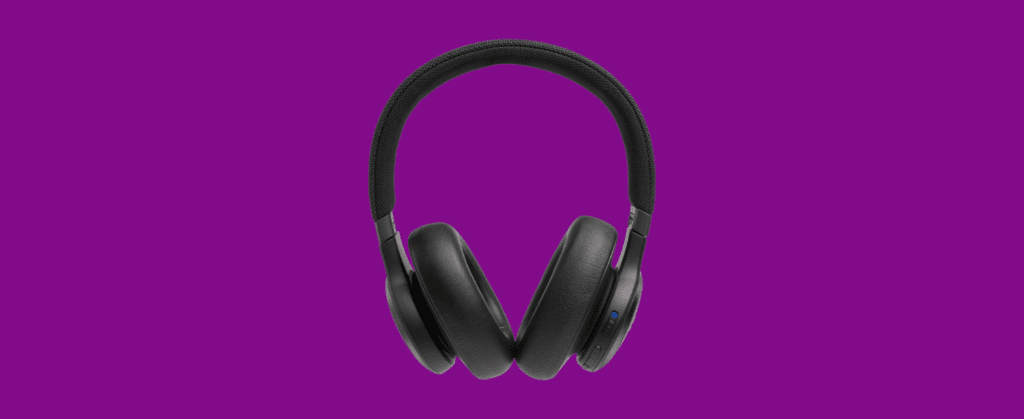 Noise-blocking headphones are crucial for staying focused when your home office is in a shared space, there are kids in the house, etc.
➡️ My personal headphones: I have JBL bluetooth ones ($199.99), which were a gift but have come in handy during Covid!
Microphones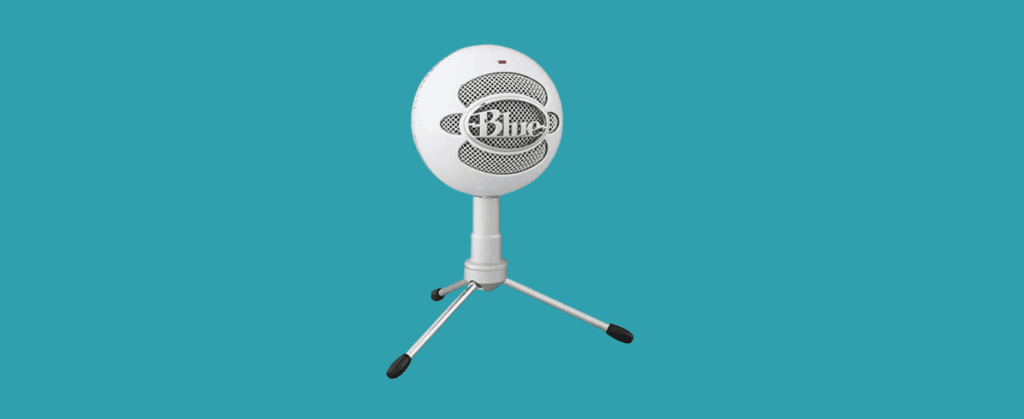 Built-in computer/laptop mics can do the job, but you may want to upgrade to an external microphone if you take a lot of work calls/record videos from your home office and want your audio to be crystal clear.
Speakers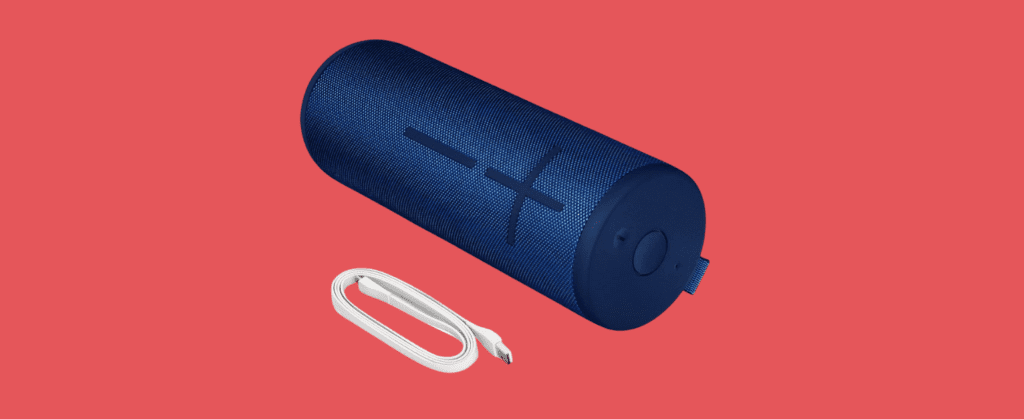 A quality set of speakers is perfect for hearing people in your work calls better, and for listening to music while working from home.
Head back to the table of contents »
Storage and Organization
Nothing can make you lose focus faster than a cluttered space. A good home office setup should include a dedicated home for each of your supplies and a way to keep them tidy. Here are some of my recommendations.
Cord organizer/cable tray/cord concealer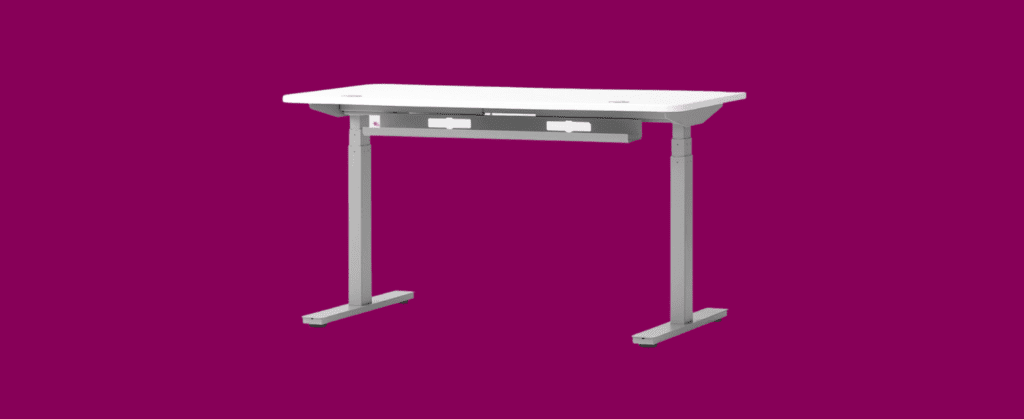 Cord tray to hides cords and makes your desk less messy:
Cable management box organizer:
Cord organizers:
➡️ What I have: Autonomous cable tray ($25). I got ours from the desk manufacturer so I knew it would fit/work with the desks.
Desk supply organizers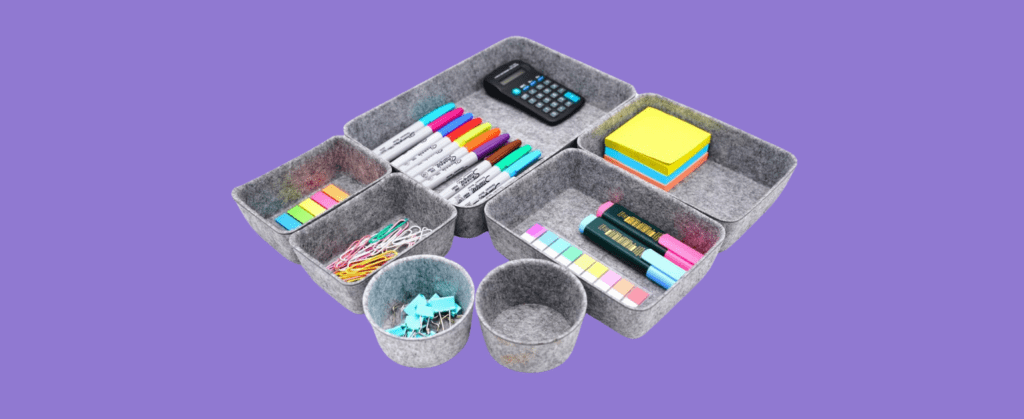 Chances are, you have things like tape, scissors, pens and pencils, and things like that at your desk, and you'll want a solution to keep them organized.
Under-desk trays
These are great if you have a smaller desk and need to find creative ways to organize your office supplies:
In-drawer trays
These are plastic trays you can use to organize stuff in your drawers and make things easier to find. Great for "junk" drawers:
Other creative desk storage ideas:
Paper organization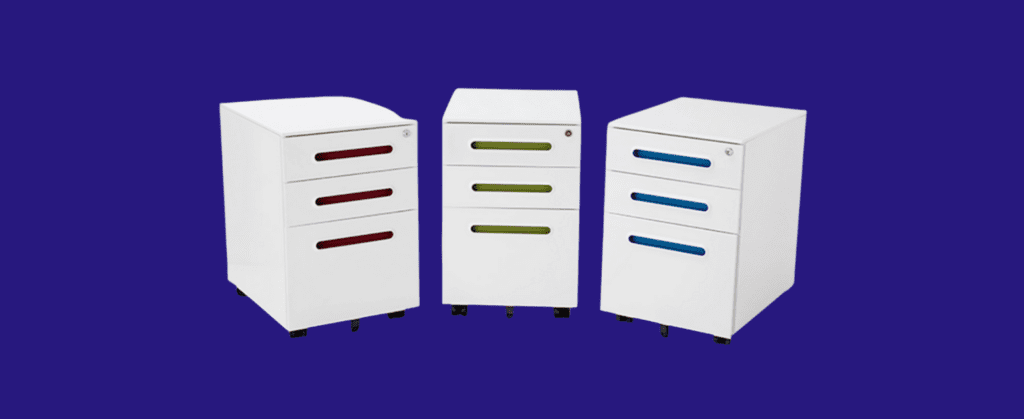 Even in our digital world, we still need paper documents at times. It's important to find good methods to store and keep track of them.
Filing cabinets (if you have the space):
Document/paper box:
➡️ What I have: Autonomous filing cabinet ($169) and Bigso White Stockholm Office Storage Boxes ($9.99/ea. – $12.99/ea.)
Extra storage / cabinets / drawers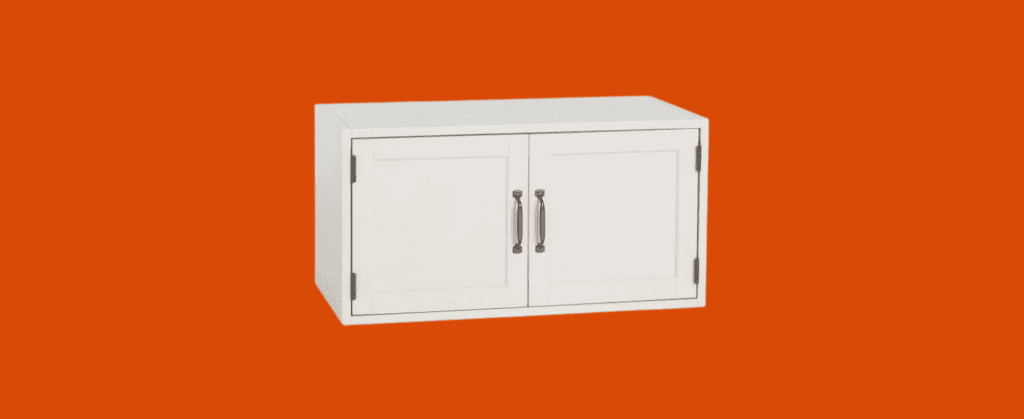 Drawers/cabinets:
Printer stand:
➡️ What I have: PB Teen Hampton Wall System Cabinet ($249)
Bookcases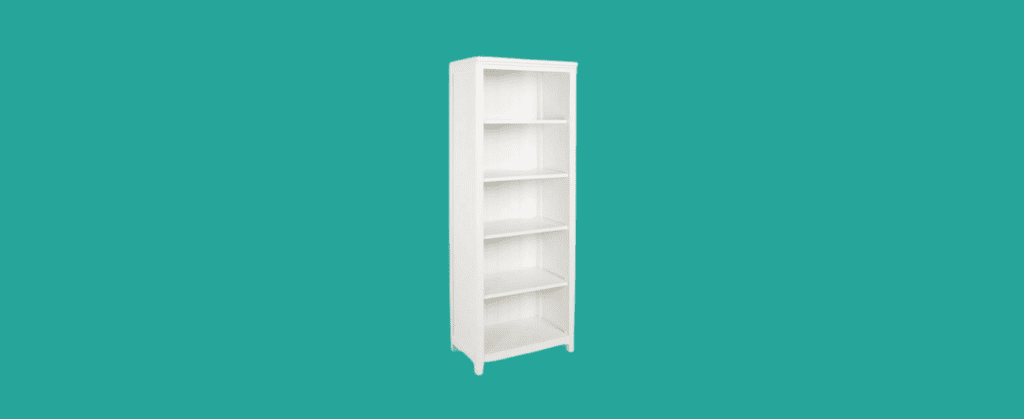 If you want a bookcase, it's key to measure for the space you have. I had really specific measurements that would work with my home office setup, and those led me to the one I ultimately chose. Mine was a bit of a splurge, but I have some smaller/more budget options below.
➡️ My personal bookcase: PB Teen Beadboard Tall Bookcase ($599–$649)
Useful office accessories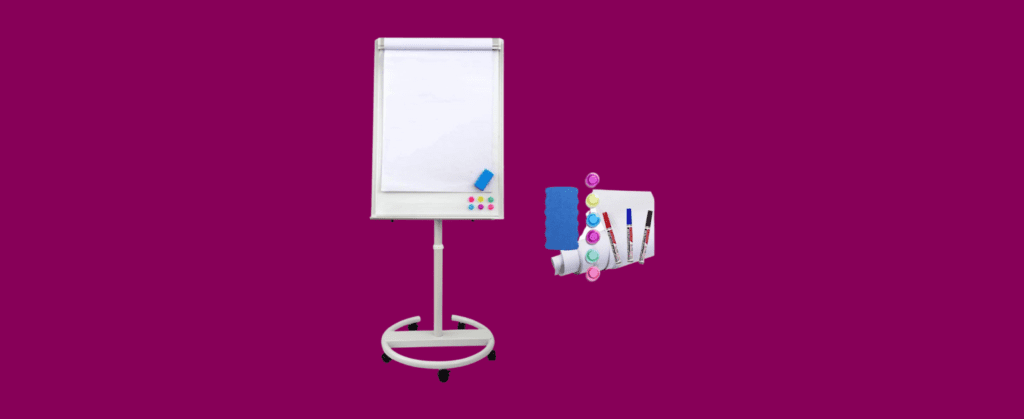 Calendar:
White board:
Mouse mat:
Wristrests:
Head back to the table of contents »
Start coding now
Stop waiting and start learning! Get my 10 tips on teaching yourself how to code.
Home Office Lighting and Acoustics
Time to plan your home office to factor in two of your most important senses: sight and hearing.
Home office lighting ideas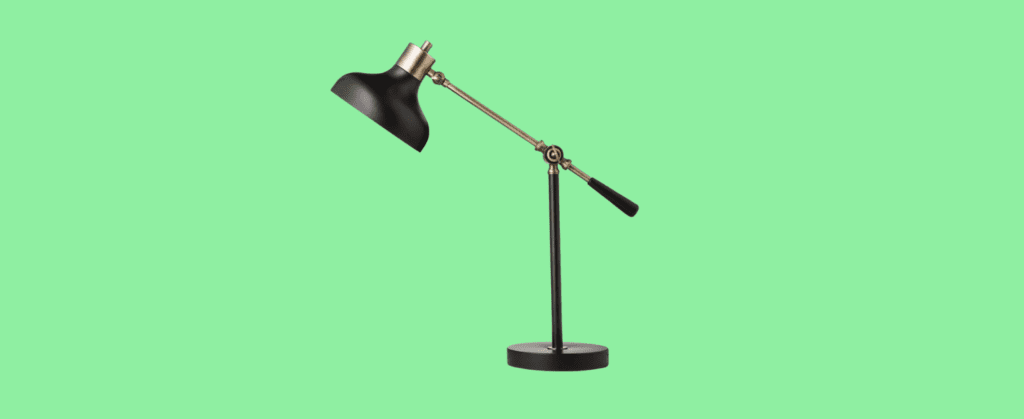 Proper lighting is super important. It can reduce eye fatigue and headaches, help you work longer without feeling tired, and boost your mood. Consider using different types of lighting to brighten up your space.
Desk lamps:
Floor lamps:
Lightstrips:
Lots of people put bright colored lights behind their laptops. This can help reduce eye strain. Here's an example from @ycodeveloper.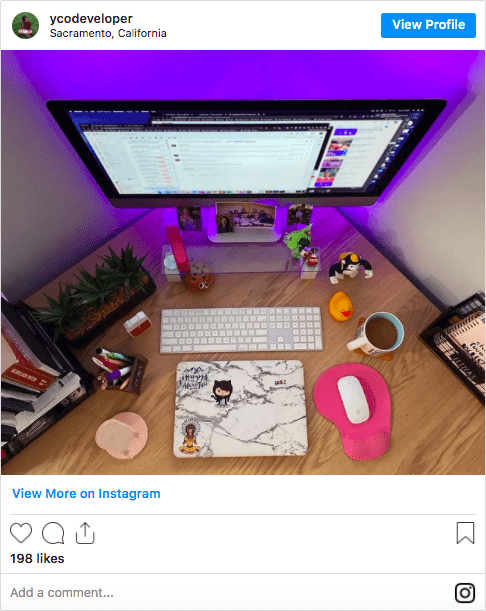 Home office acoustics & privacy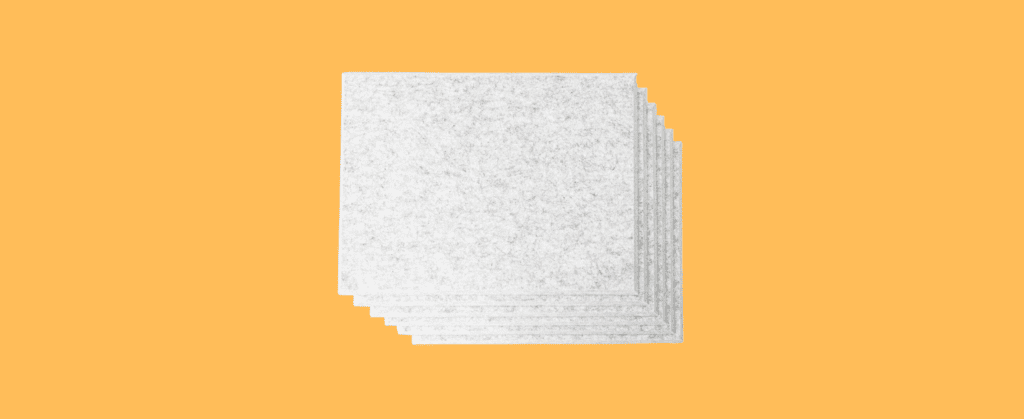 Sharing an office with a partner? Kids? Family? Don't even have a proper office? #PandemicProblems, right? When you're working from home along with someone else, sound becomes a big consideration for your home office setup.
My husband and I share a home office, and he does a ton of calls during the day. My work, on the other hand, requires more focus and alone time, so we started looking into solutions.
Acoustic solutions:
Room dividers
I have one from Wayfair I bought pre-pandemic to separate our cats' litter space. Now, I use it to separate the office when my husband is doing a call. It's foldable & easy to move. It's not sound-blocking, but makes it feel like a separate space.
Head back to the table of contents »
Home Office Decor & Desk Accessories
Decorating your home office can make working a lot more fun, comfortable, and welcoming. Find pieces that suit your personality and make you happy.
Indoor plants (real or faux)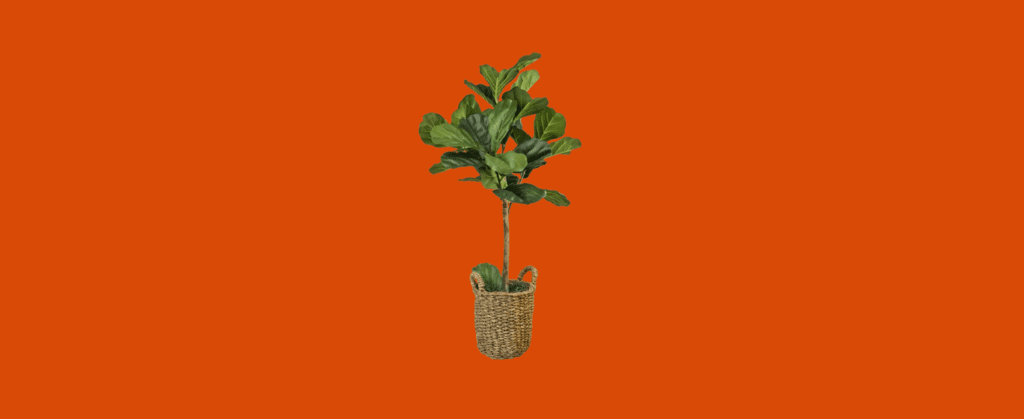 If you'd like to get real plants, check out your local home improvement store or nursery. There are also tons of plant subscription/delivery services such as Desk Plants and The Sill that will deliver indoor plants right to your door.
If you'd rather go with faux plants to decorate your home office, there are also tons of options, such as:
➡️ What I have: Artificial Rubber Leaf Tree from Target ($45)
Pictures/prints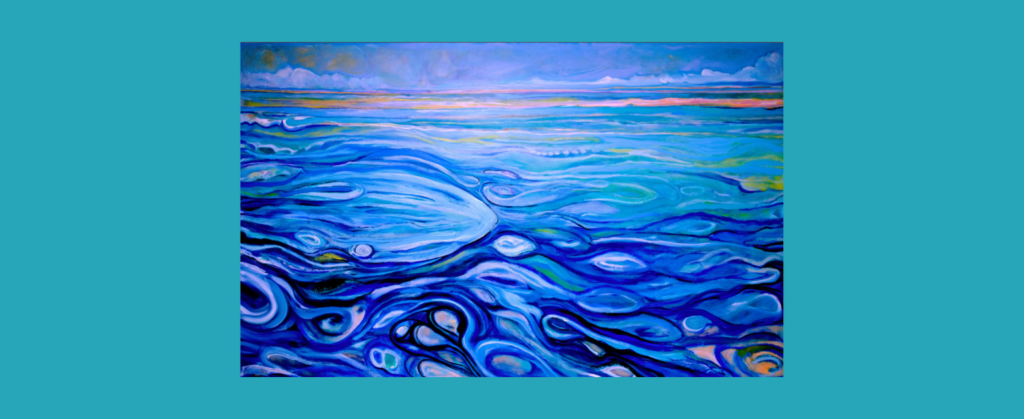 This one's up to personal preference and style! Etsy has tons of prints/artwork you can choose from.
➡️ What I have: Artwork by my mom, Tina Cantelmi!
Productivity office/desk accessories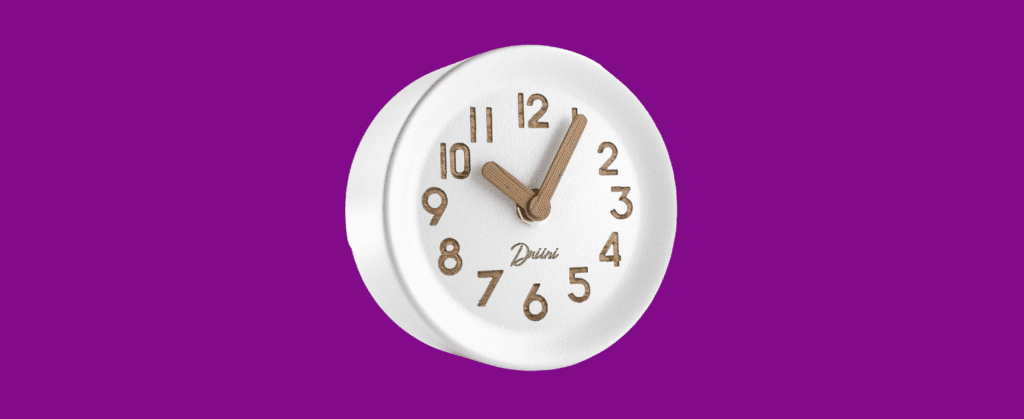 Finally, it's a good idea to have some tools on hand you can use when you need to focus and get through a coding problem!
Clock:
Productivity timer:
Programmer debugging duck:
Do Not Disturb door sign:
Head back to the table of contents »
Your Turn to Build Your Dream Home Office!
That was a lot, but remember you don't need everything on this list. Pick and choose based on your priorities and needs.
💡 And another reminder that you don't need an actual office in your home to create a productive, efficient workspace! You can transform any space into a great home office setup with a little creativity and the right products. I hope these home office ideas help you start building a cool home office where all your work-from-home career goals will thrive!