If you work with computers, investing in one of the best ergonomic keyboards can make a night-and-day difference to how you feel.
Ergonomic keyboards keep your hands, wrists and arms in more natural, comfortable positions than standard keyboards. Over time, this can prevent strain/pain/aches in your wrists and fingers, plus more serious conditions like carpal tunnel syndrome and repetitive strain injury (RSI). Plus, it just makes typing and coding easier, faster, and more enjoyable.
Whether you're looking for a keyboard for your home office, coding projects, your full-time job, a gift for someone else, an ergonomic gaming keyboard, or anything in between, there's a great option out there for you.
In this post, we'll break down the top 9 ergonomic keyboards, including key features to look for when shopping, pricing, reviews, and compatibility — all to help you find the right ergonomic keyboard for you.
Disclosure: I'm a proud affiliate for some of the resources mentioned in this article. If you buy a product through my links on this page, I may get a small commission for referring you. Thanks!
Table of Contents
What Is an Ergonomic Keyboard? Types + Features
What is an ergonomic keyboard exactly? Well, there are lots of different types of ergonomic keyboards, such as fully split (i.e., the keyboard is literally split into two separate pieces), contoured keyboards, angle-split keyboards, mechanical keyboards, etc.
When shopping for an ergonomic keyboard, it's important to prioritize the features you want/need the most.
Here are some features to look for depending on your goals 👇
Split/sloped/domed design
Cushioned palm rest
Curved keys that mimic your finger shape
Adjustable tilting legs
Thumb keys
Degrees of tenting (e.g., how much it's raised in the middle)
Sound and resistance of the keystrokes
Plus general keyboard things like if it's wireless, compatibility, battery life, hot keys, aesthetics, price, if you want it to be backlit, etc.
Many keyboards for programmers come with mechanical switches (mechanisms under the keycaps) in varying degrees of sound and "clickiness". Cherry MX is a popular brand, so you may see "Cherry MX Red" or "Cherry MX Brown", etc.
Here's a breakdown of the types of mechanical switches you might come across when looking for an ergonomic or mechanical keyboard:
Blue: Makes a loud click sound; more resistance so may be a slower reaction time; may be too "clicky" for some people
Brown: Less noise than blue; you can feel the bump of a key when clicked; slightly easier to click than blue
Red: Smooth; almost no noise; easiest to click; good for games since a click registers with just a light, quick press.
Note: If you've never used an ergonomic keyboard before (especially fully split ones or other unique designs) it can take a few days or weeks to get used to the layout and feel. You've been typing one way your whole life, so you probably won't adjust overnight! Once you've spent some time practicing, it'll become a lot easier.
Head back to the table of contents »
Start coding now
Stop waiting and start learning! Get my 10 tips on teaching yourself how to code.
Benefits of Ergonomic Keyboards
Getting one of the best ergonomic keyboards can be a bit of an investment, so are they really worth it?
Let's take a look at some of the perks of ergonomic keyboards. They:
Allow you to work longer
Increase typing speed
Can lessen number of errors (great for coding)
Are more comfortable and enjoyable to type on
Reduce the risks of carpal tunnel syndrome and other injuries
Help you maintain better posture
⌨️ Since the best ergonomic keyboards should ideally last you many years, you can think of them as an investment in your future and something you'll enjoy in the present.
Head back to the table of contents »
9 Best Ergonomic Keyboards
Without further ado, let's dive into the details of some of the best ergonomic keyboards on the market right now!
Please note that pricing listed below may change in the future!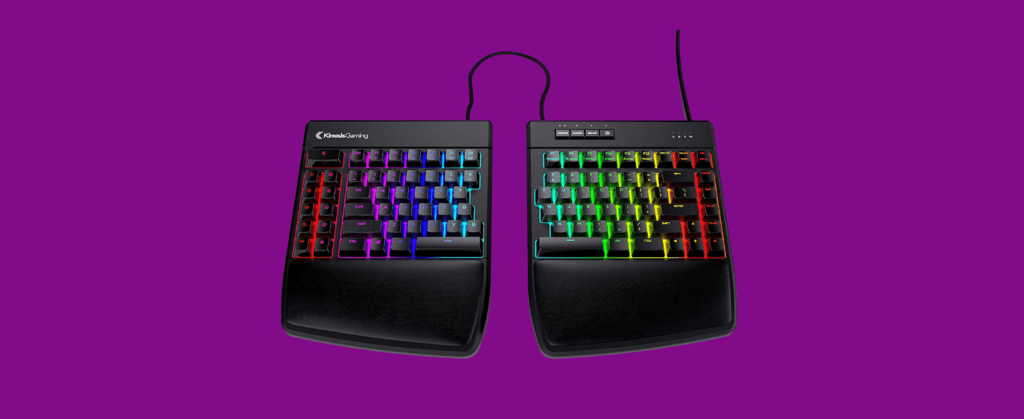 💰 Price: $199
🖥️ Compatibility: Windows, Mac, Linux, Chrome
🏆 Best for: Anyone that does a high amount of typing; gamers, coders, etc.
This ergonomic gaming keyboard features a fully split keyboard design and Cherry MX Blue mechanical switches which provide a clicky, tactile feel. Also comes with cushioned wrist rests.
⭐ User review: "As someone who both works in IT and then comes home to spend another 6 hours on a computer this was immensely helpful for my wrists. I was starting to develop pain and tightness in my wrist and forearms due to long hours on standard keyboards and this keyboard has been an absolute God-send." – Drew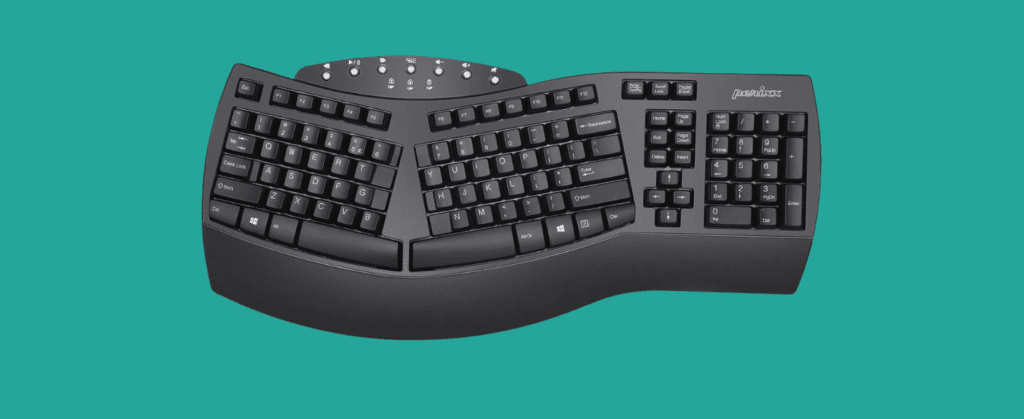 💰 Price: $69.99
🖥️ Compatibility: Mac, Windows
🏆 Best for: People on a budget
Split-style keyboard with an integrated palm rest, which reduces pressure on the median nerve and forearm tension that causes carpal tunnel syndrome. Both wired and wireless ergonomic keyboard options available in this model.
⭐ User review: "After using for several weeks, I have to say that I LOVE this keyboard! I had a Microsoft Ergonomic keyboard previous to this one, but this one knocks the socks off my previous one. My hands just mesh with the keyboard, and the keys are soft to the touch and I don't have to push super hard to use them. The Microsoft one cost over $100. This one is totally worth the price!" – Glory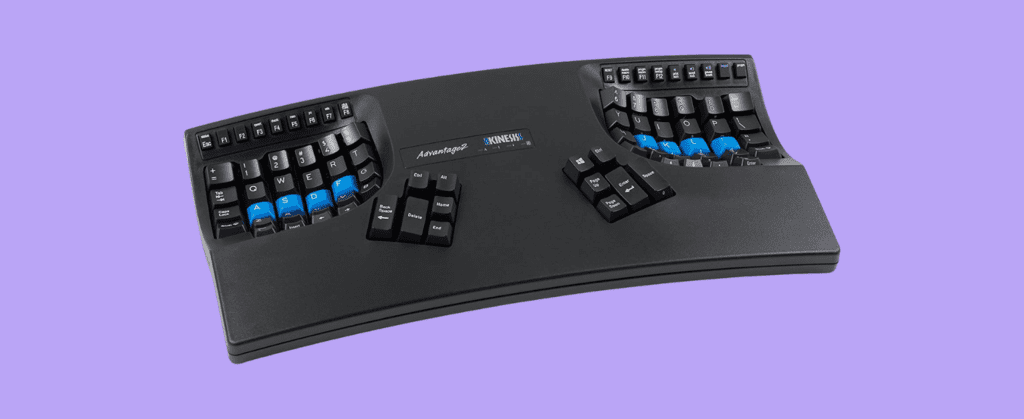 💰 Price: $369.99
🖥️ Compatibility: Windows 7-10, Mac OS X, Linux, Chrome
🏆 Best for: Coders
This specialized ergonomic keyboard features a super unique, patented design: split keywells with a concave shape, thumb keys, orthogonal layout, integrated palm supports with cushioned palm pads. Choose from tactile MX Brown switches or linear MX "Silent" Red switches.
⭐ User review: "This keyboard is excellent. I suffer from tingling wrists and thumb joints (I am a mobile developer and am on a keyboard for at least 8 hours a day, sometimes up to 16). After a day on this keyboard I had no more tingling or pain. As soon as I return to older keyboards, the pain is back." – Brandon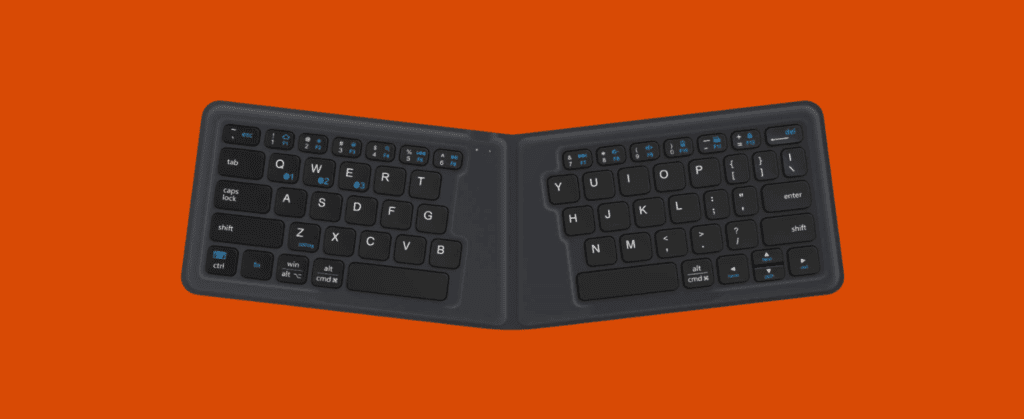 💰 Price: $27.99
🖥️ Compatibility: iOS, Android, Windows
🏆 Best for: Digital nomads
This affordable little ergonomic keyboard can easily fold down to fit into the side pocket of a purse or bag, making it great for traveling. It's a scissor-switch designed keyboard with a smooth user-friendly typing experience.
⭐ User reviews: "This little bluetooth keyboard is so portable that I can simply fold it up and slide it into the computer sleeve with the small computer. The ergonomics are terrific. My back is relaxed, my hands are not twisting to reach the keys and my baby fingers are not to hit return, backspace and delete." – Udana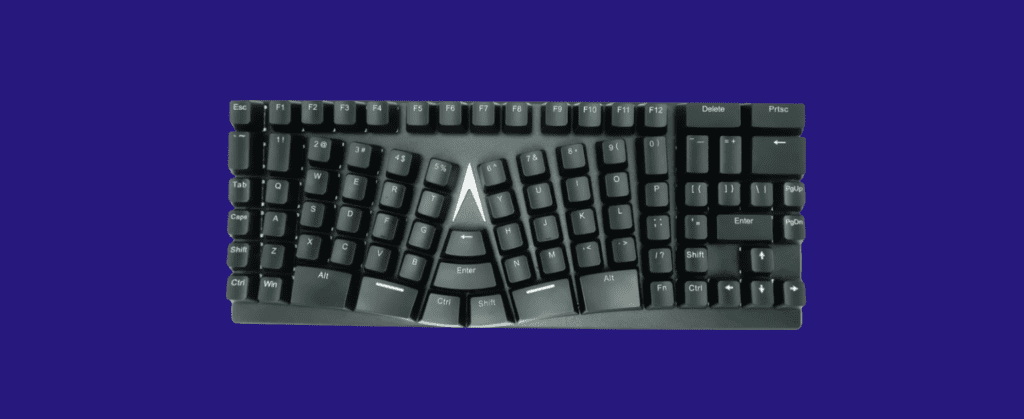 💰 Price: $150
🖥️ Compatibility: Windows, Mac, and Linux Operating Systems
🏆 Best for: Coders
This keyboard promotes more natural typing angles for your arms, wrists, and fingers and helps you type faster. Designed by a medical doctor.
⭐ User review: "I have been in the IT industry for over twenty years and spend most of my day on a keyboard. I have easily used dozens of different types of keyboards, from ergonomic to standard, mechanical to softkey, laptops, desktops; I have used them all. I never would have thought how much of an impact the placement of the keys has on the strain of my hands and wrists, but after switching to my X-bows keyboard; it is simply the best keyboard I've ever used. It's a beautiful design, easy to learn, and extremely comfortable. Will be buying a few more of them very soon!" – Dan
P.S. Mia of @mia.codes uses this ergonomic keyboard! See it in action on Instagram.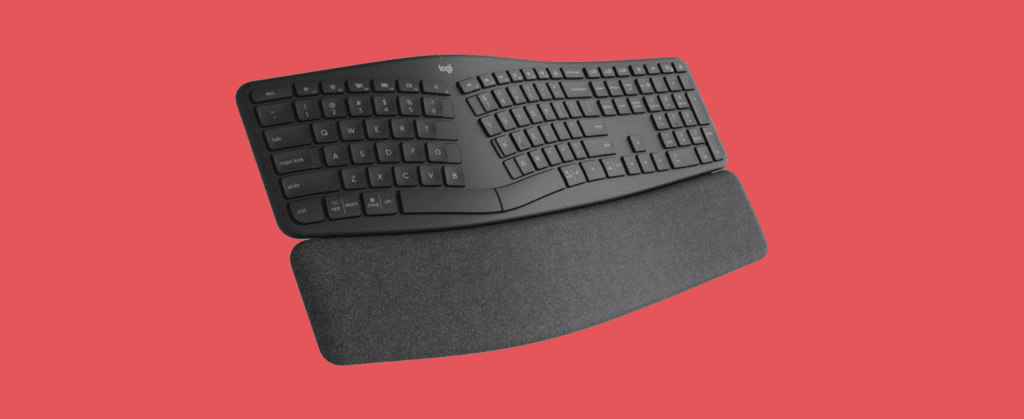 💰 Price: $129.99
🖥️ Compatibility: Mac, Windows, Chrome, Linux
🏆 Best for: Coders
Pillowed wrist rests offer 54% more wrist support while preventing strain and reducing wrist bending by 25%. Curved, split keyframe that improves typing posture.
⭐ User review: "I purchased this keyboard when I had a badly strained tendon in my elbow and found I was unable to type for more than 5 minutes at a time without pain. Since I am a desk worker, this was a real problem. Fortunately, the ergonomic shape of this keyboard really worked – I was able to use it continuously without pain or exacerbating my injury. The fact that it proved to be sturdy and very high quality was an added bonus." – Douglas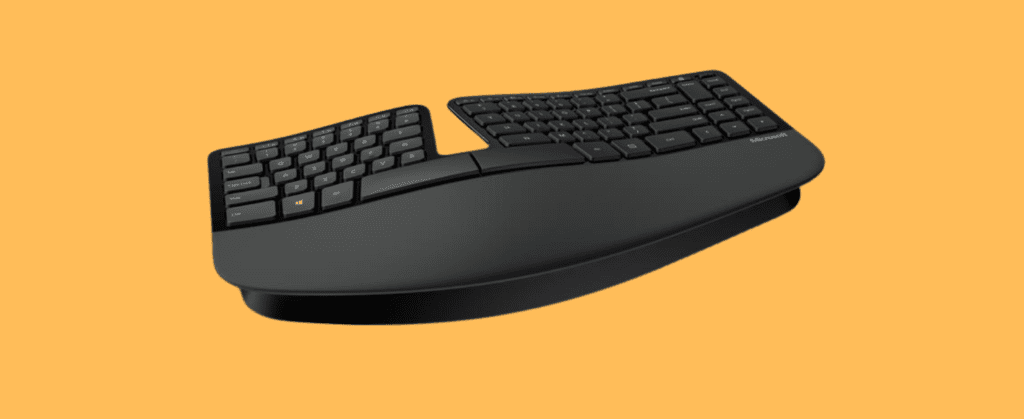 💰 Price: $64
🖥️ Compatibility: Mac, Windows
🏆 Best for: Anyone
Split keyset design positions wrists and forearms in a natural, relaxed position. Reverse tilt angles the keyboard to promote a straight neutral wrist position.
⭐ User review: "I have been using this keyboard for years and due to some coffee mishaps needed a replacement. The keys are responsive and give just enough feedback that typing is a breeze even if having to do it for hours on end. I use this keyboard for both Office and Personal work, to include gaming and the wireless range, response, and touch are outstanding. The ability to have the numeric keypad away from the keyboard to me is perfect and I can move it to the other side of the desk to work with reports, without having to deal with the whole keyboard. Could not recommend this keyboard highly enough." – Robert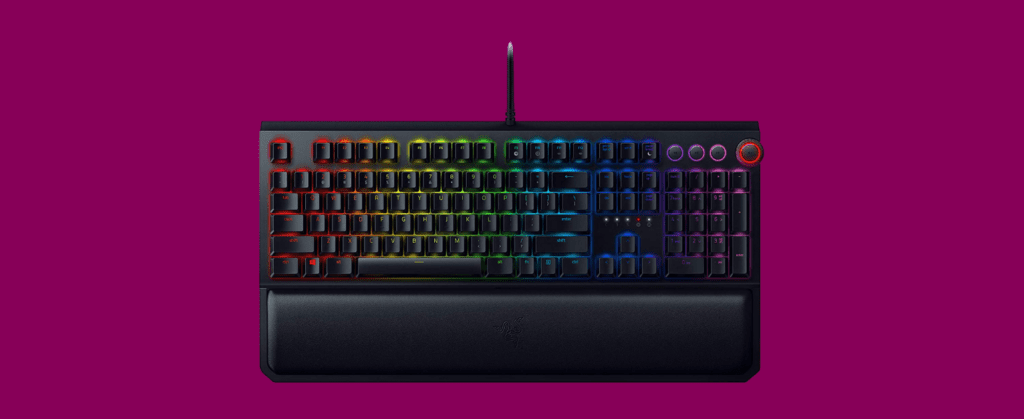 💰 Price: $113
🖥️ Compatibility: Windows only
🏆 Best for: Gamers
This ergonomic gaming keyboard provides a clicky sound with 50G of actuation force, ideal for typing and gaming with accuracy. Comes with a magnetic wrist wrest made of plush leatherette.
⭐ User review: "I type for a living… that's what I do daily for hours and hours. Before I got the BlackWidow Elite (Orange Switches), I never looked forward to using the keyboard — That all changed once this bad boy arrived. It's by far the best computer keyboard I've ever owned. Based on the quality of this thing, the BlackWidow Elite will probably be the last keyboard I'll ever buy." – SK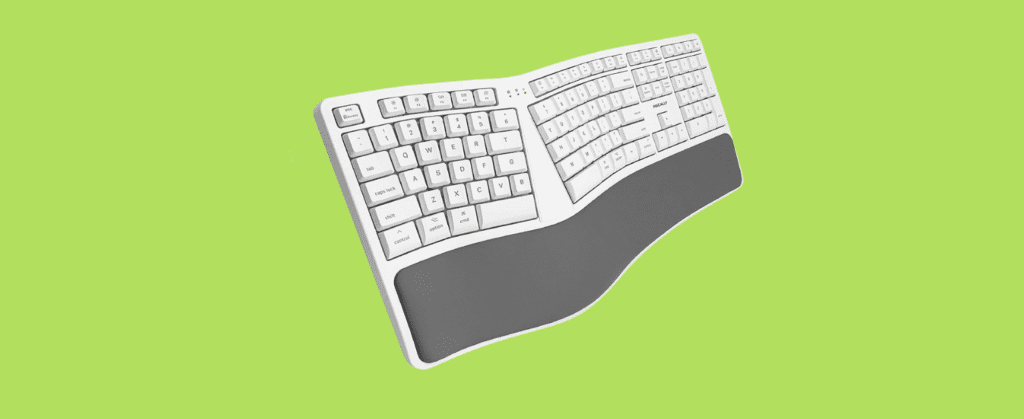 💰 Price: $51.99
🖥️ Compatibility: Mac only
🏆 Best for: Mac users; programmers/coders
Designed specifically for MacOSX, this ergonomic keyboard comes with a padded wrist cushion and kickstand. It splits keys into two zones, positioned at an angle for natural hand and forearm posture.
⭐ User review: "I am a retired ergonomist who has used a Mac for many years, but have always had to use a Microsoft split keyboard with my Macs. It was fine, but I've never had the full functionality with a Mac because some keys are different. I was thrilled to find this comfortable split keyboard that is completely designed for and compatible with a Mac. It is quiet and easy to use, too. Great find!" – Steve
Head back to the table of contents »
Start coding now
Stop waiting and start learning! Get my 10 tips on teaching yourself how to code.
Best Ergonomic Keyboard Accessories
These are all optional, but here are a few ergonomic keyboard and mouse accessory ideas to supplement your new ergonomic lifestyle!
Head back to the table of contents »
What's the Best Ergonomic Keyboard for You?
Overall, the right ergonomic keyboard for you depends on your needs, budget, and preferences.
✈️ If you'll be travelling a lot or enjoy working from coffee shops, a foldable keyboard like the iClever BK06 Bluetooth Keyboard may be the best option for you
✋ If you really want to customize and change up your wrist positions, a fully-split keyboard like the Kinesis Freestyle Edge RGB may be great for you.
😊 Looking for comfort? The Logitech Ergo K860 Wireless Ergonomic Keyboard and Microsoft Sculpt Ergonomic Keyboard are great options.
To settle on the best ergonomic keyboard for you, think about what you want the most out of a keyboard (e.g. comfort, clicky feel, portability) and prioritize those factors as you compare options and make your decision.