What if I told you that you could learn 25 different tech skills, worth thousands of dollars in real-world value, for a fraction of the cost? Specifically 94% off what they originally cost?
Well, that's EXACTLY what's happening inside the 2019 version of the Ultimate Tech Career Toolbox.
Note: This bundle sale is now over. If you're interested in finding out about future sales like this one, make sure to get on our email list. Thanks!
After many long days and nights of negotiating and planning, we've been able to get 21 (holy smokes!) expert technical course creators to say "yes," and help make that vision of mine a reality.
I'm so excited to share what we've put together. In this post, you'll find a detailed breakdown of every single product you'll get in this year's toolbox. If you went out and purchased all these products on your own, it would cost $4,299!
Here's the catch…this deal is so good that it's only going to be available for five days: Tuesday, April 30th to Saturday, May 4th.
Keep reading to see everything you'll get inside!
Disclosure: I'm a proud affiliate for some of the resources mentioned in this article. If you buy a product through my links on this page, I may get a small commission for referring you. Thanks!
Table of Contents
---
1. Learn Enough Developer Fundamentals (normally sold for $84)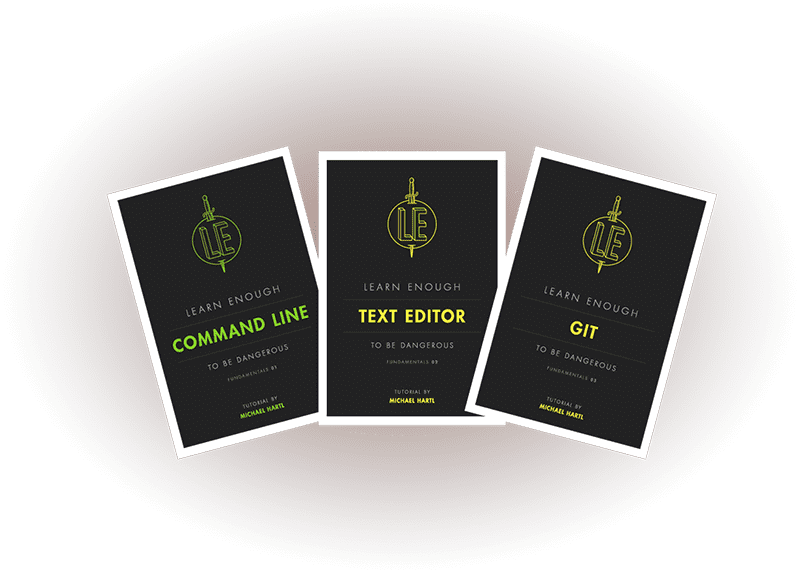 💡 What you'll learn: Learn Enough Developer Fundamentals includes tutorials for three foundational technical skills: Command Line, Text Editor, and Git. With 360 pages of ebook content and nearly four hours of downloadable video, you'll be guided step by step through these essential technical tools. By mastering these fundamentals, you'll unlock the ability to use your computer to its full potential, collaborate with millions of other developers worldwide, and prepare yourself to learn both front- and back-end web development.
3️⃣ tutorials included with this product: Learn Enough Command Line, Learn Enough Text Editor, and Learn Enough Git
⭐ Why learn the command line, text editor, and Git?
Command line is simple to learn, yet gives you power and flexibility. As Jake Rocheleau says, "I'd argue it's imperative to success, working with either frontend or backend code. The command line has become a Swiss Army knife of features locked behind simple commands."
A text editor is where you write your code, of course! You're going to be working very closely with text editors, so you'd better get comfortable with them.
Learning Git makes you job-ready: Jake Rocheleau says learning Git is his #1 piece of advice to new developers: "Git simplifies the process of working with other people and makes it easy to collaborate on [coding] projects."
👋🏻 Contributor info: Michael Hartl is founder of Learn Enough, a tech education website, and bestselling author of ten books, including the Ruby on Rails Tutorial. Previously, he was an instructor in physics at the California Institute of Technology (Caltech), where he received a Lifetime Achievement Award for Excellence in Teaching.
📈 Level: Beginner
📖 Format: Downloadable ebooks and videos
⏰ Length: Almost four hours of video content. Could be completed in a few weeks if working full-time.
Product Testimonials
"Michael Hartl's guide to the command line is an awesome tutorial for beginners and a great refresher for experienced programmers as well." – Paul Yi
"This is a strong introduction into Text Editor usage for programming. By the end of it you will have a base knowledge to be able to utilize the various text editors available, and be informed enough to know if this is something more that you want to pursue." – viper941
"Michael does a great job of structuring this tutorial and thrusts the users quick into the world of Git with real examples and a hands-on approach. Just one of a series of great books. Highly recommended." – Amazon Customer
---
2. Freelance Developer Jumpstart (normally sold for $197)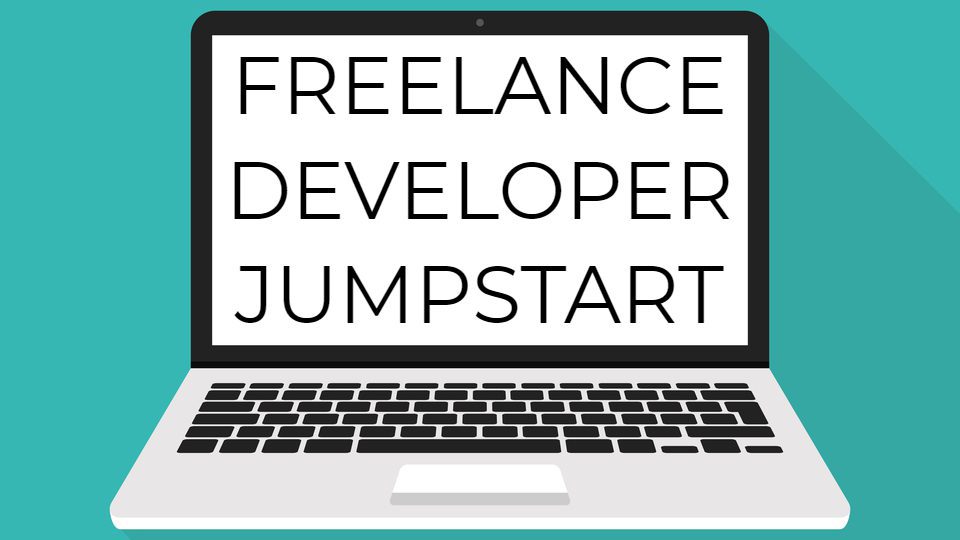 💡 What you'll learn: Want to work from home or remotely while turning your coding skills into cash? Hahna's course will help you achieve that. Inside this 5-module course, you'll learn how to land your first client in under 90 days. Go at your own pace and join the mastermind group to get your questions answered and continued accountability. As a bonus, you'll also learn how to generate the necessary legal documents you need to run and protect your business.
⭐ Why become a freelancer?
It gives you a sense of purpose. John Rampton reports, "Roughly 94% of self-employed workers believe that their job is making a worthwhile contribution to the world. This rating shows these freelancers feel a sense of purpose, compared to 76% of full-time workers."
The income potential is virtually uncapped. Roughly 3.2 million full-time independent contractors report earning more than $100,000 a year.
👋 Contributor info: Hahna Kane Latonick, founder of Invent With Code, has a goal to help developers earn more. She's been featured on Fox Business News, Entrepreneur, and other national media outlets.
📈 Level: Beginner
📖 Format: Video course with transcripts, audio, and PDF worksheets provided.
⏰ Length: 5 video modules with PDF worksheets.
📜 Certificate? Yes
👥 Additional support or community? Access to the Freelance Developer Jumpstart Facebook Mastermind group where you can get feedback, ask questions, learn from others in your community, and offer help of your own
👓 Accessibility: Transcriptions available
Product Testimonials
"Thanks in part to your great advice, I have secured a few local clients!" – Angela Bronson
"I landed my first client that needs help with their start-up business site. I am ready to really do this!" – Alisha Arnold
Head back to the table of contents »
---
3. Learn JavaScript – JavaScript Beginners Bundle (normally sold for $368)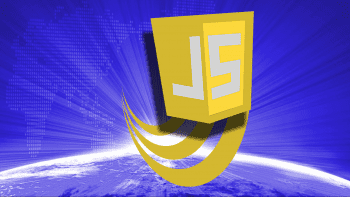 💡 What you'll learn: Get on the web development fast track with core JavaScript learning! This JavaScript bundle guides you through all the core parts of JavaScript so you can start coding quickly. Create dynamic, interactive web pages right from your browser. The courses include source code and exercises to help you solidify your learning. Combined, over 30,000 students have enrolled in the three courses across platforms. Plus, you get access to an instructor with 20+ years of experience, who's happy to answer whatever questions you need.
3️⃣ courses included: JavaScript course – Learn core concepts, JavaScript DOM Dynamic Web interactive content Boot Camp, and JavaScript Basics Web Development Building Blocks
⭐ Why learn JavaScript?
A JavaScript Developer can earn $105,912/year (ZipRecruiter)
There are constant developments (new frameworks, etc.) meaning there are endless opportunities for growth
95% of web applications are built on JavaScript
There is a JS skills gap: According to HackerRank, 48% of employers say they need JavaScript skills, but only 42% of student developers worldwide say they know the language.
👋 Contributor info: Laurence Svekis is an innovative technology expert with a wide range of real world experience. His specialty is providing smart digital solutions online for both small and enterprise level businesses, and he instructs 500,000+ students with over 300 web development courses available.
📈 Level: Beginner
📖 Format: Videos and ebooks, downloadable zip source files
⏰ Length: 6+ hours of video content with exercises
📜 Certificate? Yes (upon completion of all videos for each course in the bundle)
Product Testimonials
"Best tutorial for beginners" – Shubham Raj
"I would recommend this course, the DOM is often overlooked in many JavaScript courses. I've taken several and this course explains the DOM really well with code examples. The instructor is knowledgeable and covers the topics better than any course I have taken." – Kevin Mervish
"Best course on Udemy that I have taken about JavaScript" – Katie
---
4. Mastering React (normally sold for $149)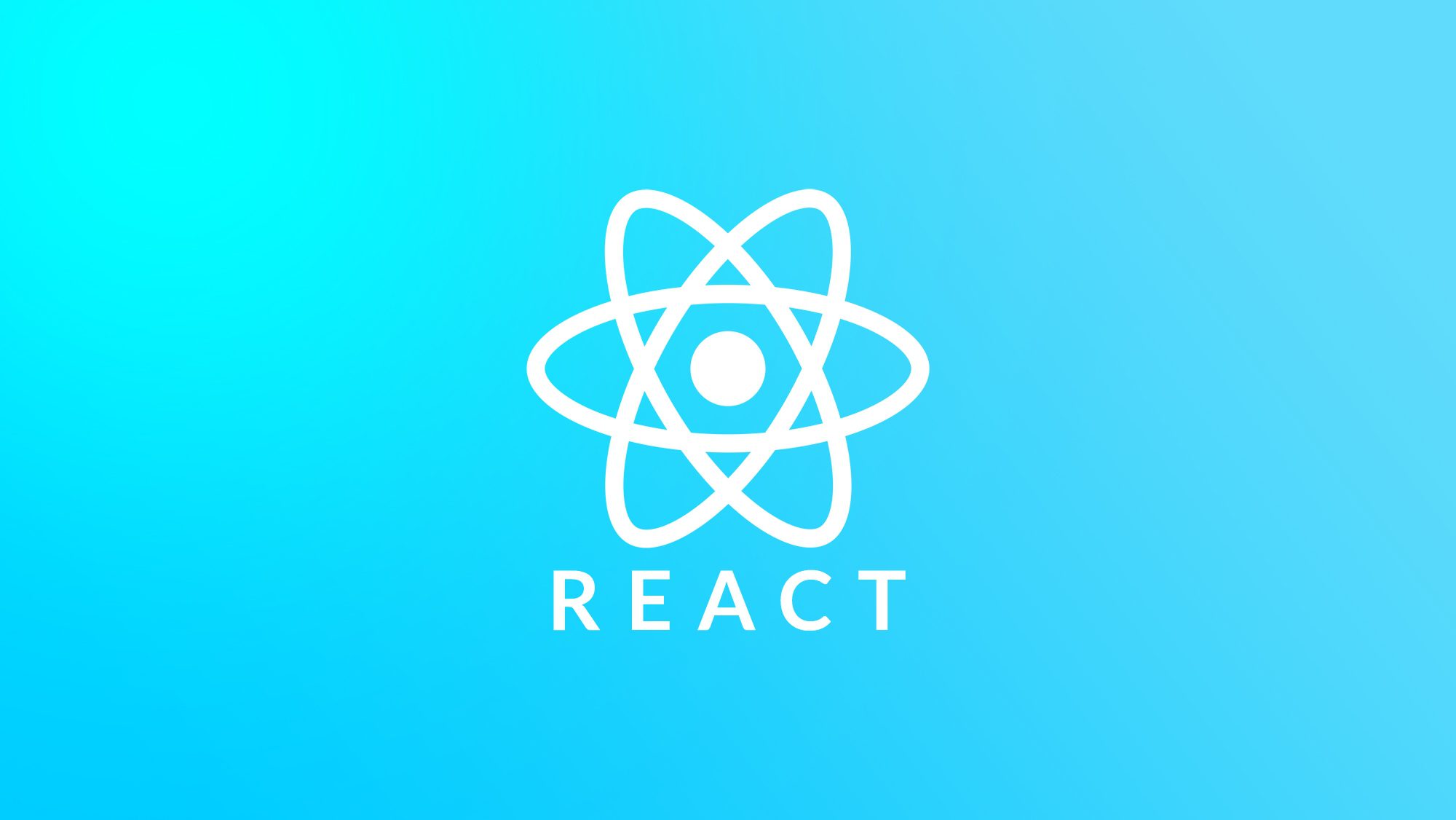 💡 What you'll learn: Expand your career options and make extra money by mastering React. Used by both new and seasoned developers, it is one of the most popular libraries for building fast, dynamic web and mobile apps that stand out. This course covers absolutely every detail you could possibly need to take you from beginner React developer to expert level. It includes 12 hours of content with exercises and a real-world project, and you'll be joining the nearly 14,000 students who have taken the course so far.
⭐ Why learn React?
You can earn $90k/per year (PayScale)
There's a big skills gap: 33% of employers need React skills, but only 19% of developers said they know React
Has cool applications. For example, React VR allows you to build VR experiences for platforms like Facebook's Oculus Rift using standard web tools
Big names use it, including Facebook, Instagram, Netflix, New York Times, etc.
👋 Contributor info: Mosh Hamedani is a passionate software engineer known for his simplistic and pragmatic approach. He has taught over 3 million people how to code or how to become a professional software engineer through his online courses and YouTube channel.
📈 Level: Beginner
📖 Format: Video course
⏰ Length: 12 hours, 200 lessons
📜 Certificate? Yes
👓 Accessibility: English subtitles
Product Testimonials
"Just finished the 12 hours long React Course of @moshhamedani. This guy just covered the every little possible thing in his course regarding react and thinking like a better software developer. Thanks once again mosh. You are truly an inspiration." – Ashraful Islam
"Completed the Mastering React course by @moshhamedani and can fully recommend it. Covers pretty much everything you need to know when starting out with react." – Alan Tucker
"#React course by @moshhamedani Tried different courses but nothing stuck like this course did. It has the right ratio of information and complexity. Mosh only tries to impose best general coding practices on you with very reasonable, light examples." – Mateja Ristic
Head back to the table of contents »
---
5. Find Your Fit (normally sold for $99)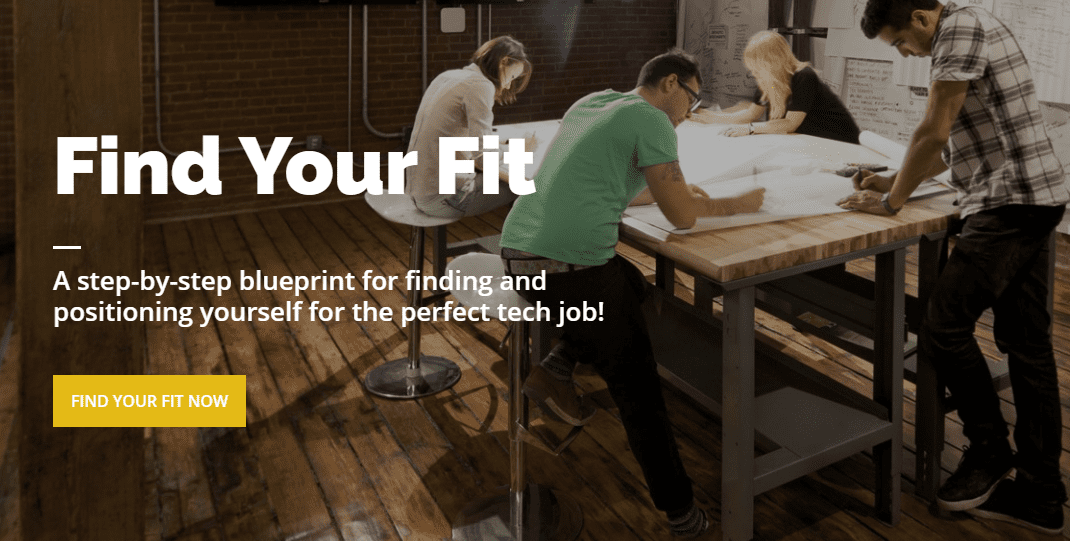 💡 What you'll learn: Want to get a tech job but don't know where to begin? Selecting the right role is, by far, the most important step in landing (and enjoying) a tech job. Ultimately, feeling like you're truly a good fit for the jobs you pursue will make your career one of passion and fulfillment. This course walks you through all the major tech-adjacent roles that anyone can use to transition into tech–including project management, business operations, marketing, and more. Learn about day-to-day responsibilities in these roles, what kinds of people fit them best, and which one could be perfect for you. With 7,100+ students, the course boasts a 4.9 star average rating.
⭐ Why learn about transitional career fits?
There are lots of different career paths you can take in tech (14 examples right here) from web development to design to cybersecurity to data
There are also lots of career paths within the tech industry that are more non-technical, such as product management and UX design
👋 Contributor info: Jeremy Schifeling is the founder and CEO of Break Into Tech, a resource site for people exploring tech careers. He has landed roles at Apple, LinkedIn, and Google.
📈 Level: Beginner
📖 Format: Video course
⏰ Length: 68 lessons designed for you to complete in 3 weeks
👥 Additional support or community? Email support
Product Testimonials
"I highly recommend this course for anyone who thinks they need to become a developer to break into tech. I'm living proof that it's not true and I can't recommend enough that you give Jeremy a chance to show you how it's possible." – Alex Flores
"WOW, what a really great course to gain insight on the tech industry, its roles, my fit, and very practical steps to gaining confidence in the tech job search." – Ingrid Arreola
"Jeremy streamlined the whole exploration and application process which could have took me many months or perhaps years into a matter of several hours." – Ryan Maliszewski
---
6. Build Real World Full Stack Mobile Apps in Java (normally sold for $599)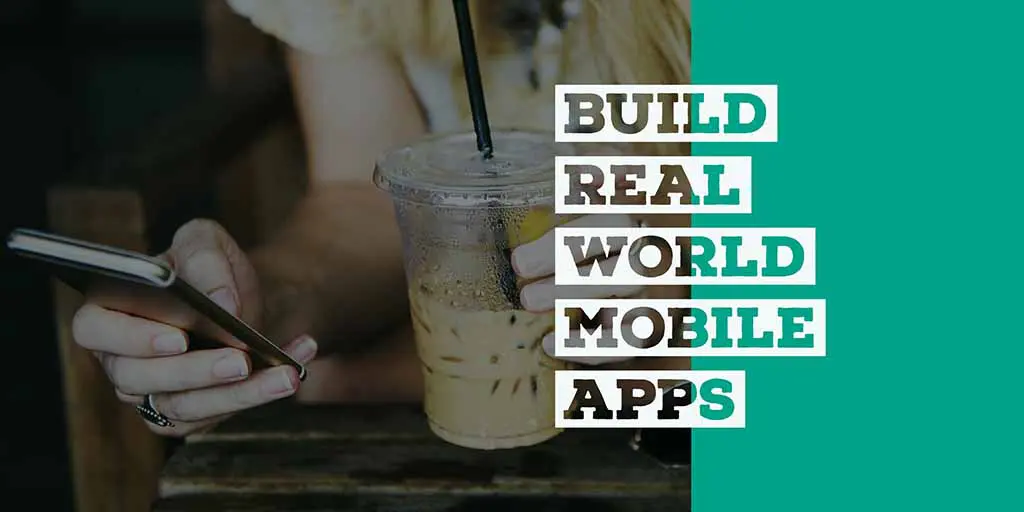 💡 What you'll learn: In order to build successful apps on your own, it's extremely helpful to practice by looking at applications that have achieved wild success in the past. This course walks you through the process of building templates for many of the most popular apps. Currently, the course includes a full-featured Uber clone, Facebook clone, restaurant app builder, and WhatsApp clone, and will add more. Using Codename One and Spring Boot, you'll write full-stack apps once in Java and have a finished product that works on all devices.
2️⃣ courses included: Build Real World Full Stack Mobile Apps in Java and Deep Dive into Mobile Development with Codename One
⭐ Why learn mobile development?
Can earn $97,445/year as a mobile developer (Glassdoor)
Number of mobile apps is predicted to increase 73% by 2020 (according to TechCrunch), which means there's a ton of work to be done.
👋 Contributor info: Shai Almog is a 25-year industry veteran, former Sun/Oracle guy, fullstack developer, speaker/evangelist, blogger, and author. He worked on the first Java mobile phone development platform for DoCoMo and subsequently worked with everyone in the mobile industry from Nokia, Samsung, Sprint, Verizon, Vodafone etc. Shai's courses have almost 12,000 students across platforms.
📈 Level: Intermediate. You should be able to use an IDE such as NetBeans, Eclipse or IntelliJ/IDEA; it's also recommended that you download, install and run a Codename One app before signing up.
📖 Format: Course with videos, presentation and source code
⏰ Length: ~200 lessons consisting of over 24 hours of video material
👥 Additional support or community? Support forums for every module; you can also ask questions on the Codename One support channels in stack overflow and the discussion forum
👓 Accessibility: Most sessions have slides that include the full text of the audio
Product Testimonials
"The material was awesome and our instructor gave precious advice on making the process of app creation more efficient. This advice was applicable in my apps and improved them with subtle detail & nuance." – Rémi Tournier, Founder, ByeBye Crottoir GO!
"I still have lots of room for improvement, but feel more comfortable with how the layout managers work… I thought the explanations were very insightful in the videos… I look forward to applying a lot of these concepts for some of my own apps." – Chad Elofson owner at Chadslab Solutions
Head back to the table of contents »
---
7. Certified Web Developer Program (normally sold for $200)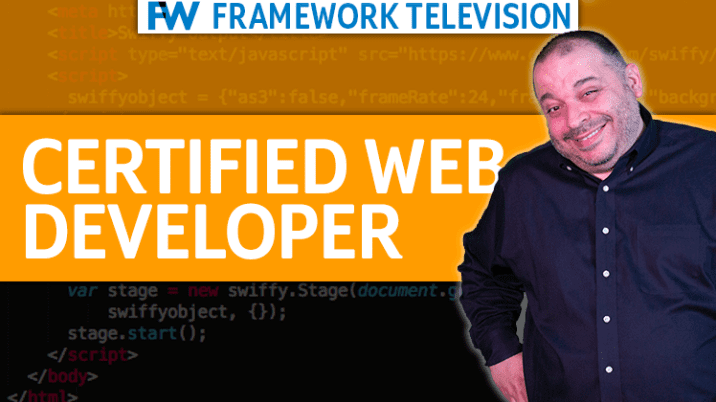 💡 What you'll learn: Want to learn how to code, become a certified professional, and have fun doing it, under the tutelage of a recognized international trainer? This is the course for you! There are no prerequisites needed, and you don't even have to be good at math–all you need is the desire to learn and the ability to follow instructions. Start with basic coding principles and work your way through a variety of languages (from HTML and CSS to JavaScript to PHP) to finally earn your title as a web developer.
⭐ Why learn web development?
Web developers earn $75,487/yr on average, which increases to $93,987/yr for PHP developers
Good job outlook: From 2016-2026, a web developer's expected job growth is 15% (much faster than average)
As a web developer, you can work independently (be your own boss) or with a team at a company — it gives you more options
👋 Contributor info: Mark Lassoff is the founder and president of Framework Television. Mark and his company have taught over one million people web and mobile development online, in the corporate classroom and in secondary schools across the country.
📈 Level: Beginner
📖 Format: Video, labs (PDF)
⏰ Length: 30 modules, 140+ lessons, 20 hours of video, 20 hours of lab work
Product Testimonials
"If you don't know anything about coding but have always had a passion for learning. this is your course. It is simple to understand as a novice and easy to follow. It goes through all the steps from beginning to end with very thorough explanations. If you have always wanted to learn how to code but never thought you could do it. This is a small investment for a big reward. You will be understanding and writing in no time!" – Jake G.
"This course is consistently giving me "Ahhhh that's how they do it" moments. I love it! I work in marketing and do not need to know the in-depth knowledge of HTML and language coding however know it will give me a competitive advantage in the workforce and will reduce the chances of developers etc ripping me off for simple tasks I can now execute. Thanks for such a great course." – Ashley M
"Mark does a great job in explaining the basics of HTML/CSS, PHP, and JS. People with no programming experience can quickly pick up many important web development skills in these easy-to-understand lectures, and then reinforce this newly gained knowledge in the labs at the end of each chapter." – Nikhil P.
---
8. The Advanced Beginner Challenge: Learn JavaScript, Ruby, Python, and More via 30-Day Challenges (normally sold for $67)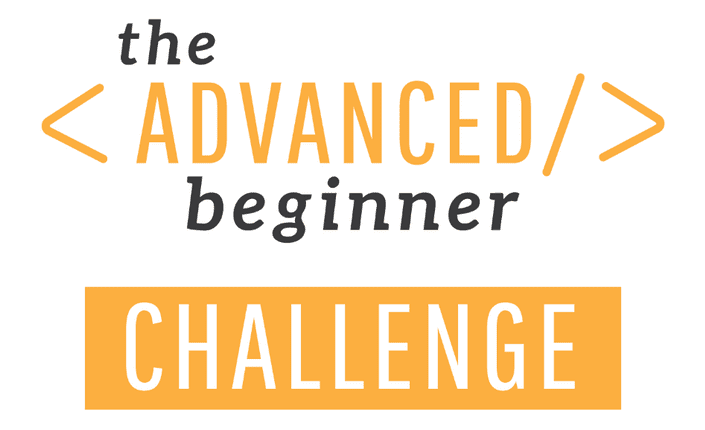 💡 What you'll learn: You can learn programming languages faster than you thought was possible, level up your current job or land a new role in tech, and even start your own business from home. This course, based around 30-day challenges, is all about learning anything you want in record time, using their "subconscious first learning" system. Course content covers six of these month-long challenges, each focusing on a different language–from JavaScript to Python.
⭐ Why learn these languages?
You can earn $72,500/yr as a JavaScript developer, $76,540/yr as a Ruby dev, and $92,000/yr as a Python dev.
Some of the biggest websites in the world are built with Ruby on Rails: Basecamp, Airbnb, Zendesk, Github, Shopify, etc.
Python is a great language for beginners all the way up to seasoned professionals, meaning you can build a career with it.
👋 Contributor info: Dain Miller is the founder of StartHere.FM, whose mission is to blow up your tech career / business. Dain formerly held tech leadership roles at the Dept. of State, The White House, and award winning digital agencies, but now has transitioned and spends the majority of his time coaching YOU.
📈 Level: Beginner
📖 Format: Course with a members-only podcast and private video lessons
⏰ Length: ~15 modules, ~200 total lessons (soon expanding to 500-750 lessons)
👓 Accessibility: English subtitles
Product Testimonials
"The Advanced Beginner Challenge seems to revolutionize the process of learning web dev, or potentially anything. Simple, not easy." – @glyakk
"I got a job at an agency as a direct result of this course!"- John Bull
Head back to the table of contents »
---
9. Spring Framework 5: Beginner to Guru (normally sold for $200)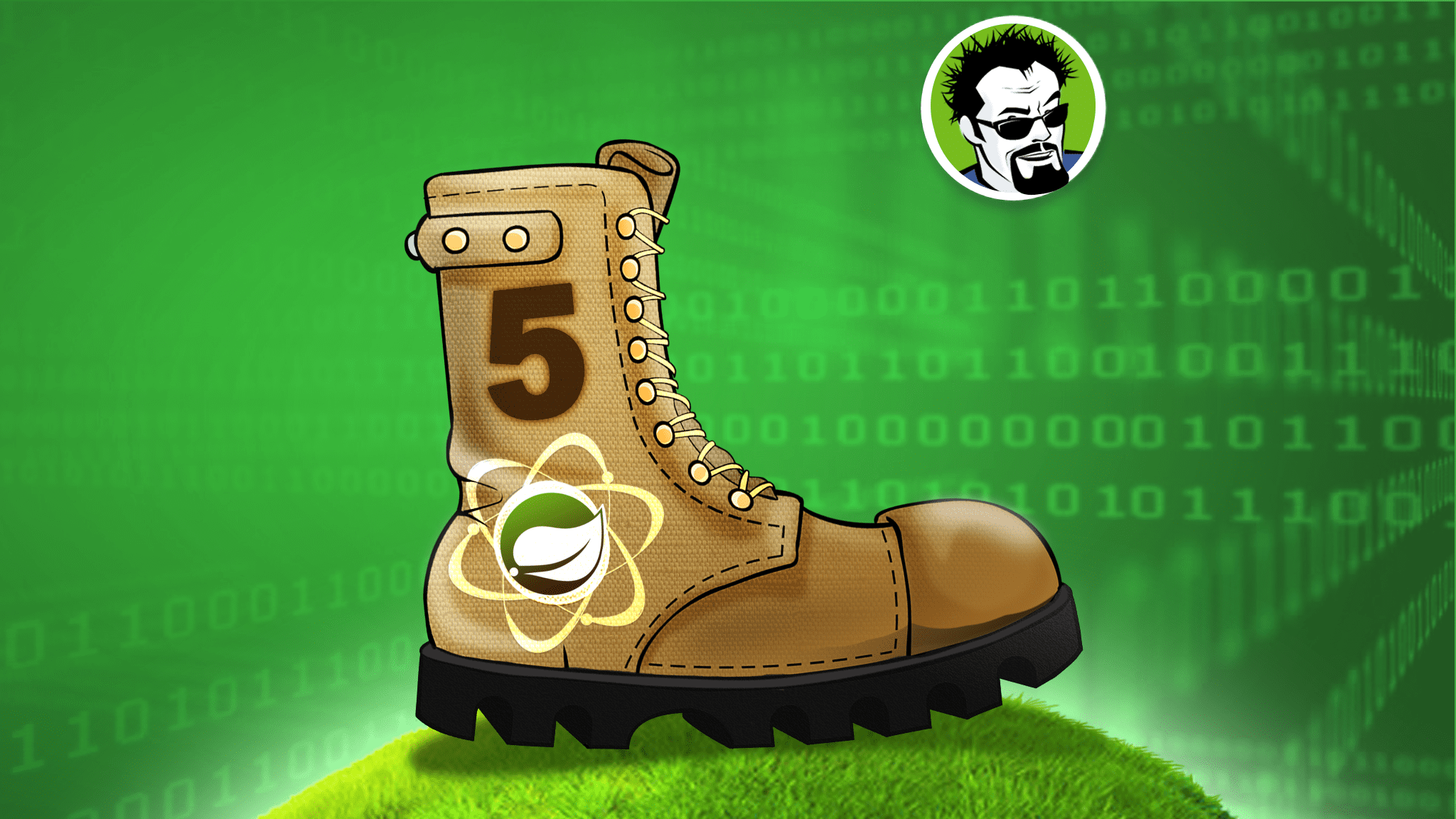 💡 What you'll learn: Spring Framework developers are in high demand and are getting paid top wages. You could be one of them after this course! Packed with over 50 hours of content, the course features dozens of hands-on examples, coding exercises, and quizzes. Instructor John Thompson is a former Spring Source consultant who has been developing Spring Applications for over 15 years. Level up your programming career by becoming a Spring Framework guru too—joining the 29,000 students enrolled in this 4.4 star course.
⭐ Why learn Spring framework?
Java Spring developers can earn an average of $117,000 a year.
Makes you a more well-rounded, competitive Java developer
Demand for Spring skills is consistently growing because it's used for rapid application development
Java has been the #1 or #2 most popular programming language in the world for decades
👋 Contributor info: John Thompson is the founder of Spring Framework Guru, an educational website for people learning to use the Spring Framework. John has been developing enterprise applications for almost 30 years.
📈 Level: Intermediate
📖 Format: Video course
⏰ Length: 468 lectures, 50 hours of content
📜 Certificate? Yes
👥 Additional support or community? Email support; Priority Support Helpdesk; access to a private Facebook group
👓 Accessibility: English subtitles
Product Testimonials
"The lessons presented in the course are smooth and easy to understand though learning Spring is not a trivial task." – Alket Cecaj
"John helped out in his tutorials and prompt email responses. I am now a Java Software Developer and owe it to John for my success!" – Drew Jocham
---
10. How to Get a Job in IoT Product Management (normally sold for $195)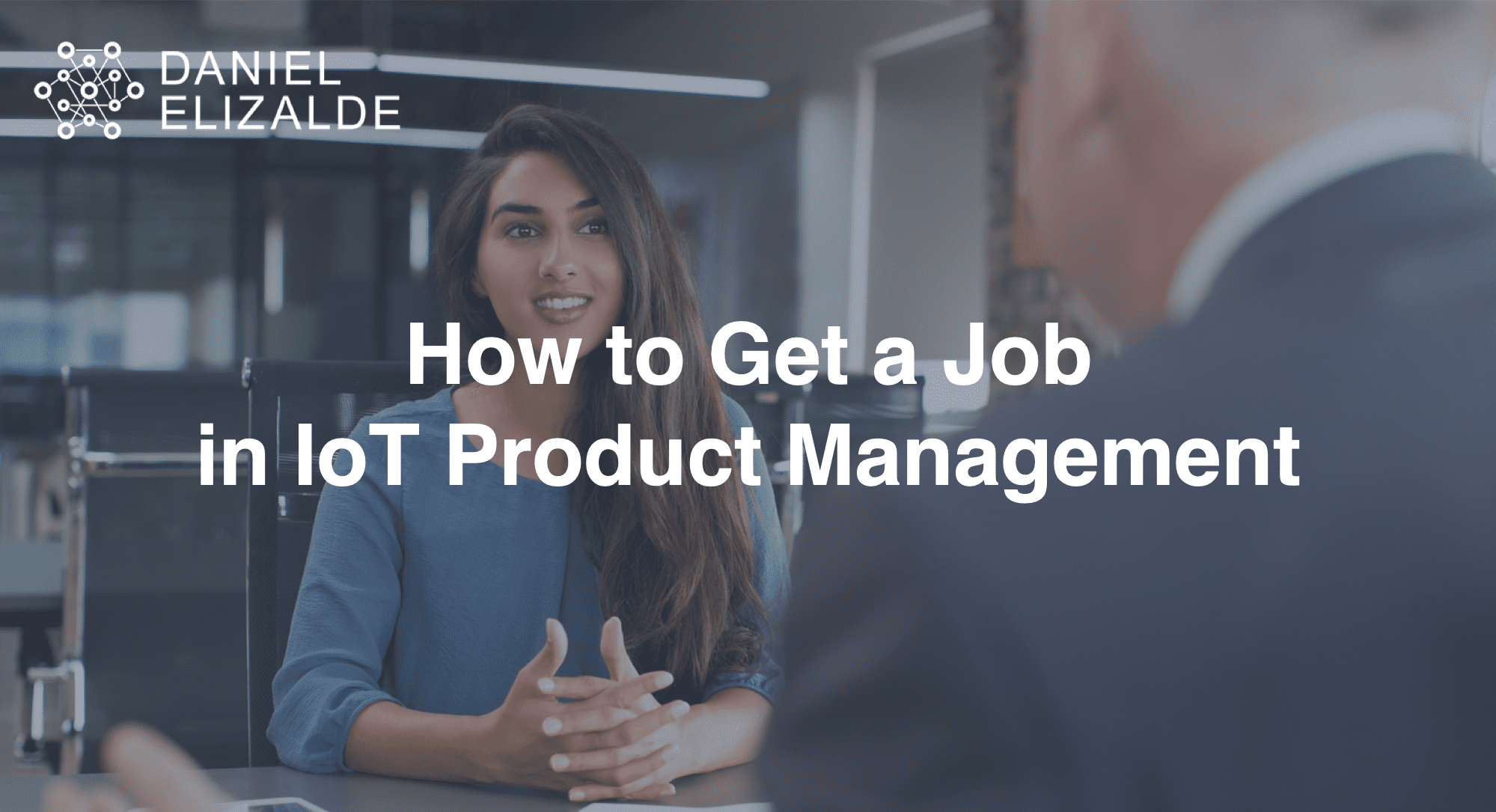 💡 What you'll learn: The Internet of Things (IoT) is growing at lightning speed, providing an incredible opportunity for product managers. But how do qualified professionals find these opportunities and seize them? How do you know which companies are even working with IoT? This course walks you through exactly how to find a job in IoT product management. It's designed for PMs, engineers, designers, or business professionals who want to join an exciting new field exploding in demand.
⭐ Why learn about IoT product management jobs?
IT project manager average salary: $97,312/yr
IoT skills make you a more competitive project manager because IoT helps create an environment of quick results.
IoT project management is a way to get into the growing field of IoT without needing super advanced technical skills.
👋 Contributor info: Daniel Elizalde has over 20 years of technology experience. He is a former head of products turned IoT Product Management coach. He has trained over 1,200 professionals from leading companies on IoT strategy and also teaches IoT at Stanford University.
📈 Level: Intermediate
📖 Format: Self-study video course.
⏰ Length: 3 hours of video content divided into 4 modules
👥 Additional support or community? Access to private Slack community; private Q&A sessions
Product Testimonials
"Finding the right IoT talent is hard, and Daniel understands the pain-points of the hiring managers building IoT teams. The material in this course makes candidates better prepared for interviews, ace the interviews and most importantly fosters a community of experienced professionals to support you through the complete path of becoming an IoT Product Manager." – Vishwesh (Vish) Pai, Director of Product Management, IoT Cloud – Samsung Electronics
"Daniel is a fantastic instructor who teaches purely from his experience, citing real-world problems and solutions in the IoT world… I have friends who are past students of Daniel's and Product Managers in the IoT space who still use his course material as a reference today." – Anirudh Kasturi
Head back to the table of contents »
---
11. Grumpy Testing Bundle (normally sold for $30)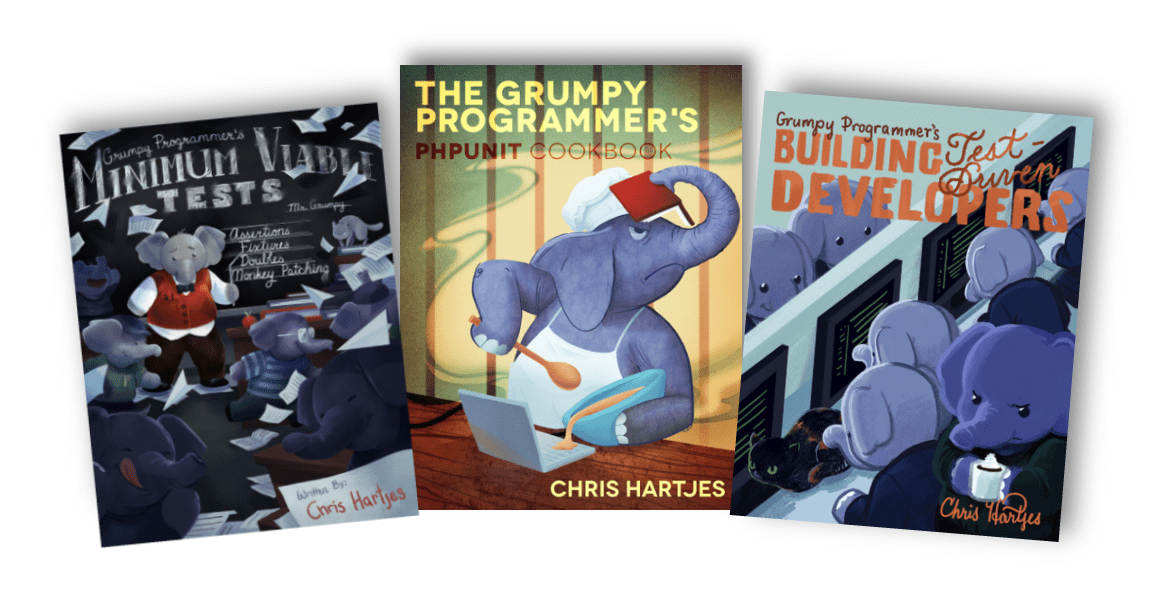 💡 What you'll learn: This bundle includes copies of three of PHP's best-selling testing books by author Chris Hartjes. With these books, you'll learn the fundamental skills, tools, and concepts to write and conduct effective tests for your PHP code. "The Grumpy Programmer's PHPUnit Cookbook" teaches you how to use PHPUnit, the community's standard testing framework. "Minimum Viable Tests" outlines the minimum amount of information that you need to know in order to start writing tests. "Building Test-Driven Developers" teaches you the skill you will need to get your fellow programmers writing tests too.
3️⃣ ebooks included: "The Grumpy Programmer's PHPUnit Cookbook", "Minimum Viable Tests", and "Building Test-Driven Developers"
⭐ Why learn PHP testing?
If you've been doing PHP development for a while but you find yourself constantly battling bugs, finding it hard to integrate bits of code together, and staying late to do deployments. You know there is a better way through test-driven development but you have no idea where to start
Managing the expectations of people is one of the least-understood parts of testing computer software—tests are written by people, not machines
👋 Contributor info: Chris Hartjes has been building web applications of all shapes and sizes since 1998. He wants to help you learn how to test your PHP applications using PHPUnit and other tools so it leads to better outcomes. 4 days a week he works for Mozilla from his home office in the snowy wilds of southwestern Ontario, Canada, helping to create automated tests for web services. On the 5th day, he works on building his Grumpy Learning empire.
📈 Level: Intermediate
📖 Format: eBook (PDF, ePUB, Mobi, and mobile app available)
⏰ Length: 206 combined pages
👓 Accessibility: Entirely text and image-based
Product Testimonials
"Quick, clear, concise. Funny commentary makes it an enjoyable read." – Jenny
"Great introduction to automated testing and tdd. Highly recommended especially for people just starting out." – Boyan Yordanov
---
12. Create Awesome Vue.js Apps With Nuxt.js (normally sold for $89)

💡 What you'll learn: When it comes to JavaScript, the tech industry has been moving towards faster, easier to use, lighter-weight frameworks that can be integrated into any project. Vue.js is the answer. It's been blowing up in popularity, with major companies like Expedia, Alibaba, and even Facebook using the framework. In this course you'll learn about Vue.js and how you can use it with Nuxt.js to create awesome interactive applications.
⭐ Why learn Vue.js and Nuxt.js?
👋 Contributor info: Erik Hanchett is a full stack software developer from Reno, NV. He's a published author of his 2017 book Vue.js in Action. He also has a Computer Science and MBA degree from the University of Nevada Reno.
📈 Level: Beginner
📖 Format: Video course
⏰ Length: 6 hours long
👥 Additional support or community? Access to a private Facebook group where you can discuss and get help with each lesson; Q&A sessions; unlimited email support
Head back to the table of contents »
---
13. Client Onboarding Bundle (normally sold for $258)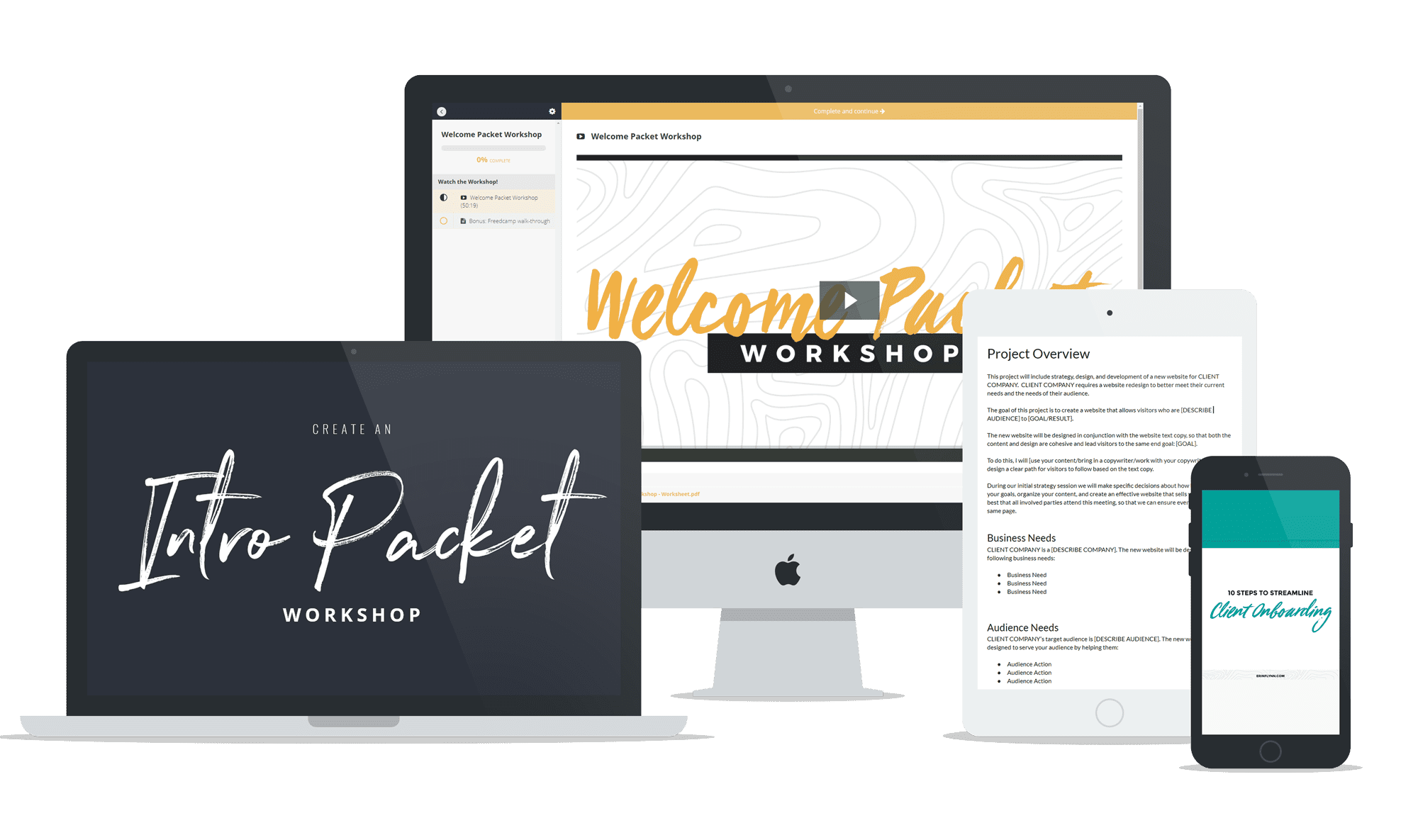 💡 What you'll learn: New freelancers are often so focused on getting clients that they don't know what to do after they've closed the deal! With the Client Onboarding Bundle, it's no longer a mystery. Erin Flynn's Client Onboarding Ebook guides you through the entire onboarding process. In the Intro Packet Workshop, you'll create your own materials to distribute to clients and make sure they're a good fit. And the Proposal Template makes it easier than ever to keep winning over clients and building your business.
4️⃣ products included: Client Onboarding Ebook, Intro Packet Workshop, Welcome Packet Workshop, and Web Design Proposal Template
⭐ Why learn about client onboarding?
Good client relationships are the lifeblood of a freelance business
As a full-time freelancer, you get to work when and where you want to
Variety is the spice of life: work on a wide variety of projects, not just one site. (This also means you can continue to learn new things with ease.)
👋 Contributor info: Erin has been making websites since 1999, and started her own web design and development company in 2012. She's spent the past six years figuring out the business part of running a freelance web design business so that you don't have to. When she's not teaching designers or working with her own design/development clients, Erin can be found exploring the mountains near her home in Aspen, Colorado.
📈 Level: Beginner
📖 Format: Pre-recorded video, PDF, and worksheets
⏰ Length: About 90 minutes of video, can be completed in a day if you work quickly, or a week if you want to space it out!
Product Testimonials
"I wanted to thank Erin Flynn for the great webinar last week! I'm finishing up my intro packet today – it's been on my to do list forever and having you guide us through it was really helpful!" – Lisa Ross
"This workshop was such a lifesaver! I was so sick of emailing my clients the same information, going back and forth with emails before getting a signed contract and paid invoice, and always worrying about what I was forgetting. It probably wasn't the best client experience either! After going through this course I was able to immediately create my very first intro packet. Not only has it saved me a ton of time, but my clients really appreciate getting so much information up front without needing to ask for it. It helps set expectations and get them excited from the very beginning. If you don't have an intro packet to send off to your clients, you're definitely missing out!" – Krista Miller
---
14. How to Build Tinder with React Native & Firebase (normally sold for $95)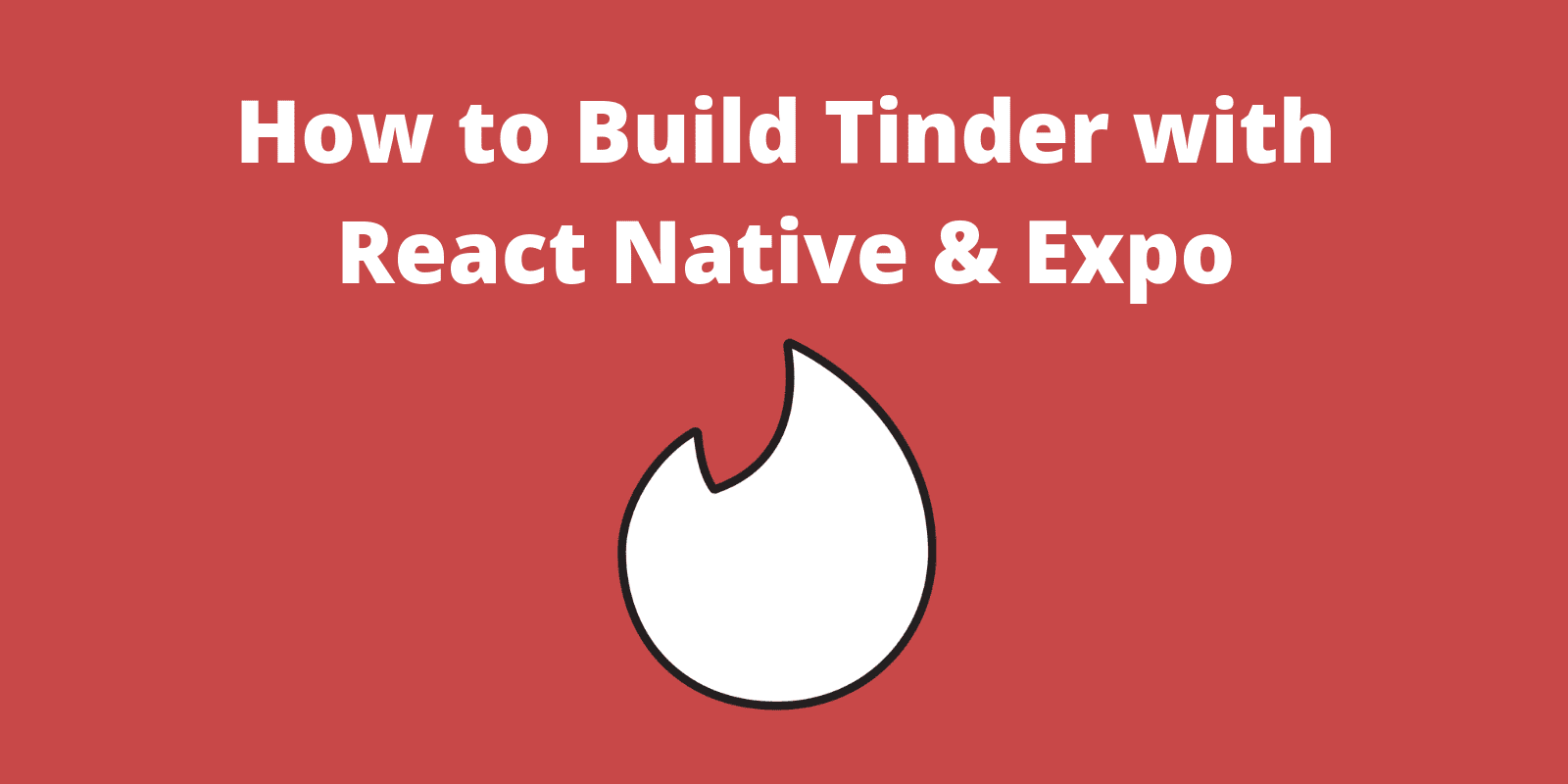 What you'll learn: Create a finished customizable project with the same features of Tinder! In this course, you'll start with a blank project from Expo and learn to incorporate different technologies like React Native, Firebase, Facebook Login and Swipe-able Cards to build your final product. It's best if you've used React and/or React Native in the past, since the course covers topics at a higher level.
⭐ Why learn React Native?
React developer average salary is $90,000
Build high-quality mobile apps knowing only JavaScript and React: "Using React Native, you can build mobile apps that are indistinguishable from the apps developed using Java or Objective-C. It uses the same fundamental user interface building blocks as the regular iOS and Android apps, but you assemble the building blocks using React and JavaScript."
It offers robust options for beginner developers: "It is the perfect tool for novice developers, who are new to JavaScript, as it provides a range of components, including maps and filters."
👋 Contributor info: Tim Moreton is the founder of Useful.ly, an online platform designed to help current & aspiring developers to build real-world applications. He taught himself how to code and become a full time software engineer and wants to share the same exact methods to help others achieve the same results.
📈 Level: Advanced
📖 Format: Video course with downloadable files
⏰ Length: About 143 minutes
Product Testimonials
"Thank you! This course is exactly what I needed to help apply and cement React concepts and also is a great guide in working with React Native/ Expo." – Clifford P
"Great step by step instruction and solid explanations of why we are doing things as we move along." – Ryan L
Head back to the table of contents »
---