If you're a Mac user, did you know you might be working harder than you have to? Setapp is a suite of productivity, task management, and developer workflow apps that can help speed up tasks, keep you focused, and improve your quality of work.
Unlike the App Store from Apple where you have to buy each app separately, Setapp gives you access to hundreds of apps for an affordable monthly fee.
Setapp is on a mission to help users get more done, boosting their efficiency. In this sponsored Setapp review, I'll be looking at what Setapp is, some of the pros and cons, Setapp pricing, a few of the best Setapp apps across various categories, who should (and shouldn't) use it, and more.
Table of Contents
What Is Setapp?
TL;DR
How Does Setapp Work?
What Apps Are Included?
Pricing
Benefits
User Reviews
How to Get Started
Verdict
What Is Setapp?
First things first: what is Setapp? Setapp by MacPaw is a subscription service for Mac and iOS applications that includes a large collection of apps, mostly in the productivity, task management, and developer tools categories.
Once you subscribe to Setapp, you essentially get an all-access pass to over 230 apps in categories like web development, productivity, lifestyle, creativity, security, etc. You can search through the full list of Setapp apps here, including best-sellers like PDFpen, Meeter, Bartender, Newton, CleanMyMac, and more.
This next-generation productivity service helps Mac and iPhone users connect with the tools they need to stay organized and level up their workflow. And thanks to their personalized app recommendation system and smart search engine, you don't have to memorize what all 230 apps do, because Setapp finds anything that describes your task in the search bar.
Their phrase "think tasks, not apps" is a great summary of this approach. When you take the traditional approach, your time and energy is spent on trying to figure out what app you need to use instead of focusing on the task you need to complete. Setapp is here to change that productivity paradigm, so you only have to think about the task while Setapp guides you to the right tool.
Setapp helps users to:
✅ get assistance with daily tasks
🔍 find and select the best tools and practices
↔️ avoid the hustle for complex workflows
💡 get personalized app recommendations
💬 and more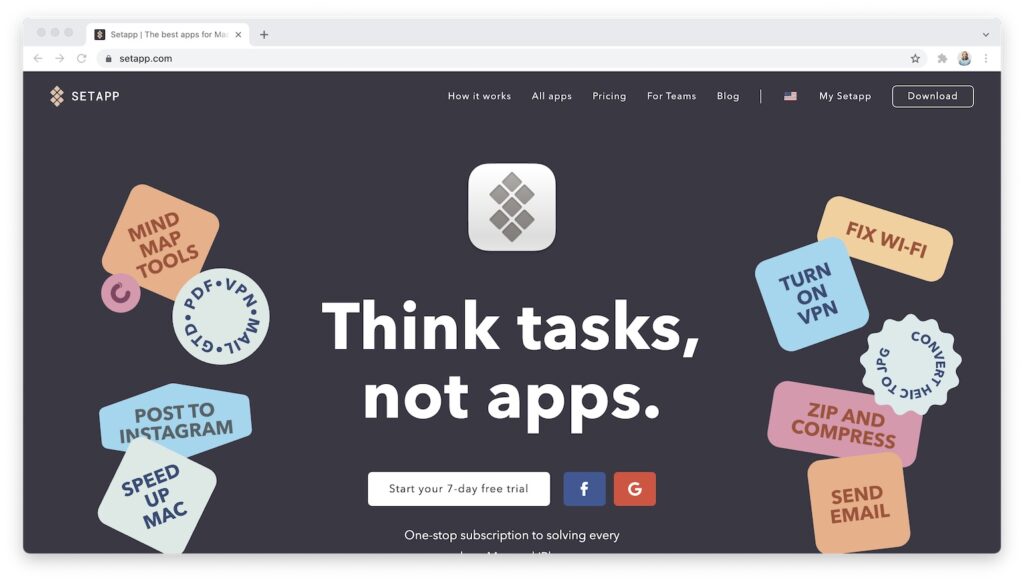 ☝️ Back to top
Setapp Review: the TL;DR
Don't have time to read the entire Setapp review? Let's hit the highlights…
Pros

230+ premium apps to choose from
Every app is updated automatically
Ad-free
Works across Mac and iOS (e.g., your laptop, iPhone, and iPad)
New apps are always being added
You can cancel anytime
You'll save money, since some apps individually would cost more than the monthly subscription!
You can discover great apps you may have never found otherwise or known you needed
Cloud sync lets you use all your apps with a single login
There's something for everyone (blogging, web dev, productivity)
Each app page gives a great description of what the app does + includes user reviews
Cons

Not available for Android, Windows, etc.
If you stop paying the subscription fee, you lose access to the apps
Some categories don't include a lot of apps (e.g. there are only 6 apps available in the Personal Finance category)
Some apps are cheaper to buy individually than the Setapp subscription fee (and some have free versions), so if you only need one or two you may not need Setapp
Still wondering, is Setapp worth it? Let's move on to the more detailed Setapp review!
Start coding now
Stop waiting and start learning! Get my 10 tips on teaching yourself how to code.
☝️ Back to top
How Does Setapp Work?
To become a Setapp member, you just need to sign up and start paying the monthly fee. The interface is easy to use — it looks like the Apple Store, so you'll already be used to the UX.
Then, begin browsing the apps. You can install as many apps as you want, and you'll access all of the apps you download through a single log in. You can also sync your apps across devices (e.g., desktop, laptop, and phone) if you have a plan that allows it.
Every app has been carefully selected and added on a contract basis with its creators. New ones are added all the time, so there's always something to explore.
☝️ Back to top
What Apps Are Included in Setapp?
The 230+ apps on Setapp are divided into various categories — let's look at what they are and some examples of the best Setapp apps inside each one.
👨🏽‍💻 Developer Tools category:
RapidWeaver – a code-free website builder
CodeRunner – lets you edit and run code in any language
Hype – create animated and interactive HTML5 content easily
Proxyman – view network requests from apps and domains
Goldie App – helps you maintain the golden ratio in your visuals (perfect if you're not great at design)
Sizzy – improves your development flow
TeaCode – time-saving code expander for any editor
And much more!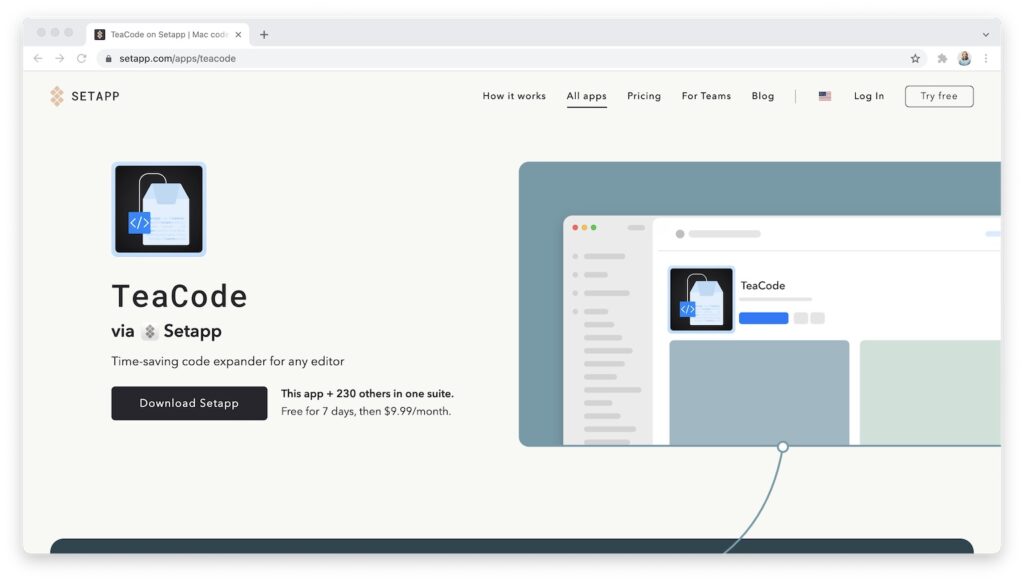 ⚙️ Maintenance category:
🗓️ ​​Lifestyle category:
✅ ​​Productivity category:
Session is a Pomodoro timer with analytics
Pagico helps manage tasks and projects
HazeOver is a distraction dimmer for your Mac
📝 Writing & Blogging category:
MarsEdit – create and publish your blog efficiently
Rocket Typist – save snippets of text so you'll never have to retype them ever again
Prizmo – applies optical character recognition to any images so you can scan documents and export PDFs
Other categories include Mac Hacks, Task Management, Education, Creativity, Personal Finance, and Security.
☝️ Back to top
Setapp Pricing
Please note that pricing listed below may change in the future!
Instead of paying for every individual app you want to own, you can use all the apps in the collection for a single monthly fee. You can also save 10% by paying for a year's subscription.
The Setapp price you'll pay depends on how many devices you want to include:
1 Mac: $9.99/month or $108/year
1 Mac + iOS devices: $12.49/month or $135/year
Up to 4 Macs + iOS devices: $14.99/month or $162/year
Setapp also has offers for families and teams. Learn more about Setapp pricing.
Before you commit to a paid membership, you can start with a 7-day free trial to check out the platform and see if it's right for you.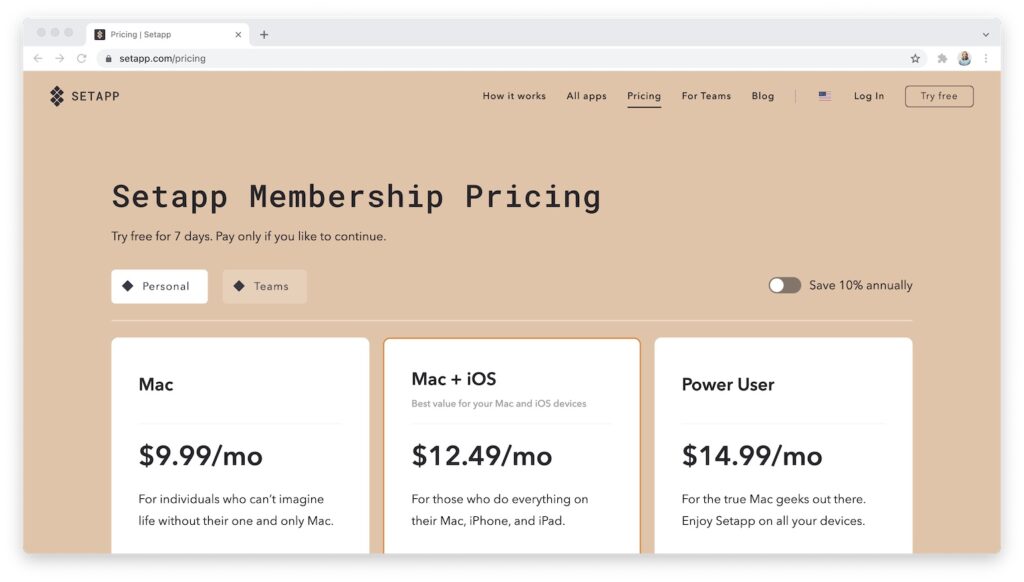 ☝️ Back to top
Benefits of Setapp
Is Setapp worth it? Let's look into some of the reasons to use Setapp and who the subscription service is best for.
Why use Setapp?
Sometimes you can't find the perfect app to help with a task (or just not know that one exists). Setapp can help you discover new apps that can help you with productivity, multitasking, web dev, etc.
Or, maybe you're interested in an app but it costs too much, or you may want to purchase multiple apps and have to compromise to save money. Setapp solves this problem because it gives you access to 230+ apps for a monthly fee. There's no need to buy the individual apps separately.
Some apps cost more individually than the monthly fee! For example:
CleanMyMac X is $34.95
TeaCode is $14.99
CodeRunner is $19.99
If you bought all of those together, it would be almost $70. Considering that you can get all three apps plus hundreds of others for around ten bucks a month with a Setapp subscription, it can definitely work with your budget.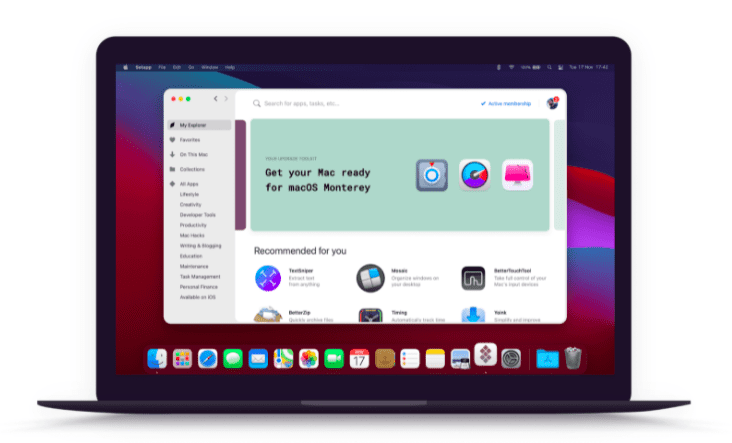 Who should use it?
Setapp is best for:
🚀 Mac / iPhone users who are looking for ways to improve productivity
⏱️ Freelancers who track billable hours and need to manage their time, be productive, and multitask with different projects
👩🏻‍💻 Web developers will find it particularly useful, as there are lots of dev-focused tools
⌚ People looking for shortcuts/ways to do things on their Mac faster
💻 People who are new to Mac (or those who want to become Mac pros) as there are lots of Mac hacks to learn from the apps on Setapp
Who should not use it?
🖥️ People who do not own and/or use a Mac
📱 People who already own a lot of the apps offered through Setapp. Check the selection here to see if it would be worth it for you.
Freelance Starter Guide
Sign-up to get my ultimate guide for getting started as a freelancer.
☝️ Back to top
Setapp User Reviews
It's always smart to check sites like TrustPilot to get unbiased feedback from previous customers. Here's what a few Setapp users have to say!
"More than a subscription service, Setapp is like your surgical assistant, before you ask for the scalpel, its in his hands passing it to you. Once you start with Setapp, you have joined up to a community. They have a great customer service, fantastic wit, and we know what we mean. You can always get hold them and they are always bringing new stock on board."
🗣️ Sue Brettell
"It's impossible to arrive at an accurate overall cost due to variables such as monthly, annual or lifetime pricing structures, discounts on upgrades versus full price, the currency used, rates of exchange etc. However, I estimate that purchasing all current apps individually would cost roughly $4500 or £3600."
🗣️ TastyTosti
"Absolutely love Setapp. The apps it includes are really nice, and the setapp program itself is really well designed. Since you get a subscription, you're more likely to try out apps that you would've never found/bought on your own, but turn out to be very useful."
🗣️ Liana
"I love SetApp and I recommend it to others. There are great quality apps I use all the time. A few are running in the menu bar at all times and some i'll open up daily. Set app def makes me feel like I get more out of my Mac now. I can do more with it than I could before. I feel like a Mac Pro now."
☝️ Back to top
How to Get Started With Setapp
⬇️ Follow these steps to set yourself app with Setapp.
Select a subscription here (or start with the free trial option).
2. Create a login and password.
3. Add a payment method.
4. Install the Setapp desktop app. (Once you sign up, the installer will be downloaded to your Mac in a zip file.)
5. Setapp says "Get used to searching for solutions, not apps" so try typing in the task you need help with, and Setapp will recommend apps that can help. You can also just type the name of an app you have in mind, of course.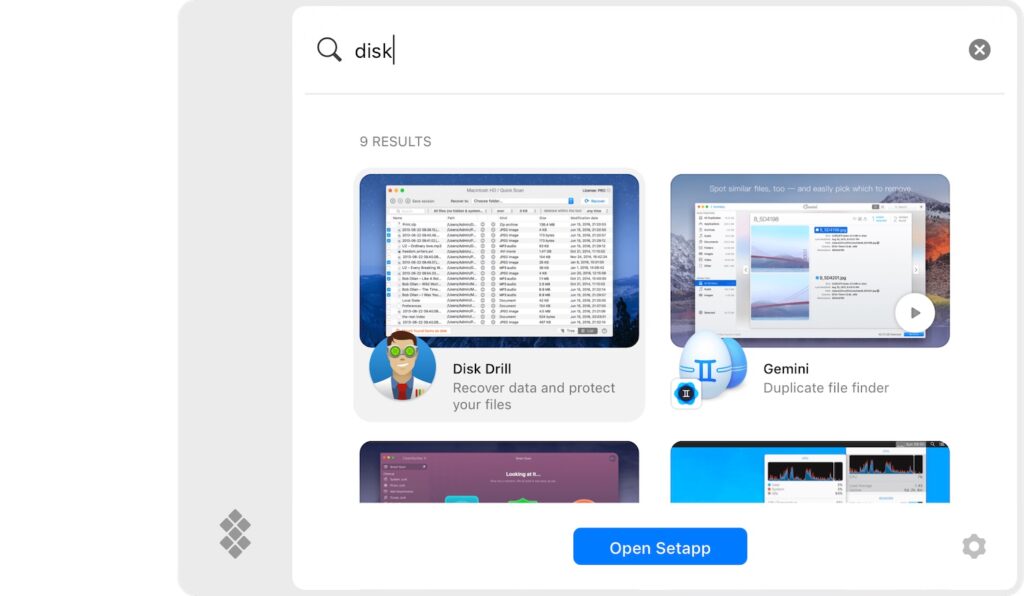 6. When you find an app you like, install by clicking the install button in the preview menu or under the app name in the list.
7. Some apps can be installed on both Mac and iPhone — look for the "iOS app" button on the app preview page.
8. Open the app, if it hasn't been launched automatically. Once the app is installed, the Install button will be replaced by Open.
9. You can then create a Favorites list to keep all your top, most-used apps in one place.
From there, all that's really left is using the apps to improve your development flow and productivity!
☝️ Back to top
Verdict: Is Setapp Worth It?
Overall, Setapp can be a great solution for those looking to speed up or automate tasks, learn new Mac hacks, and improve your developer flow.
There's something for everyone in their suite of development, productivity, finance, and other apps, but Setapp is particularly good for developers and freelancers because there are tons of options for that type of work.
However, it's obviously not an option if you don't have a Mac!
For Mac and iOS users, I'd recommend checking out Setapp's free week-long trial and exploring some apps so you can get a sense of how it could improve your workflow. There's nothing to lose, and you might find some new apps you love while you're at it!