In today's episode of the Learn to Code with Me podcast, I speak with Ryan Robinson.
Ryan works full-time at CreativeLive, is the Entrepreneur's Expert at about.com, contributes to Forbes, Entrepreneur, and other major publications, AND runs a freelance content marketing business on the side. He also manages a blog at ryrob.com where he teaches people how to establish their own business/freelance career.
Ryan has a unique perspective on how to freelance while maintaining a full-time career. After freelancing in the past out of necessity, today Ryan approaches the world of freelancing with a different mindset—which he shares in this episode.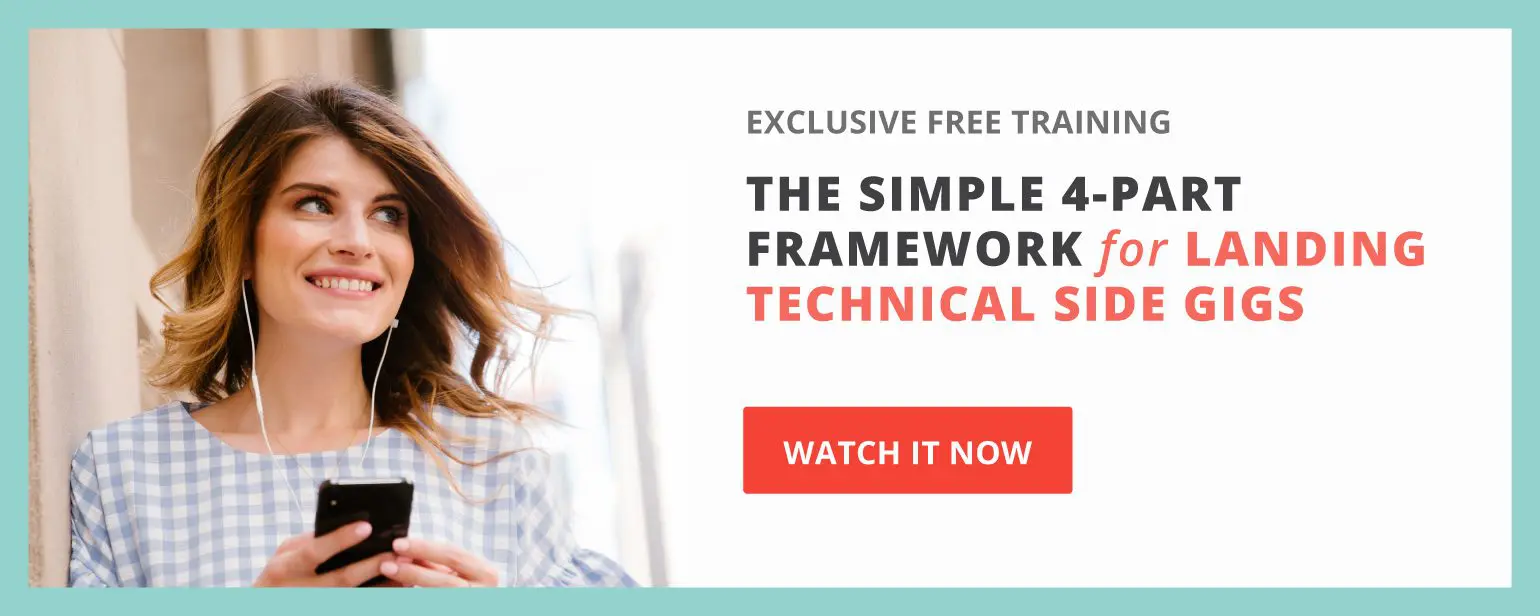 We also get to hear Ryan's mistakes, successes, and lessons he learned since he began freelancing several years ago. In the interview, Ryan also talks about establishing priorities, knowing when to say "no," and the importance of creating a high-quality portfolio website to help you connect with potential clients.
Laurence Bradford:
Hey guys, it's Laurence from the Learn to Code With Me podcast. Today, I have Ryan. Ryan works at CreativeLive, he's also the entrepreneur's expert at about.com. On top of that he manages to find time to have freelance clients. Today in our conversation Ryan talks about how he manages his time, how he got started freelancing, and some advice for people who are looking to freelance and keep their full time job. You can find the show notes that go along with this episode at learntocodewith.me/5. Alright, let's get right into the interview, again, with Ryan from CreativeLive.
Hey Ryan, thanks so much for being here with me today.
Ryan Robinson:
Thanks for having me, I'm excited to be here.
Laurence:
Me too, could you just tell the audience quickly who you are and what you do?
Ryan:
Absolutely, my name is Ryan. I am a freelance content marketer. I also have a day job, currently. So I have a content marketing gig over at Creativelive.com where I work with all of our business instructors who come into teach classes. I help them market their classes and then on the side I also operate a freelance content marketing business and I have a blog, ryrob.com that teaches people how to start a profitable freelance business on the side as well.
Laurence:
That's so exciting. You're one of the few people that I am just so impressed with how much you do. I really can't wrap my head around everything that you do, because I see you everywhere. I'll be online, I'll be on entrepreneur.com and all of a sudden I see you pop up writing an article. Of course you're on CreativeLive, you're on your own website, you're sending out emails about courses and so on and so forth. Just to get the ball rolling, could you share some more details about how you got started as a freelancer?
Ryan:
Yeah, absolutely. It's really a funny story the way I see it. I kind of break my career as a freelancer into very two distinct episodes. This first episode I had, probably back in, I think it was 2013 when I first started freelancing the very first time, I really did it out of necessity. I had this business going, on the side of course, with a best friend of mine from college. We were working on this business, it wasn't bringing in quite enough cash flow for us to justify quitting our day jobs and focusing on it full time. But, a series of events kind of led me down the path to needing to leave my day job. I write about that on my blog, it's a pretty exciting story.
So my friend and I were left in this business that wasn't making enough money to support us both.
So the first time I started freelancing it was kind of a 'holy crap, I need to be bringing in more revenue.' That one was really not on my own terms. I ended up having to go back and get a full time day job which led me to CreativeLive. Since then, I've been building a lot of strong relationships, increasing the amount of portfolio pieces I have and so now I've sort of relaunched into freelancing on my own terms and it's been a completely different experience.
Laurence:
Wow, I love everything you're saying. How long ago was it when you first got started freelancing?
Ryan:
The very first time was back in 2013.
Laurence:
2013, okay got it. So it sounds like you were freelancing kind of out of necessity at that point in time and then you went back to getting a full time job and you're freelancing again but now it's on your own terms.
Ryan:
Right, and I would say, honestly, the biggest difference is this time around I value myself completely differently. The first time I started I had sort of calculated what I should charge as an hourly rate based upon what I was making kind of as a salary at my previous job beforehand and so that equated to somewhere around $25-30 an hour. What I was charging as a freelancer, which really is nowhere near enough to be able to make it. This time around I'm going for much more of the premium, sort of price range for my content marketing services and so I've been able to build a lot of portfolio examples that support that this time around.
Laurence:
So I'm curious, it sounds like your experiences freelancing beginning now are quite different. Early on, how did you get clients and was that kind of different with how you get them today?
Ryan:
It was completely different. The first time around I was looking for freelance jobs. I was much less focused back then. I was doing content marketing without knowing I was doing content marketing. The majority of freelance jobs I was looking for were like blog post writing, editing jobs, a little bit of, sort of, social media marketing mixed in there too but all the clients I was finding were on Upwork, PeoplePerHour, I was going into these marketplace websites, basically searching for clients on there, exclusively. One reason being, because I didn't really have a great website portfolio, I didn't have the examples that could sell myself.
This time around, most of my clients actually come to me. I've used my blog as sort of this testing ground of basically everything I create on my blog I can create for my clients. Lots of them end up discovering me sort of on a whim, or I mention them in a post. I'll reach out and say 'hey, just wanted to let you know I mentioned you here, let me know what you think, if I quoted you correctly.' Then one thing usually leads to another and I end up pitching them on something that can help their business too.
Laurence:
Yeah, I love that. So it's like your blog is sort of your resume/cover letter/portfolio because you use it, as you said yourself, as a testing ground to show clients what you can do. I want to kind of quickly go back to the bidding sites or the marketplace sites. When you talk to people nowadays who want to get started as a freelancer, do you ever recommend anyone to start there?
Ryan:
Just out of personal preference, I don't. I think, depending on what your goals are and where you're at with your freelancing portfolio right now, it can be a good thing, just from the perspective of maybe even learning what exactly you're best at. Getting an idea of sort of what most people are looking to have achieved by going on these marketplaces is helpful. But, in my experience, I haven't found, at least premium priced gigs on most of the marketplaces, which I think if you're going to go into freelancing, especially if you want to do it full time, a living wage is much more, much closer to the $100, $150 per hour range which is very difficult to find on those marketplaces.
Laurence:
Yeah, I totally agree. I kind of want to transition a little bit to people who right now have a full time job and they're really thinking about freelancing and think it could be something for them. I know you write a lot about freelancing and having a full time job at the same time and it's something that you're doing right now. Are there any tips you have for someone who is thinking about going down that route? How they could decide if it's something that's right for them?
Ryan:
Yeah, I think probably the most important thing to keep in mind if you're considering going down the path of freelancing on the side is asking yourself why you want to do it. Are you motivated by making more money? Do you view it as a way to eventually step into a self-employed career? Getting very clear on what your goal is, is going to help you actually stick with it. Part of the reason I think, the very first time I went freelancing didn't pan out so well for me was that I was doing it out of complete necessity vs. wanting to do it this time.
Now I'm building my freelance business on the side with a very clear goal that it will end up being my full-time job very soon. I would say getting very clear on why you're wanting to freelance in the first place is important.
Laurence:
Yeah, I really like that answer. You mentioned money and that's definitely, I think, a big reason why a lot of people want to freelance on the side is just to earn extra money. Do you think that's a good reason alone, money? Or maybe it depends on the person?
Ryan:
I think it totally depends on the person, you're right. I think it's a great goal to have because it's necessary when you're trading your time you need to be compensating yourself for that. But, I think it should really be sort of just rolled up into this larger purpose of what you're wanting to achieve. Because it's really difficult freelancing on the side.
I get up at 4, 4:30am on most days during the week so that I can work on freelance projects before I head into my day job. Then I spend plenty of time on the weekends too, so I'm sacrificing a lot doing it. Having that larger, bigger picture goal of, 'I'm investing in my future here,' is what actually keeps me doing it. It's not so much the money. I regularly turn down writing gigs that don't help me propel my career and build my portfolio the way that I want to.
Laurence:
There's so many great things you said there. First, I think I want to ask just about any tips or advice you could give someone about making it work. Freelancing, and having a full time job. You just said you wake up at 4am, is there anything else you do to allow yourself to get all of the things you have to do done?
Ryan:
Yes, absolutely. I've gotten so serious about how I prioritize what I do and do not spend my time on. I very actively manage my emails. It's very easy for me to get stuck in my inbox, especially from my website. I have dozens of people that email me every day or respond to different autoresponders that I have when people download things from my website. So I have a lot of conversations going on through my inbox constantly.
Setting aside blocks of time to deal with things that I need to deal with is very, very important to me because I know that I can only handle three, maybe four freelance clients at a time. So I have to set aside very specific blocks of time to work on those projects otherwise it just doesn't get done.
Laurence:
You talked about a bit before about saying no to projects. Is there any kind of guideline or framework that you follow when you're deciding if you should take on a freelance project or not? Or any questions you ask yourself?
Ryan:
Yeah, I would say that there's definitely this gut-feel component to it so I personally need to be excited about the client and the project because if I'm not super-excited about it, it's not going to be very easy for me to continue getting up super early and work on their projects. When I'm looking at a potential client, they need to fit within the confines that I've placed within my freelance business.
I work specifically with only two types of clients. Either a growing start-up, usually something technology related, or an influencer who's looking to grow their personal brand. Usually those types of projects are more related to ghostwriting and helping them build their influence online. I have these very, two specific pictures of people that I work with, and so that helps me serve as a very helpful filter point.
Laurence:
I really like that because it can become really hard sometimes to say no to things. Especially when, maybe it was an opportunity you were thinking about, but it's like the whole shiny object scenario, where this thing comes along and you don't know if you should do it or not. So I think it's really great that you have these two kinds of clients that you work with specifically. However, has there ever been a time in the past where maybe an opportunity came your way that didn't fit one of those two clients, but you took the job on anyway because it was something that was really great?
Ryan:
Oh yes, absolutely. So, I kind of view opportunities as a very broad umbrella of things, so basically to me, an opportunity is something that takes my time investment to do. So, I'm trading that time for something I could be doing elsewhere. I've actually developed something for myself that I call the 'just say no' time management system. It's sort of this 3-step process of evaluating incoming opportunities, determining, first if it has a positive impact on my immediate business goals. Then after that figuring out where exactly it fits into my core priorities.
If I get something like and interview request or a podcast interview request, I'll first evaluate the audience and the listeners of that podcast and say, okay, is this something that is going to help me achieve my core priorities right now? If it's not, I'll kindly decline or say, 'You know what, I'd be happy to do it later.' If it is something that will benefit me immediately then I'll say 'absolutely,' and so I'll find the time to reprioritize myself. I apply the same sort of thinking to new freelance opportunities. I'm always looking to see first, if it has an immediate, short-term, positive impact on my business, and then second, where it fits into my priorities.
Laurence:
What did you call that again, the just say no time management process?
Ryan:
Yeah, I call it the 'just say no' time management system. If you google exactly that it will be right at the top there.
Laurence:
Okay, I like that, that's good. It's funny, because early on it's awesome to have all these opportunities coming your way but then as you progress and there becomes more and more it can be kind of overwhelming at times. So having some kind of framework like that to help guide you is definitely helpful.
Ryan:
Yeah, definitely. I would say I'm a huge follower of the belief that busy is not a good thing. Busy means you're not managing your time and your opportunities in the best way possible.
Laurence:
I like that, that's good. Next question, has there ever been any really big frustrations you've faced in the past or maybe even recently and specifically, frustrations or struggles that relate to freelancing and having a full time job at the same time.
Ryan:
Yeah, I would say that it's basically a constant progression of struggles. You're consistently sort of on this tired phase, at least for me, when I'm working 30+ hours a week on the side in addition to the 40 or 50 I spend at CreativeLive every week. I'm constantly tired, right, so I get a little more irritable on occasion, but basically, with my business, I have this freelance business on the side, and my website which I'm also trying to grow so I'm doing a lot of different things and then I also write for different publications, so I would say a constant struggle for me is how to allocate my free time because I have a very set number of hours I'm willing to work each week on the side. I'm always distracted by like 'oh this is a really cool idea for a blog post' and then if I'm not careful I can find myself spending 5-10 hours writing a massive blog post on a Saturday or Sunday instead of working on a project where a client has an expectation of me.
Being very self-aware of what I'm doing in the moment is a constant struggle for me. I don't know if that's something that I'll ever truly master, I think it's this sort of life long pursuit of how well can you stay on task and stay focused on doing the things you know are going to get you to your goals fastest.
Laurence:
Yeah, I totally relate with the 'you have a really good idea for something' and next thing you know you spend like 5 hours working on it. Then sometimes I never even -
Ryan:
Yes, and it's so difficult because that's such a rewarding process.
Laurence:
Yeah, and some of the things I'm thinking I've done recently I never even published or put out there. So it's like I never even really finished it because I realized, 'oh this isn't something I should be working on right now.' It's can definitely be hard, having these different kinds of ideas and wanting to pursue them. So, over time, I know you said you want to eventually do your business and freelancing full-time, do you have any idea of when that would be? Or maybe a better question would be, is there a certain point that things would look a certain way that means you're ready to quit your full time job?
Ryan:
Yes, so I am definitely an avid goal setter. I've learned at least to stay away from putting undue pressure on myself in terms of 'this is my exact date that I'm quitting my day job.' Because I've done that in the past. I've had the experience of quitting a day job a little bit too early and now I like to follow more of a guideline of income. So, how much site income am I bringing in each month that is reliable and consistent? Once I hit the threshold of bringing in about 75% of my full-time salary in just site income, that's when I've sort of proven to myself that I can quit my day job and justify going full time on the side.
Laurence:
That's really good, and to look at the numbers rather than just setting a date of when to quit your job, I like that. How do you monitor that? Do you use a spreadsheet to track month over month?
Ryan:
I actually use Mint for all of my personal finances. I'm just very strict about categorizing all the different sources of income and expenses I have just so I'm monitoring things. I actually use Mint. Very simple.
Laurence:
Final scenario question. This is someone who has no freelancing experience but they want to get started, what is one step they could do today to take a step in the right direction?
Ryan:
In my opinion, there's a lot of different methodologies and schools of thought on how to get started as a freelancer. In my opinion, I think if you want to build sort of this premium brand for yourself then Laurence, this is something you've done a good job of - you have to have a very high-quality, nice-looking portfolio website. If you don't have a website for yourself that you can highlight what you can do for your clients, you're going to have a very difficult time selling yourself and your services, especially if you want to go for premium pricing. I would say, first step in getting started with freelancing is to take the time to put together a very good-looking website and something that can scale as you go and you'll be able to constantly add different portfolio examples to it.
Laurence:
Nice, I like that answer.
Ryan:
Right, it's a very good time investment. Even though you're not immediately going out and trying to sell yourself, and land gigs, I think if you even spend a few weeks to a month doing something like that it's something that's going to pay dividends over time. My website is by far my biggest asset in my freelancing business. It's because I've spent countless hours on it.
Laurence:
Definitely. Thanks so much Ryan for talking with me today. I took away a lot of great tips about freelancing and managing time and things like that. Now for the audience, where can people find out more about you?
Ryan:
Yeah, I actually set up a page, it's ryrob.com/code where I'm giving away my free freelance proposal template and I left a few other goodies on the page for you as well.
Laurence:
Thanks so much Ryan. For all the listeners we'll definitely have that listed on the show notes page as well as any other resources that we talked about today.
Ryan:
Thank you for having me!
Laurence:
Thanks so much Ryan, have a good rest of the day.
Ryan:
You too.
Laurence:
Hey guys, I hope you enjoyed that interview with Ryan, isn't he awesome? Again you can download the goodies that he put together at ryrob.com/code. Everything we talked about today, including this URL, is going to be on the show notes page. You can access that at learntocodewith.me/5. I also want to invite you to download a special guide that I put together about getting started as a freelancer. Inside, we talk about identifying your specialty and your services, ways to get your first client, how you can actually make money as a freelancer, and then tips on transitioning into a role as a full time freelancer. You can download this at learntocodewith.me/freelance. I just want to thank you again for tuning in today to the Learn to Code with Me podcast, I'm your host, Laurence and I'll see you next time.
Key takeaways:
Figure out why you want to freelance before you actually start doing it. Clear goals are essential for success.
When you value your services, it makes a big difference in the types of opportunities you receive as well as the amount you can charge.
Marketplace websites like Upwork or PeoplePerHour can be helpful in establishing perspective about your skills and finding out what type of work clients are looking for.
Early on, take projects you're excited about to help you build your portfolio the right way.
Use the "Just Say No" time management system when you get an offer that doesn't mesh with your core priorities.
"Busy" is not the goal. It means you're not managing your time and opportunities in the best way possible.
If you're thinking about leaving your career to freelance full-time, establish an income goal rather than a date goal.
A high-quality portfolio website that "sells" your skills can be the greatest asset in growing your freelance business.
Make sure to check out the special goodies Ryan put together just for LTCWM listeners at ryrob.com/code!
Links and mentions from the episode:
Thanks for listening!
Thanks so much for tuning in! Remember, you can listen to the Learn to Code With Me podcast on the following platforms:
If you have a few extra minutes, please rate and review the show in iTunes. Ratings and reviews are extremely helpful when it comes to the ranking of the show. I would really, really appreciate it!