In today's episode of the Learn to Code With Me podcast, I speak with Joyce Akiko. If you are looking to get started on the path to freedom and flexibility, Joyce will help you get there.
Joyce is a writer, coach, and trainer for budding freelancers. You can find Joyce at joyceakiko.com where she teaches people to become their own boss. She also offers a free course called Freelance on the Side.
In today's conversation, Joyce talks about relationship building and networking. She details her early volunteer work and how it helped her start making connections. Joyce also highlights the importance of discovering your target clients and understanding their needs.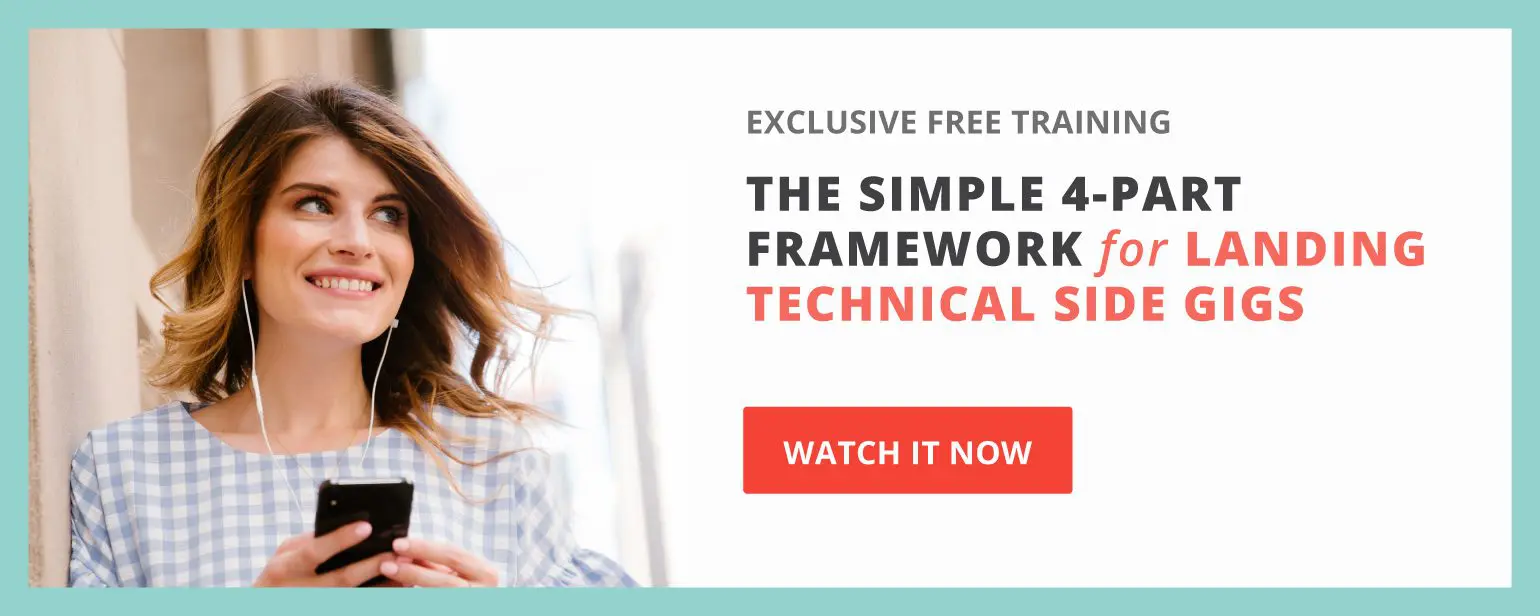 As a freelancer, your goal should be setting up a sustainable and profitable business for the long term. Ultimately, Joyce shows us how to step outside the comfort zone and find success.
Laurence:
Hey guys, it's Laurence from the Learn to Code With Me podcast. It's my very first season, and I'm speaking with guests about how to make money with your coding skills. That's why I'm calling it, From Code to Cash. Today is the 4th episode and I have Joyce Akiko on the show. Joyce helps people become their own boss so they can enjoy increased flexibility, as well as freedom, in their day-to-day. Joyce's specialty is helping introverts get out there and get their first client. Joyce and I have been pals now for over a year. It's so fun to see how much we've evolved over that time. Joyce has a great free course called 'Freelance on the Side.' You can check it out at freelanceontheside.com. Make sure to tell Joyce that I sent you.
In our conversation today, we talk about knowing if freelancing is right for you, and how to get your very first clients. The show notes for this episode, along with a full transcription, can be found at learntocodewith.me/4. Enjoy the episode!
Hey guys, I'm here with Joyce Akiko. How are you doing today Joyce?
Joyce:
Great, how are you Laurence?
Laurence:
I am doing awesome. I would just love for you to introduce yourself quickly to the audience for people who aren't sure who you are, maybe have never heard of you yet, or maybe have been to your site but don't know the whole story.
Joyce:
Sure. So again, my name is Joyce Akiko and what I do is I write, coach, and train people on how to become freelancers. Everything involved with finding your first clients, setting up a profitable business that will sustain over time. All of that I write about and I have online courses for.
Laurence:
Great. I kind of want to backtrack a bit here. How did you get started freelancing?
Joyce:
It was a few years ago now, I think four or five years ago? What happened was, I had taught myself how to code and I wanted to work for myself at this point. I thought, okay, well I'm going to start making websites for people with self-taught coding skills, and this was going to be a freelancing business. I started that. I had moved to a new city all by myself, I didn't know anyone and that was what I was going to do for my job.
Laurence:
Okay, cool. You said you've been doing it for four, or you started about four and half years ago when you first began freelancing?
Joyce:
Something like that, yeah. I'd have to look at my LinkedIn.
Laurence:
And you were doing the WordPress, right?
Joyce:
Yes, a lot of WordPress, a lot of plugins, and then also some database stuff.
Laurence:
Wow, I didn't even know about the database stuff. That's interesting. When you first got started, did you give a lot of thought to whether or not freelancing was right for you? Or if something like that kind of lifestyle was going to be a good match for your personality and things like that?
Joyce:
I didn't at the time. I knew that I wanted to work for myself. I had had other ventures in the past, like I sold clothing that I designed and sewed. I have had other small ventures in the past that made me know I wanted to work for myself, but I didn't know enough about it yet to really think about all the things I would need to know and if it was a good fit for my personality. Like sales, am I a good salesperson? I didn't think about any of that. I just didn't know to.
Laurence:
Yeah, so when you first got started, was there anything that you kind of realized, like maybe you didn't give some of these things, for instance sales, thought and then you're like, "Oh okay, I actually have to do this type of work or outreach or whatever it is."
Joyce:
A big one there is relationship building. I did not expect at all that freelancing is such a relationship business. It's not just about closing deals, having projects, making money, it's also about making sure your clients get what they need and also landing these high value clients that aren't just looking for the lowest bidder, they're not looking for somebody who's on a budget. If you really want to get a high-value client, then it all comes to relationships and who you know and who can connect you to people who need your services.
Laurence:
Yeah, so when you first got started, you didn't have much relationships? Not that you didn't have relationships but I mean relationships with people that were looking for WordPress sites or database help or things like that.
Joyce:
I did. What I had done was I actually went on a mission with myself to meet with a hundred people one on one in Philadelphia because I didn't really know anyone in the city. So I had some connections that I was building, I was in the process. Then I also started volunteering for TechGirlz, which is a non-profit that came out of Philadelphia originally and grew extremely quickly. That also helped me put something in my portfolio, helped me to meet some new people, that kind of thing.
Laurence:
I love how you brought up TechGirlz and volunteering.
Joyce:
I love TechGirlz.
Laurence:
Yeah, that's such a great way to get some experience, add it to your resume or portfolio or LinkedIn, and also meet people at the same time. Were there people that you met through TechGirlz, or maybe any other non-profit that you helped out, that ended up leading to some freelance projects?
Joyce:
Yes, actually. I don't want to talk too much about specific clients, though.
Laurence:
Oh, that's fine, I'm just wondering if the volunteering led to freelance.
Joyce:
Projects? Yes, actually, yes. Including repeat clients, which is awesome
Laurence:
Yeah, and not to go too far off track here, but someone who always talks about this is actually Tim Ferriss, who doesn't do anything with freelancing, but he always talks about how he, I don't know what the organization was, but how he used to volunteer at some organization and there were a bunch of high-powered individuals in Silicon Valley that would donate money to this and just all the doors that it opened and the
different kinds of people he got to meet just from volunteering at these events. I definitely think non-profit stuff is an awesome way to get started.
Joyce:
And if you're doing free code camp it's built into that, I think that's awesome.
Laurence:
Yeah, that's a great point. It's built right into it. You can help non-profit sites and there's a bunch of other sites as well, I'll have to put them in the Show Notes but I just know I, especially in the Newbie Coder Warehouse Facebook group I see people sharing things all the time about different ways to get work experience and some that are related to non-profits. So that's how you got started.
And now, of course, you're helping new freelancers get started, kind of taking knowledge that you learned over time, especially things with the relationship building. So that's great. When you're talking to people who are new at freelancing, or just getting started, what are some of the big things that you tell them they must do?
Joyce:
Okay, I tell people that they definitely need to identify who their clients are going to be. A big mistake that a lot of people do when they're starting out with freelancing is they think, "Okay, I'll just offer my services. Maybe I'll make websites." Let's say website development. In terms of clients, it's going to be anyone who needs a website. The problem with that approach is that people don't know how to send you referrals because they don't really know exactly who you're working with. And then also you have a hard time getting higher value clients because you have a hard time positioning your services in a way that they really want to buy.
Laurence:
So basically, getting really specific about who you want to work for. Not just, "I want to build websites," but "I want to build websites for..."
Joyce:
Maybe lawyers, or startups, you know, to get specific about what that client looks like.
Laurence:
Yeah, that's a good example. Lawyers, or startups. I was thinking restaurants or churches or something.
Joyce:
Those are also good. But if you think about how you would position a website service for a church, it would be completely different than having to position it for a startup or a lawyer. Each one is so different.
Laurence:
It also makes a lot of sense, sort of thinking out loud here, if you built 50 restaurant websites already, of course a new restaurant is going to want to hire you because you already know so much about the restaurant business and what they're looking for and what's important.
Joyce:
Exactly. And it's also easier for people to send referrals and introductions because they're like, "Oh I know somebody who has a restaurant and he needs a website." "I know someone who does that."
Laurence:
Alright, so the first thing a person should do is get really specific about what kind of client they want to work for. What's the next thing they should do? Let's just say that they want to build a restaurant for websites. What's the next step?
Joyce:
Go out and find people who have restaurants and start talking to them. Find out what kind of things that they need help with. So, maybe, for example, they just got a bad review on Yelp because somebody saw cockroaches in their basement. So if that's a problem for them, then what you can do as a web developer if you want to get them a website is say something like, "I'm going to do this amazing website and what it going to do for you is it's going to show your stellar reputation, it's going to bring customers to your door, and it's going to have you getting good reviews over and over again, because people are going to love coming to your restaurant."
So if you say that instead of, "I'll build you a new website," then this restaurateur is going to be so much more likely to want to have your services because you understand his pain point of having this bad review on Yelp. Talking to them is the next thing.
Laurence:
Is there a number of how many different restaurants you should talk to or just one or you should maybe talk to a bunch of different ones if you can?
Joyce:
I usually recommend to start out with five but when people here 'five' they'll start to balk sometimes if it's too far outside the comfort zone. So if five seems like too many, just start with one. Start with one and then work your way up. It gets easier with each person you talk to.
Laurence:
What do you recommend, let's just say a person, they want to build websites for restaurants and they begin talking to a few different restaurant owners in their area, should they log all their results in a spreadsheet or keep some kind of database or something?
Joyce:
Yes, I would recommend recording, even word for word, what they're saying so you can get the exact type of phrasing that they use. Personally I have a spreadsheet for it. I guess it depends on your own, how it works for you, how you record information usually.
Laurence:
That's a good tip on recording word for word, even the audio, so then you can get the exact words that they're using.
Joyce:
Right, because then when you're putting together your website or you're pushing your services, you can can use those word for word phrases and it's going to speak to them so much more and they're going to know how much you understand them.
Laurence:
Okay, so a person is going along and doing this process and they're talking to people, maybe they even get the first client. They're starting to build the website, they're positioning to restaurant owners. I completely feel this way as well, all the business kind of stuff can be stressful and what I mean by business stuff is like taxes and do I register as a business? When people are first starting out, when should they start worrying about those kinds of details?
Joyce:
I'm not an attorney, this is not legal advice, and this should not be construed as such. It depends on what you have that's right for your business.What I usually recommend is for people to learn as much as they can about what's needed and then to make the informed decision for themselves.
One thing I would recommend when you're starting out, even if you're just doing small projects, even if you're just starting out is to get your EIN. If you're in the U.S. it's your Employer Identification Number. It sounds like it's for employers but even if you don't have employees you can get this number from the IRS, completely for free. What you use it for is to open up business banking accounts to keep your business and your personal banking separate. And that's really important, right from the beginning, so I do recommend that right away.
Laurence:
That's a good point. So, we talked about identifying your ideal client, putting together a website and using their words and going out and talking to people directly and that's a great way. If you start doing that, how do you take it up to the next level and start getting more clients? Is there anything you advise beyond just going and talking to the people, like the target audience or the customers, so the restaurant owners? Maybe going to different kinds of events or things like that.
Joyce:
Events are good if you're comfortable going to events. I always say that if you put pressure on yourself to go then that completely defeats the purpose, because you're not having a good time. You're not learning anything, it's just not a good time. So, events can be good. What I really recommend is to continually ask for referrals. If you have a client who likes your work, you get a testimonial from them, ask if you can use their logo on your website, and then also ask them if they know of anyone who could use your services. Don't just ask them once, either. Make sure you follow up again later, maybe three months down the line, six months down the line, and again ask them for a referral.
Another good trick is if you know anyone who, let's go back to the restaurant example, if you know one person who knows a lot of people in the restaurant business in your city, if you can build a relationship with that person, then identify the specific people in their restaurant network that you want an introduction to, ask them, and then also give them a little blurb that they can use in the introduction letter when they introduce you to these restaurateurs. That way it's a great way to sort of make a connection with one person and really build a nice, valuable relationship there and then ask if you can get introductions to other people in their network.
Laurence:
For that, maybe it wouldn't even be a restaurant owner, it would just be someone who had ins or maybe did work for these different restaurants, so maybe even a person who did like marketing or social media.
Joyce:
Definitely. I always recommend finding people that can become potential business partners even if you don't work together on projects, you can at least become referral partners if you have the same target clients.
Laurence:
We use the restaurant example, which is great for more of a local kind of thing, but what about a person who wants to build websites? Or let's say they live in a really small area, like a very tiny town in the mountains and there's not really much of a local community, so they want to do things virtually. So what's a way they could kind of meet people and get these connections and build their network even if they live in a really small area, or desolate area.
Joyce:
I would recommend picking the kind of target client that you can find online. Let's say that your target clients are new moms and they want to raise their kids really healthily. So you can find blogs that cater to this target client, you could find a lot of online communities that have moms in there who are looking for tips on how to have new recipes, healthy food. And also Facebook groups.
Whatever your target client is, I'd recommend starting to find all these different websites online, like blogs or communities, maybe social media networks that they really like to focus on and then sending them there if you can't go out and find people one on one.
Laurence:
Yeah, that's definitely a really good idea about going to where they are. There's so many things online nowadays, different groups and forums that you can join and so on. For the people who maybe don't live in a big area or even a medium sized area, there's always going online. Now I have to ask this question, what do you think about the bidding sites like Upwork? I guess that's the main one. Upwork or Fiverr or something. If a person asks you, "Hey Joyce, I really need to find clients, I want to build up my work," do you ever think that's a good idea to go on a platform like that?
Joyce:
I don't recommend it because I think you'll end up lowballing your services. I think that if you really focus on who you want to have as a client and then work to build relationships and create your business that way, it's going to be far more sustainable and definitely more profitable than if you go on to Upwork. There's just so many budget buyers on there and there's also so much competition.
Laurence:
Yeah, good point. I think it could be a good way to get things faster, perhaps, projects faster. In the long run, exactly as you said, far less profitable because of all the budget buyers and the competition. There's people that have been on Upwork for a while with all of the great reviews.
Joyce:
And some of them are $7.00 an hour.
Laurence:
Yeah, especially if you're living in the U.S., I think that's below minimum wage, at least in a lot of areas.
Joyce:
Right. Even if it's faster, I really don't recommend it, because if you take all the time that you're going to spend doing these little one-off projects that's not paying you a lot and you didn't invest that time in building relationships, you can end up making so much money that will far outweigh the benefits of being able to get money faster. If it's less and then you don't have clients who can become champions and then send you referrals, for example.
Laurence:
Yeah, and when we're talking about this it makes me think of this question, which I know so many people are asking, or at least thinking to themselves, how do you know what to charge? And I know there's not a one right answer for this, but if you're just starting out and you're really clueless and you have a client coming your way and they want you to send them a proposal, do you have any guidelines to figure out what you should charge?
Joyce:
Again, it's going to depend on what your client market is and this is a great reason why you want to start looking at other people who also serve this target client. Because they're going to have a good idea, if they're more established, of the kind of prices that this client might be willing to pay for services. That is one method. There's many of them, but that's the one I would recommend based on everything we've talked about today.
Laurence:
So, looking at what other people who are serving the same client are charging.
Joyce:
And they can be competitors or non-competitors.
Laurence:
It can be tough sometimes for that too because not everyone lists prices on their site, but I think if you dig around enough there's usually some people that do have their prices listed, or their services or something on their site. I want to ask this because a lot of people always ask this, what are your recommendations for hosting a client's website on their own server, or should they make the client get their own hosting?
Joyce:
I, at least personally, I always had my clients get their own hosting. If you do want to have clients on your own servers and I recommend having errors and omissions and liability insurance to make sure, you know if your servers go down your client doesn't sue you. You don't want to be liable for that.
Laurence:
Yeah, that definitely makes a lot of sense. And also I think it probably just can prevent headaches in the future because what if you want to change your hosting and then you have all these clients that are on your server or it also makes things easier if they eventually want to go to another web person, you don't have to transfer everything over, they already have it and they have access to it. It's just easier. And you don't have to pay for it. I guess you could charge them for that but it's just cleaner.
Okay, so I am going to ask you the final question and I'm asking this question to everyone, it's like the closing scenario question. A person has no technical experience whatsoever but wants to get their first job as a freelancer. What can they do today to take a step in the right direction?
Joyce:
Think about who they want to work with.
Laurence:
Okay, thanks so much Joyce! Where can people find you online?
Joyce:
My website is joyceakiko.com, and then I also have a book at freelanceyourwaytofreedom.com.
Laurence:
Could you repeat that, the last URL again?
Joyce:
Yes, it's freelanceyourwaytofreedom.com.
Laurence:
Freelanceyourwaytofreedom.com. Okay, thanks so much. All of these will be in the Show Notes, all these links and resources that were mentioned today. Have a great rest of the afternoon, Joyce and thanks so much for talking with me.
Joyce:
Yeah, no problem, thank you.
Laurence:
I hope you enjoyed our conversation. You can find Joyce over at her website, joyceakiko.com. Or, go over to the Show Notes for this episode at learntocodewith.me/4. Lastly, I want to tell you about a special guide I've put together on how to get started as a freelancer. Inside this guide, I talk about how you can identify your specialty, services, and audience, ways to get your first client, how to actually make money as a freelancer, and much more. You can download it at learntocodewith.me/freelance. Next week's show is also all about freelancing with guest Ryan Robinson. Ryan works full-time for CreativeLive, he writes for big name sites like Forbes, he has freelance clients, and he even makes his own online courses. How does he do it all? He fills us in next week. I'll see you then.
Key takeaways:
Closing deals, completing projects, and making money is important, but relationship building is key. When you have a good relationship with the right people, they will naturally connect you to the right kind of clients.
Volunteering can help you gain experience and add items to your portfolio. It will also help you meet new people, which is essential to building your network.
Know who your target clients are and do the research to figure out what they want, then find a way to give it to them.
Reach out to potential clients. Record conversations and note exact phrasing. And store it for future reference.
Keep your business and personal banking separate. Get an EIN and establish separate accounts right from the beginning.
Don't be afraid to ask for referrals. Get testimonials from clients and ask for introductions to people who need your services. Follow up every few months to keep your client relationships strong.
Connect with people who can become potential business partners in the future. Even if you don't work with them, referral partners can help grow your network.
Rather than getting jobs fast, take the time to build relationships the right way. When you focus on quality clients, your business will be more sustainable and profitable long-term.
Links and mentions from the episode:
Thanks for listening!
Thanks so much for tuning in! Remember, you can listen to the Learn to Code With Me podcast on the following platforms:
If you have a few extra minutes, please rate and review the show in iTunes. Ratings and reviews are extremely helpful when it comes to the ranking of the show. I would really, really appreciate it!