Do you ever think about starting your own blog, but either hate the thought of writing or feel totally overwhelmed when beginning to plan?
If yes, then you're going to love my discussion with Kayla Matthews, creator of the blogs Productivity Theory and Productivity Bytes.
Below Kayla shares advice for newbies getting started with blogging and tools to use to make the process easier.
Blogging 101
Want to start blogging? Then you MUST download my ultimate guide!
Kayla's Background Is Not In Writing
Surprise!
Even though today Kayla primarily writes, she actually studied graphic design at the University of Pittsburgh.
Sometimes Kayla still picks up small graphic design projects when she is looking for some extra money, a change of pace, or finds the subject interesting.
But, in her day to day, Kayla mostly writes. And has been doing so for 2-3 years.
As she explains,
"I started my personal blog, Productivity Theory, a few years ago and as I built it out I began to find communities interested in what I had to say, like those at Lifehack and Tiny Buddha. In short, I only started truly writing online 2-3 years ago."
Make no mistake about it: Kayla write a lot. In fact, she writes 10 articles a week, give or take.
Beyond her personal sites, Kayla's writing can be found on large publications like Huffington Post and MakeUseOf.
She writes primarily about apps, gadgets and productivity. (As you probably could have guessed based upon the title's of her blogs.)
Below are a few q&a's with me and Kayla.
Enjoy!
—-
ME: What made you interested in writing about productivity / apps / gadgets to begin with? Was there some kind of series of events that led to it?
KAYLA: Hmmm, this is a good question. I feel that I've always been a very introspective person so I've always kind of tried to monitor my personal habits and behaviors and make them better. When I began writing online I naturally just gravitated towards those subjects and found that they're actually quite the hot topics for many websites and individuals. I also use some health tracking and list tracking apps every day, so combining tech and productivity was something that just made sense.
ME: What advice would you give someone who wants to create a blog and share their thoughts, but shuns the thought of writing frequently?
KAYLA: I'd say that writing frequently isn't nearly as intimidating as it sounds when you're writing about your own opinions or things that are very important to you. When you have something you want to say, saying it becomes very important to you and takes precedence over many other feelings.
I'd also like to point out that just because you have a blog doesn't mean that you NEED to blog every single day, or even every week. Some bloggers only write a post or two a month, but those posts are great because they wait until they truly feel inspired before they sit down to write.
And as an alternative to writing long posts not very often, I'd also say that you can write very short posts super often. Many blogging platforms make it easy to type up a quick article and post it to your site from your mobile device.
It all just depends on what you want your blog to be and what you want others to take away from it.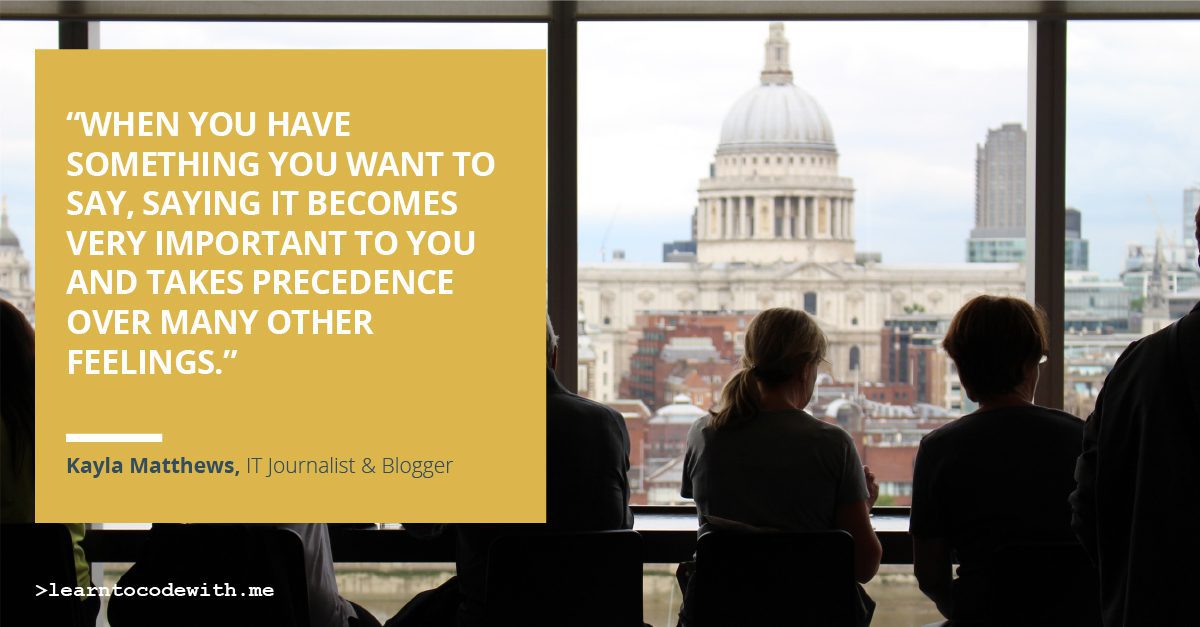 ME: When you first created Productivity Bytes (or Productivity Theory), what was the greatest challenge you faced?
KAYLA: Learning how to set up and use Google Analytics was rather challenging, but I've learned a lot about the world of online writing an even content marketing by doing it. After I could see the pages of my site that people were most interested in, I began to learn how to cater to my readers and write posts that they cared about.
ME: Looking back now, what do you wish you did differently when you first started your blog(s)?
KAYLA: Nothing. I try to be an advocate for not looking back and wishing to change the past because focusing on the current moment and the things to come are more important. I've had a really good experience blogging and finding niches where my thoughts are valued (as well as the spaces in which they're not), so I'd say it's all been a really great learning experience.
ME: What's more important when you decide to start a blog: the actual writing on the site or the site's appearance? Basically — which should you focus on first.
KAYLA: I'd have to say that the writing itself is the most important. After all, if you have a great looking site but nothing of value to say or no real voice or passion to say it with, people simply aren't going to read it.
At the same time, though, I think that the way your site looks is still something that you need to consider. Your blog visitors need to feel like you respect your site and are confident in it, and one of the best ways to build that trust is to make your blog look good. I think it's very similar to the way that you get dressed, showered, etc. to go out in public. People take you more seriously when you look clean and organized…The same goes for your blog.
ME: For a person just getting started blogging, are there any software tools/apps you could recommend that have helped you along the way?
KAYLA: I love using LastPass to keep track of my login info for the sites I write for. It saves me a ton of time and is accessible from any computer.
I'm also a big fan of Google Docs and anything that can be accessed from the Cloud. While I know there are risks to relying on such technology (i.e. it kind of sucks when the power goes out or my computer crashes), it's usually highly convenient to be able to access my work from any location.
I also use Trello to keep track of my various article ideas so when I get a great idea I can add it to my list and then move on with my day. When I'm struggling to think of a topic idea for a new post I can just go to my list and pick one out. This has probably been the most helpful in terms of making my creative process more efficient.
ME: Lastly, in what ways has blogging improved / changed your life for the better?
KAYLA: Blogging has given me the chance to continually learn more about myself and my interests. How many other hobbies and jobs can you do that let you revisit the things that you care about and reflect on them so often?
I'm always learning more about the things that are important to me (continual self-improvement, finding new ways to be efficient, being open to new technology and ideas, etc.) and it's always so rewarding to be able to share my ideas with my readers. It's also always really great to hear from readers, or even people who have just found my blog(s). I meet a lot of new people that way!
Blogging 101
Want to start blogging? Then you MUST download my ultimate guide!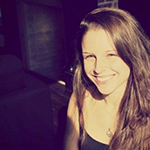 Thanks, Kayla for sharing such awesome insights on blogging. Personally — blogging has changed my life. I highly encourage everyone to start a blog that centers on their interests/ industry. You can get in touch with Kayla on Twitter or via WriterZone. Or check out her sites productivitytheory.com and productivitybytes.com.