Over 35% of websites on the internet in 2020 are built with WordPress (including Learn to Code With Me!). It's a fantastic website building platform—but figuring out web hosting is another issue.
If you're looking for the best hosting for WordPress, you might wonder whether you should stick with cheap or free WordPress hosting, or consider managed WordPress hosting to make life easier.
In this special guest post, SEO and marketing consultant Mike Khorev writes about what managed WordPress hosting is, its advantages and drawbacks, and some of the best WordPress hosting options on the market.
Take it away, Mike!
---
Table of Contents
Disclosure: I'm a proud affiliate for some of the resources mentioned in this article. If you buy a product through my links on this page, I may get a small commission for referring you. Thanks!
Managed WordPress hosting provides website owners with great reliability and performance while minimizing labor on our end. It allows us to better optimize the website's speed and ability to handle more bandwidth and traffic. Managed hosting also takes care of any updates related to the WordPress site (including plugins).
While a managed WordPress hosting service is usually more expensive than the typical hosting plan, we also get a lot of perks for those additional monthly fees. Below, we will discuss everything you need to know about a managed WordPress hosting plan, along with reviews for the five best managed WordPress hosting services available at the moment.
---
What Is Managed WordPress Hosting?
In a nutshell, a web hosting service is what allows your website to be accessible on the internet, by allocating space on their servers for your site's files. WordPress hosting, of course, is specific to WordPress-based websites.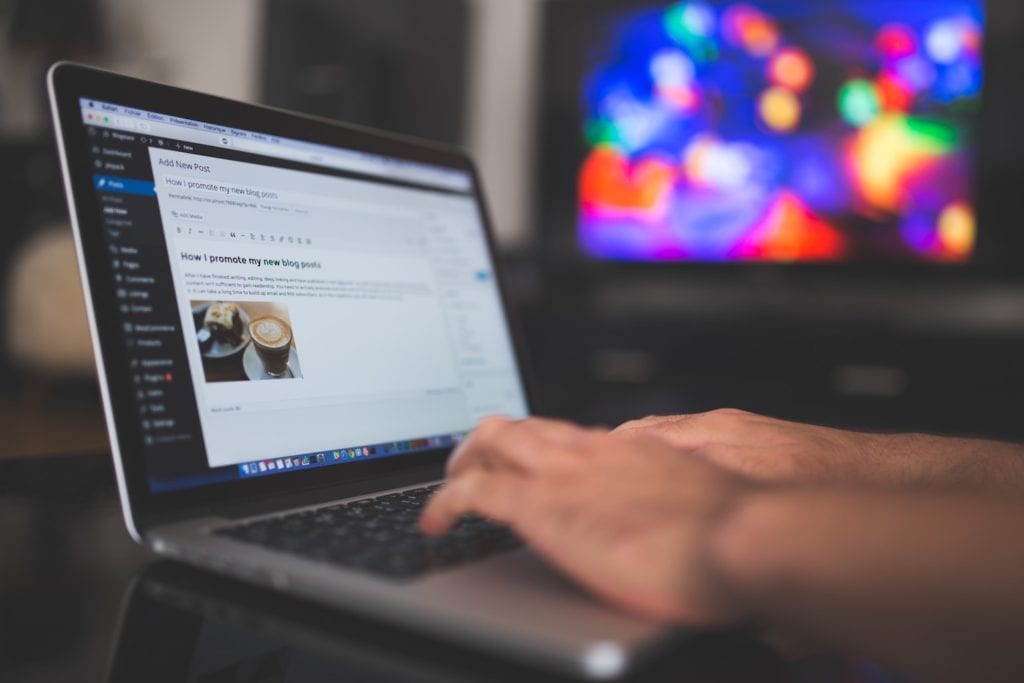 The main difference between regular web hosting and managed WordPress hosting lies in the fact that a managed service will also handle (or manage) the essential tasks related to the WordPress infrastructure, such as backups, security checks, and plugin updates.
Why is this important? Here are some key advantages of managed WordPress hosting:
Handles core WordPress and plugin updates. This can prevent hackers from taking advantages of exploits that have been fixed via security updates
Is faster and more secure compared to most shared hosting services
Typically offers dedicated customer support that includes experts on WordPress-related issues.
Automatically backs up your WordPress website and database, some services offer daily updates
However, there are also some drawbacks of managed WordPress hosting services, namely:
Some WordPress plugins might not be compatible with some managed WordPress hosting services, and using them together might slow down your website
They are expensive when compared to shared hosting services (which can be below $5/month)
You can only host WordPress-based sites and no other types of websites
Now that we've understood the basic concept of a managed WordPress hosting service and its pros and cons, I'll review my top 5 best web hosting picks for WordPress.
Head back to the table of contents »
Blogging 101
Want to start blogging? Then you MUST download my ultimate guide!
---
5 Best Managed WordPress Hosting Services
These managed services offer some of the best hosting for WordPress you can find! See a quick review of each WordPress hosting service and its features to help you decide between them.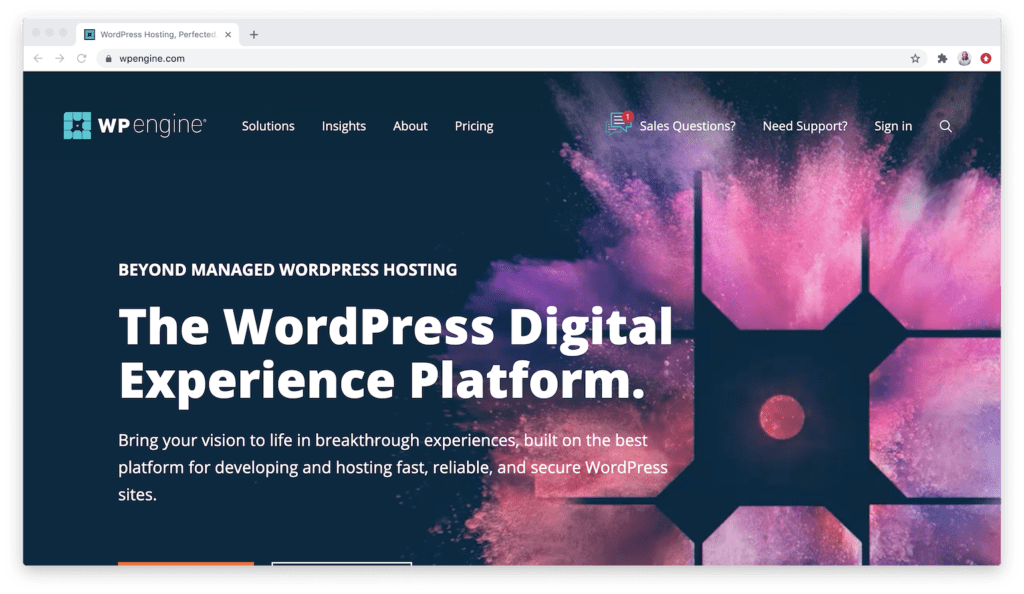 🌟 Key Features:
100% reliable uptime
441 ms loading time
Automatic daily backup with 30-day retention
Free WordPress site migrations
Pre-installed WordPress
Global Cloudflare CDN integrated
Automated SSL certificates
SSH access and Evercache integrated
Free StudioPress WordPress themes
WP Engine is one of the most popular and one of the best WordPress managed hosting options available today—not without its reasons! WP Engine starts from $25/month for its basic package and the most expensive plan is $828/month. So, it's more expensive compared to most other managed hosting services.
However, the relatively high price is justified due to WP Engine's great customer service, 100% uptime, fast loading times, and very secure servers. It also offers a one-click automated backup feature with 30-day retention, and also one-click restore process. WP Engine will also protect your website by scanning for hacking attempts and if your site does get hacked, WP Engine will fix it for free, which is an amazing value.
Other extra features you might want to consider include:
WP Engine EverCache: you won't need any caching plugins, as the WP Engine's custom-built EverCache technology can help improve your site's load speed
Staging area: a copy of your site where you can test new themes, plugins, and designs before you deploy these new updates on your live site
One-click restore: if something goes wrong with your site, you can use WP Engine's one-click restore point to restore your site
Head back to the table of contents »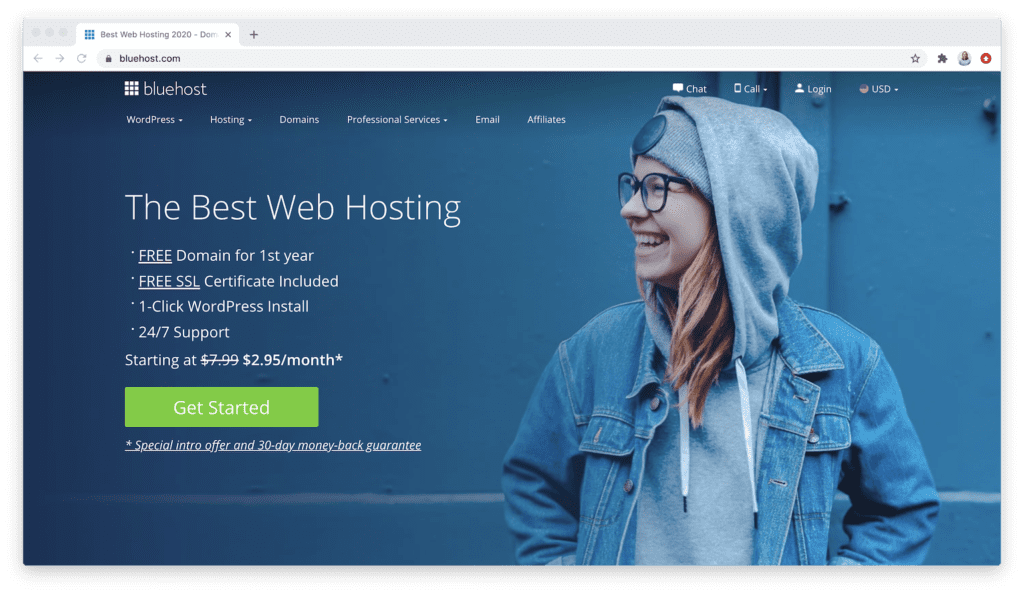 🌟 Key Features:
CodeGuard automated daily backups
Automatic WordPress installation on signup
SSH access
Global CDN integration
SSL certification
SiteLock Malware protection, file integrity checks, and hacking prevention
A free SSL certificate
Automatic updates for core WordPress, plugins, and themes
Excellent customer support
Bluehost has been hosting websites for almost two decades, having been around since 2003. It runs its own server infrastructure and is very reliable.
The Bluehost WP Pro managed hosting plan starts from $19.95/month. It's not the cheapest but is still more affordable than the WP Engine's starter plan discussed above. And with this basic plan, you'd get unlimited WordPress websites, unmetered bandwidth, unlimited email accounts, and unmetered bandwidth.
Bluehost offers a free domain for all their plans, and you'll also get free CDN, daily automated backups, SSL certification, and an enhanced cPanel where you can manage everything. On the downside, while the average uptime is pretty reliable at 99.97%, there are no uptime guarantees. Also, it's slower than WP Engine at 813 ms.
Head back to the table of contents »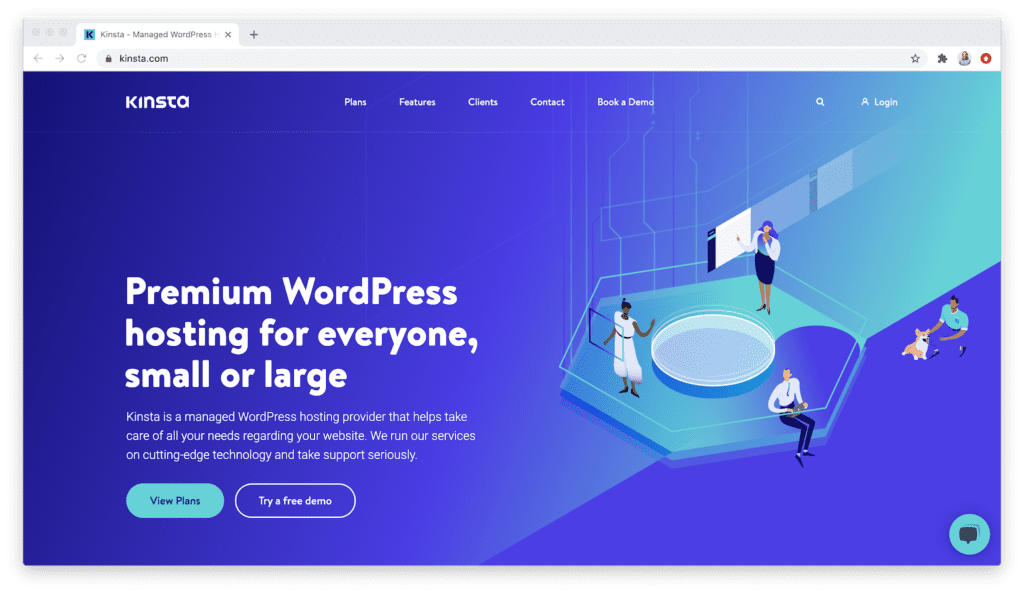 🌟 Key Features:
Very fast loading time at 398 ms
99.90% uptime guarantee, pretty reliable
Unlimited free WordPress import
Free SSL
Integrated CDN service
Easy WordPress installation during sign up
14-day retention of automatic daily backups
One-click staging environment
SSH access
Kinsta is a relatively young player in the WordPress hosting service industry but has quickly gained attention as one of the most reliable WordPress hosting services available.
Kinsta's managed WordPress hosting starts from $25/month (paid annually), where you'd get one WordPress domain, up to 20,000 monthly visitors, 50GB CDN traffic, and 10GB disk space (SSD). Kinsta is powered with Google Cloud Platform (premium tier) which also utilizes various state-of-the-art technologies for extra security and reliability.
One of Kinsta's key highlights is its custom hosting dashboard, which is very intuitive and easy to use. There's also the smart staging and backup features where Kinsta will automatically back up your site whenever you move from staging to live deployment, and so it's very easy to roll back changes when necessary.
24/7 chat support, and very solid security.
Head back to the table of contents »
Start coding now
Stop waiting and start learning! Get my 10 tips on teaching yourself how to code.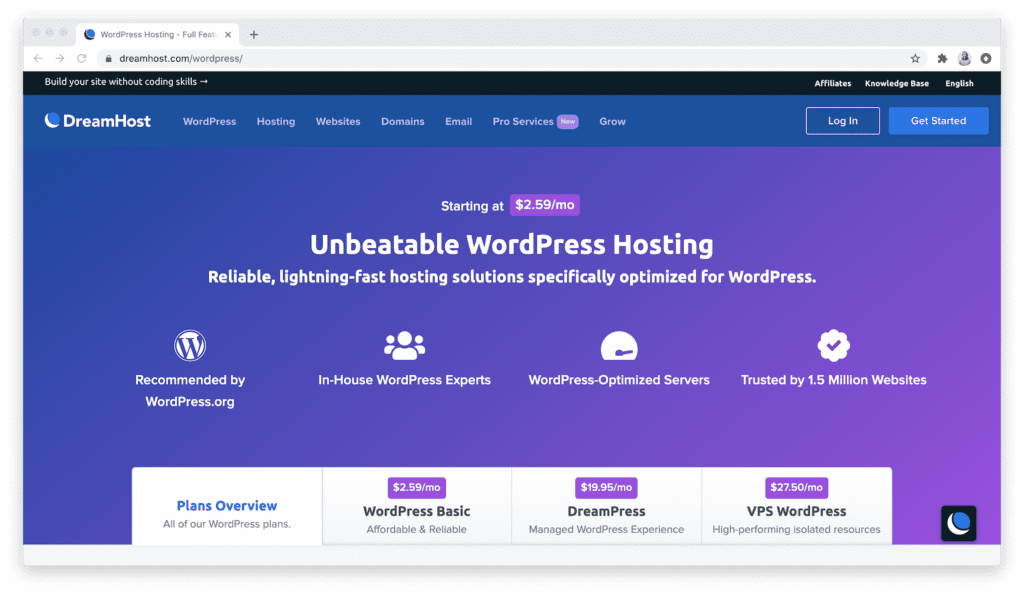 🌟 Key Features:
100% guaranteed uptime
Daily backups and additional backups on demand when needed
Free website migration for one website
One-click automated WordPress installation
One-click staging feature
Free SSL certification included
Free collection of WordPress themes
Caching and SSH access
Unlimited CDN for premium plans
DreamHost's managed WordPress plans are called DreamPress, which starts from $16.95/month for its standard DreamPress plan, which includes all of the basic functionalities along with 30GB SSD storage for automated daily backups, JetPack free, and other features like a built-in caching system and pre-installed SSL certificates.
DreamHost does guarantee 100% uptime (that is, you'll be compensated if it doesn't reach 100%, but its loading speed is slower at 1,000 ms or above. It does, however, offer 24/7 expert support and a free migration service.
Head back to the table of contents »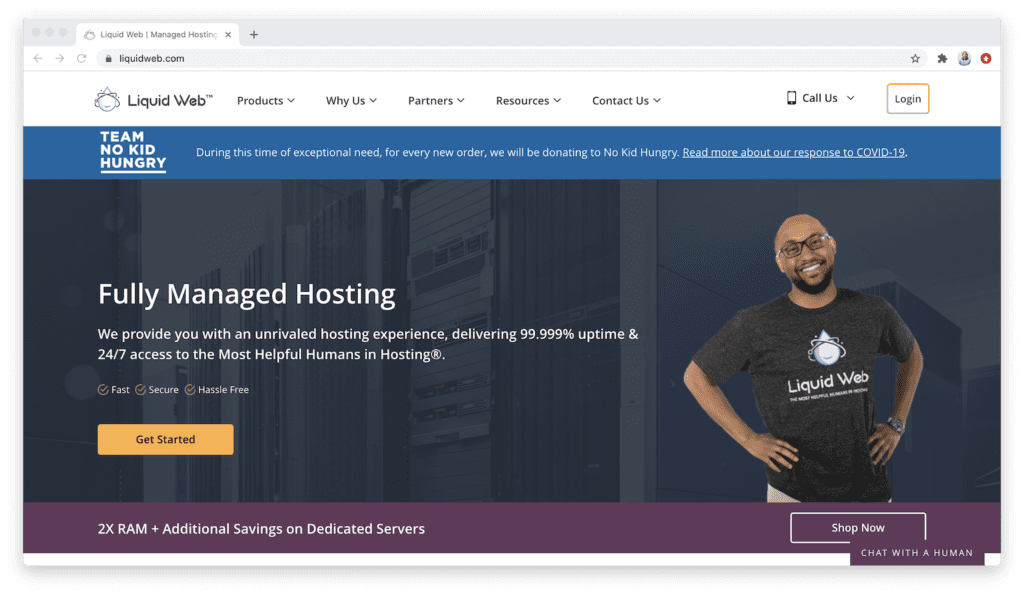 🌟 Key Features:
Fastest speed on this list, 312 ms
Reliable uptime of 99.97%
Unlimited email accounts
Free WordPress migration
Easy automated WordPress installation
30-day retention automatic daily backups
SSH and root access
Staging environment
Liquid Web offers the fastest response time in this list of 312 ms, with the managed hosting plans starting from only $15.83/month, which is pretty affordable. For this price, you'd get one WordPress site, 15GB SSD space, 2TB bandwidth space, and unlimited email accounts.
LiquidWeb also utilizes all the latest technologies like NGINX web servers, PHP7, and other features, and you'll get an image optimization plugin to improve the speed of your site. There are also some standard features like automated daily backups (30-day retention), staging environments, 24/7 support, and free migration service.
If you are looking for a fast hosting service, Liquid Web is your best bet.
Head back to the table of contents »
---
Best Managed WordPress Hosting: Our Winner
All five of the best WordPress hosting services reviewed above are of great quality, and each comes with their own advantages and disadvantages when it comes to hosting your website. So, choosing the absolute best among them is a very difficult task.
However, if I absolutely had to pick the best hosting for WordPress, my choice goes to (drumroll)…
🏆 WP Engine!
It can get pricey, but it's also the most reliable with great 100% uptime and 441 ms speed, while also offering useful extra features like the WP Engine Evercache, SSH access, and more.
Again, that's not saying the other WordPress hosting services on the list are bad! Each offers its own unique features and advantages, and you really can't go wrong with any of them. Now it's up to you to take this information and choose the best WordPress hosting for your website!
About the Author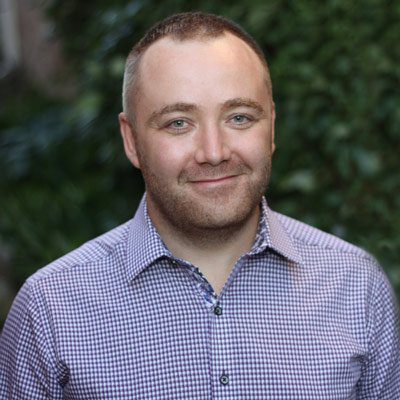 Mike Khorev is an SEO consultant and marketing consultant who helps SaaS, Software, Technology and B2B companies generate more leads and sales and grow revenue online. He also offers expert advice on marketing your company the right way through performance-based digital marketing, web design, SEO, social media, search engine marketing, and many other online practices.