If you're learning to code, it's probably just a matter of time until you'll need to get to grips with WordPress.
But there's no need to go it alone. In this sponsored post, Robert Mening from websitesetup.org shares his top nine WordPress resources that will help level up your skills in 2017, from beginner guides all the way through to advanced development.
Here's Robert!
—
Whether you're learning to code for the first time or you've been doing it a while, chances are you'll run across WordPress at one point or another. You might use WordPress to build client sites, set up your own site, or practice your coding skills by treating it as a testing platform.
If you're not sure where to start with WordPress or you're looking to improve your skills, begin by exploring my top 9 WordPress resources as we head into 2017.
Resource 1: The WordPress Codex
URL: https://codex.wordpress.org/
The Codex section of WordPress.org is described as "the online manual for WordPress and a living repository for WordPress information and documentation." This is where you can get information about WordPress straight from the official site.
This free resource takes you through getting started, then walks you through frequently asked questions and information on using plugins and themes.
The site also features a support forum, so you can always post your questions about specific WordPress issues to get answers from the community.
Resource 2: WebsiteSetup.org
URL: https://websitesetup.org/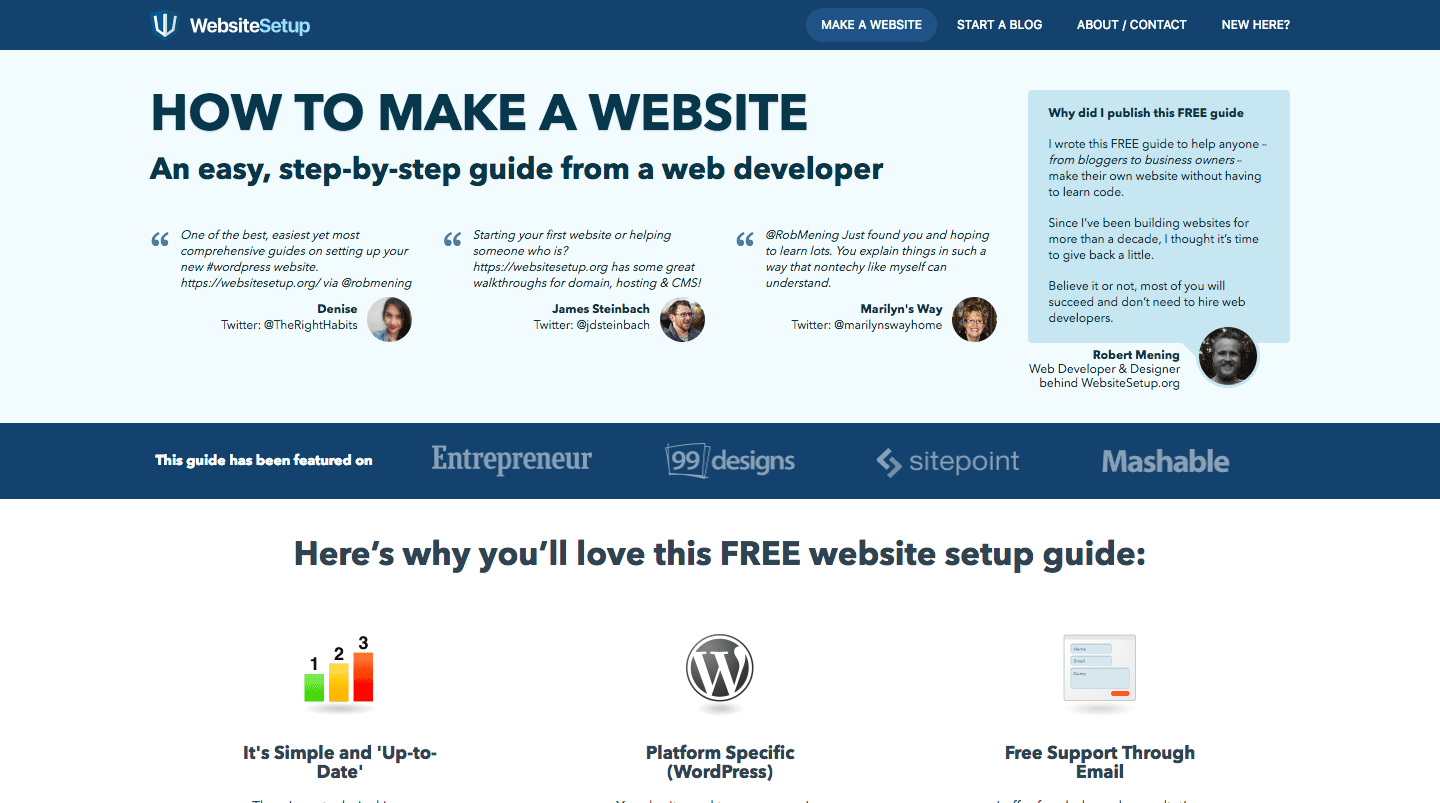 At my company, Website Setup, we offer several simple, straightforward guides on WordPress, Joomla, and Drupal, as well as a comparison guide to help you learn the difference between these content management systems.
Our WordPress guide walks you through all the steps you need to get set up for the first time. Start by exploring information on how to start a blog, and then visit our other helpful articles, such as:
Numerous other articles and resources will teach you all you need to know as a beginner on the platform. Our site is great for beginners, and best of all, the guides are completely free! Plus, I'm always here to answer your WordPress questions if you get in touch through Facebook or email.
Resource 3: HostingFacts.com
URL: https://hostingfacts.com/
Hosting Facts focuses on the hosting side of building a WordPress site. With numerous in-depth hosting reviews from experts and WordPress users, it's easy to compare hosts and find the best WordPress host based on your preferences.
Not only will Hosting Facts give you advice about which WordPress host to choose, but other helpful articles cover topics like how to speed up your WordPress site and how to secure it.
If you've had experience with web hosts before, why not help other users find a reliable host by sharing your reviews with the community?
Resource 4: ThemeForest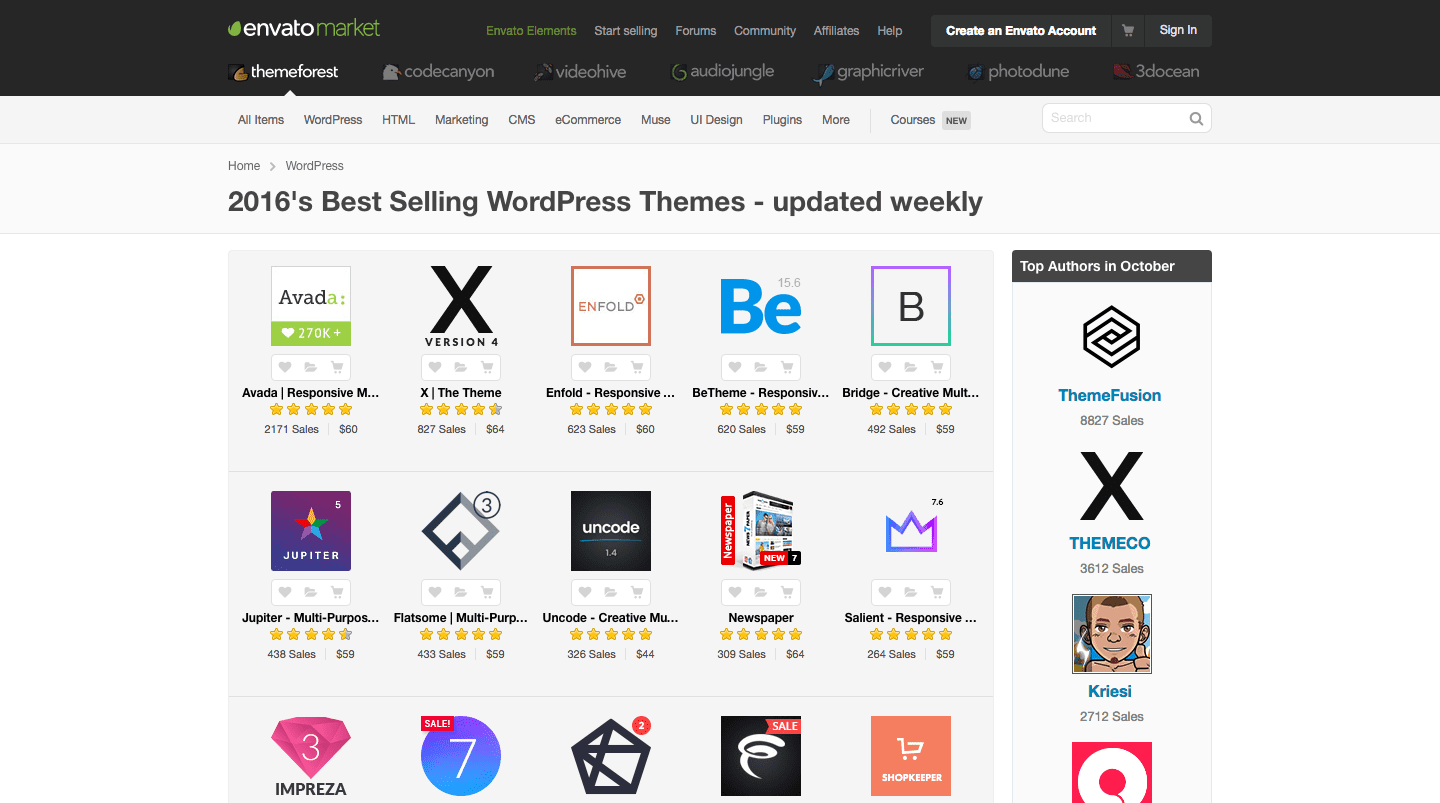 ThemeForest isn't an educational resource, but it's still valuable for WordPress users, from beginners to experts alike.
ThemeForest is a marketplace that features thousands of WordPress themes and plugins. Use the site to find premium software that will enhance your WordPress site by expanding its functions and giving it a professional appeal.
Once you've become skilled in WordPress and coding and have learned how to build your own themes and websites, you can sell your software on the site.
Resource 5: Lynda
Lynda is a premium resource offering courses in tons of business and technology topics. Among them are 88 WordPress courses with over 2,000 video tutorials.
In these lessons, you'll learn about topics like:
These courses are great for people who are serious about learning the more complicated side of WordPress. Start with your free trial and then continue for as little as $19.99 per month. As a member, you can learn much more than WordPress; you'll have access to all 5,000+ courses. With the premium membership, priced at $29.99 per month, you'll also have access to project files and quizzes so you can practice and test your skills.
Resource 6: WP Apprentice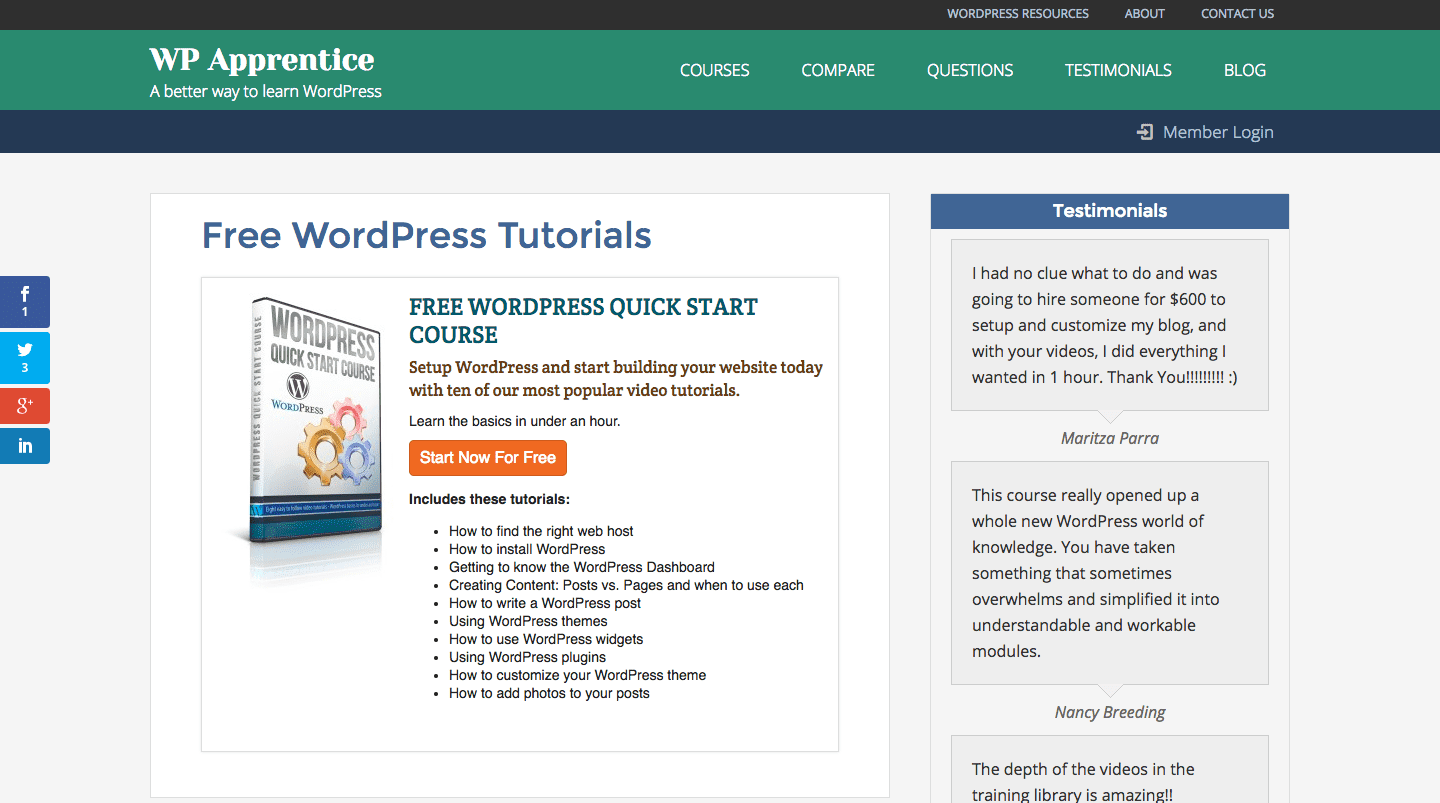 WP Apprentice focuses on teaching WordPress through video tutorials.
Start with the free WordPress quick start course if you're new to the software. This course covers lessons like:
How to install WordPress
How to write a WordPress post
How to use WordPress widgets
How to customize your WordPress theme
These lessons are so quick so you could get started with WordPress in under an hour.
If you enjoy these lessons, you can move on to more complicated WordPress tutorials by taking their WordPress Essentials Course. $79 gets you lifetime access, so you can watch the videos at your own pace, post in the members-only forum to get personalized answers, and more.
WP Apprentice lessons are best for beginners. If you're looking to learn how to develop your own WordPress themes and plugins, this is not the place for you.
However, if you've never worked with WordPress before and want to become familiar with the layout and functions as well as learn HTML and CSS basics, this premium course puts all that information in one place to get you started.
Resource 7: Tuts+
Tuts+ is an educational platform that features tons of tutorials for web design, coding, and—of course—WordPress. Hundreds of WordPress lessons will teach you things you didn't even know you needed to learn! From learning guides to 60-second video tutorials, and from courses to eBooks, there is plenty of information to explore no matter your learning style.
Tutorial examples include:
The Tuts+ lessons are good for both beginners and experienced WordPress users alike. Start your membership with a free trial and then pay just $15 per month for access to over 920 video courses.
Resource 8: ManageWP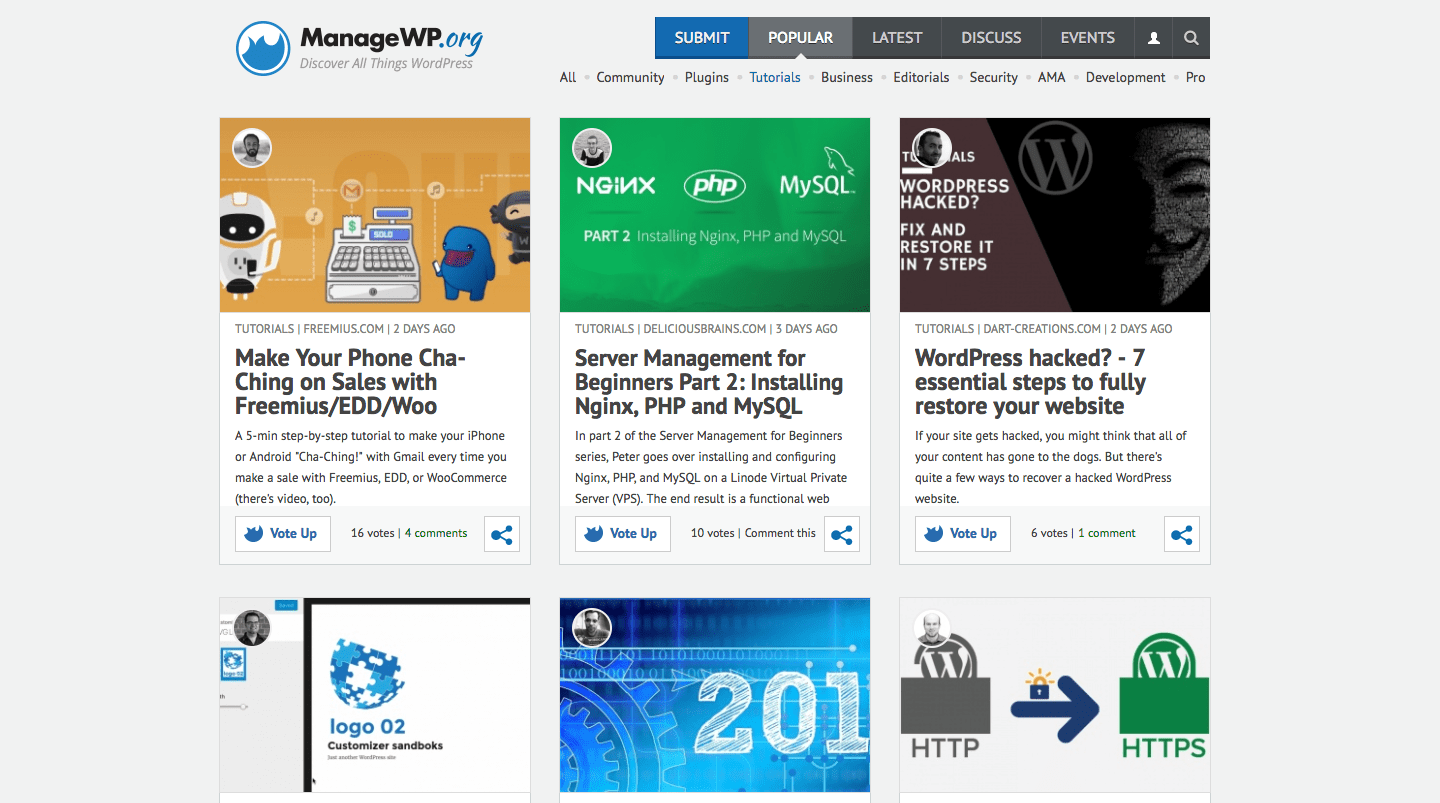 ManageWP is a popular WordPress resource that continuously adds new content. It's more than just tutorials, although there are plenty of those on the site: it's a community where you'll learn about the latest WordPress news and connect with other members. Membership is completely free.
Since this is a membership-driven community, you can also submit your own blog posts and ideas about WordPress. You'll need to unlock this feature by engaging with the community and earning points (this helps reduce spam). Users can then "upvote" your posts to encourage sharing and increase your authority as a WordPress expert.
Resource 9: WPKube
WPKube features hundreds of blog posts all about WordPress. You can start by browsing through the archives, or you can check out their beginner guides, such as:
Besides endless articles and beginner guides, WPKube offers both free and premium WordPress themes you can download straight from the site. If you like the content WPKube offers, be sure to sign up for their newsletter to get the latest on WordPress news as well as access to coupons that will slash the cost of setting up your professional WordPress site.
With so many free and premium WordPress resources out there, it's hard to know where to start. These resources should point you in the right direction, whether you're learning WordPress for the first time or looking to improve your skills and apply them in your career.
Which recommended WordPress resources will you check out first?
About The Author
Robert Mening is a full-time developer and designer, and founder of WebsiteSetup.org; he built his first website in 2004 and has been helping bloggers, small businesses and start-ups with their online presence ever since. Through WebsiteSetup.org, Robert helps people avoid spending thousands of dollars hiring web developers and designers, and instead gives them the tools to create their own website for a fraction of the cost.
—
This post has been sponsored by WebsiteSetup.org.