Varand Abrahamian is not your typical 16 year old high school student.
Whereas most 16 year olds relax, go to sleep away camp, play video games, work as a lifeguard, etc. on their summer off, Varand spent his building Learn Code With Me – an online video course platform.
(Yes, I know, his site is just one word off from mine!)
Dabbling in Code Since 9 Years Old
Varand got his first computer at nine years old. After becoming tired of Minesweeper and other games, Varand began Googling things to do on the computer when bored. That's when he discovered Visual Basic.
He explains,
"It is probably the most basic programming language you can learn, but if you learn it to it's fullest you can pretty much do anything with it, and that's what I loved about it. Anything I imagined I could make into a program and I didn't need to download anyones software, but mine. I remember in the 5th grade we would have homework to alphabetize vocabulary words, I would actually make my own software that would do it for me."
Needless to say, when Varand made it to AP Computer Science his sophomore year of high school, he was ahead of his peers with already 6 – 7 years of programming experience.
Helping Others in AP Computer Science
Varand's AP Computer Science class taught Java. And he was the only one in the class with any previous programming exposure. So while Varand would finish assignments in less than an hour, others were struggling.
"… people would offer me money to help them. I don't blame them, our teacher just said read the book. The book used outrageously complex words that even I didn't have an understanding of. Everyone said I should be the teacher."
Instead of using complicated textbook jargon, Varand would explain concepts in a way his fellow classmates could understand. Even more, Varand enjoyed teaching others.
This led to his idea of building an online platform that did just that – helping others learn to code.
Assembling the Online Learning Platform
While Varand is now a High School Junior, he began conceptualizing the site his sophomore year.
"I started working on the website during the last few weeks of my second year of school, at that time I worked pretty much all the time on the site. Even at school I would take my laptop and work on it."
Over Varand's summer vacation was when he really had the chance to buckle down and work on Learn Code With Me.
"I originally made the website from scratch, just from the HTML and CSS that I knew, but I changed the design of the website many times as I learned more and more about web design and different platforms that can help me with it."
In the end, it took Varand 4-5 months to complete Learn Code With Me. Today members can sign up, create accounts and take his Intro to Java Course.
Varand chose Java as the first course because Java is the only CS class he has taken in a formal classroom. All Varand's other computer skills have been self-taught.
Because of this, he preferred to go with Java. He feels like he knows all the important terminology for the language and can teach it most effectively.
Changing the Mindset of CS Learners
One of the most important things Varand has learned from taking his first formal CS class as well as creating his own class online is that there's a difference between throwing out definitions and actually learning.
He explains,
"When I took my Computer Science I noticed that a lot of people didn't really understand the class … the reason for that is because when you teach someone programming you can't just throw a bunch of new words at them and expect them to understand what it means."
Instead, Varand believes that if a person is to understand programming, they have to fully embrace the logic and thought processes.
"You have to change their way of thinking. When they see an automated door, they shouldn't just see an automated door; they should see the different functions and code that goes behind programming them. Once they have that type of mentality, they will be much more effective in creating a program."
Future Plans for Learn Code With Me
Looking ahead, Varand hopes to offer other courses on the site – and not just programming-based.
"Not everyone is interested in programming. Some people are interested in design (Photoshop, Illustrator, etc) and some people are interested in learning how to use programs that can help them with school (Word, Excel, PowerPoint)."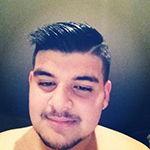 So, Varand hopes to expand Learn Code With Me beyond just coding to include these types of classes and more.
However, Varand is back in high school now for his Junior year. Meaning he only has so much time to dedicate to the site. Nevertheless, he is aiming to work on it an hour a day.
Regardless of what happens with Learn Code With Me, the future looks bright for Varand.
Having motivation as well as dedication to build such an encompassing platform is impressive for someone of any age – but especially impressive for a 16 year old.
I believe this is only the beginning for Varand. I can't wait to see how the site progresses.
What were YOU doing when you were 16? Tell me in a Tweet!