Are you a regular blogger? If yes, then you know how much work goes on behind the scenes.
I've never spoken much about the effort that goes into creating content and maintaining Learn to Code With Me (LTCWM). From staying organized to marketing the material – it's a lot!
While blogging can be tough, fortunately there are tools to help. Whether you're a current blogger or an aspiring one, the following list highlights five tools that help me run this very site day in and out. Enjoy!
Blogging 101
Want to start blogging? Then you MUST download my ultimate guide!
1. Kanban Flow
Some people use Trello. Others use Asana. I love Kanban Flow.
Kanban Flow is a project management system. It's free to use. However, there is a premium paid version. (The free version is good enough for my needs.)
I can collaborate with others on projects via Kanban Flow. But for LTCWM, I have my own special board (pictured below). In they column furthest to the right, I list all my future content ideas. Then there's my "to-do" column, "do today" column, "in progress" column and "done". (It was kind of a mess as I took this screenshot – sorry.)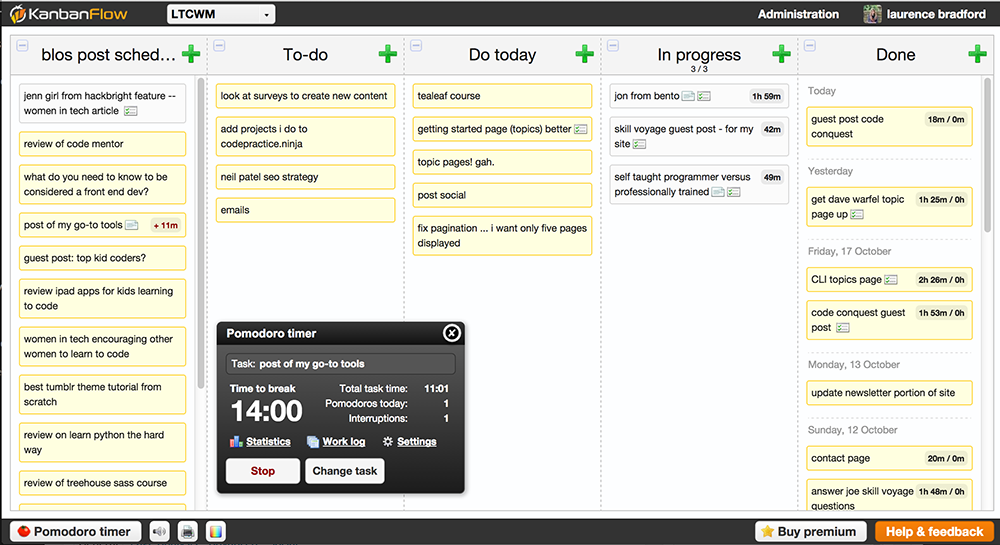 You can also add task descriptions AND subtasks. (I just hid mine to maintain some privacy.)
The thing I love most about Kanban Flow is the timer (as seen in the photo above). It'a built-in Pomodoro timer that tracks total task time, how many interruptions you have, reminds you to take a break, etc.
The main reason I stick with Kanban Flow is for the timer. I love knowing how long it takes me to complete a task.
2. Canva
When you have a blog, images are really important. Like really, really important.
Virtually every time I publish new content on the site, I make two social media cards. One for Twitter, one for Facebook. Canva makes creating social media cards a lot easier.

However, I don't always use Canva. In fact, I usually use Illustrator. But Illustrator is expensive. And has a learning curve.
On the contrary, Canva can be free (if you want it to be). Basically, Canva will charge when using certain images and graphics. However, others are free. And you can upload your very own images!
My favorite component of Canva is the predefined image sizes for Twitter, Facebook, YouTube and so forth – no need to guess or take the extra step of looking it up on Google!
3. Jing
I use Jing for screenshots. It's a free downloadable application. After taking a screenshot, you can automatically generate a URL for said screenshot to share on the web. Like this.
Also, Jing offers simple drawing effects, as displayed below.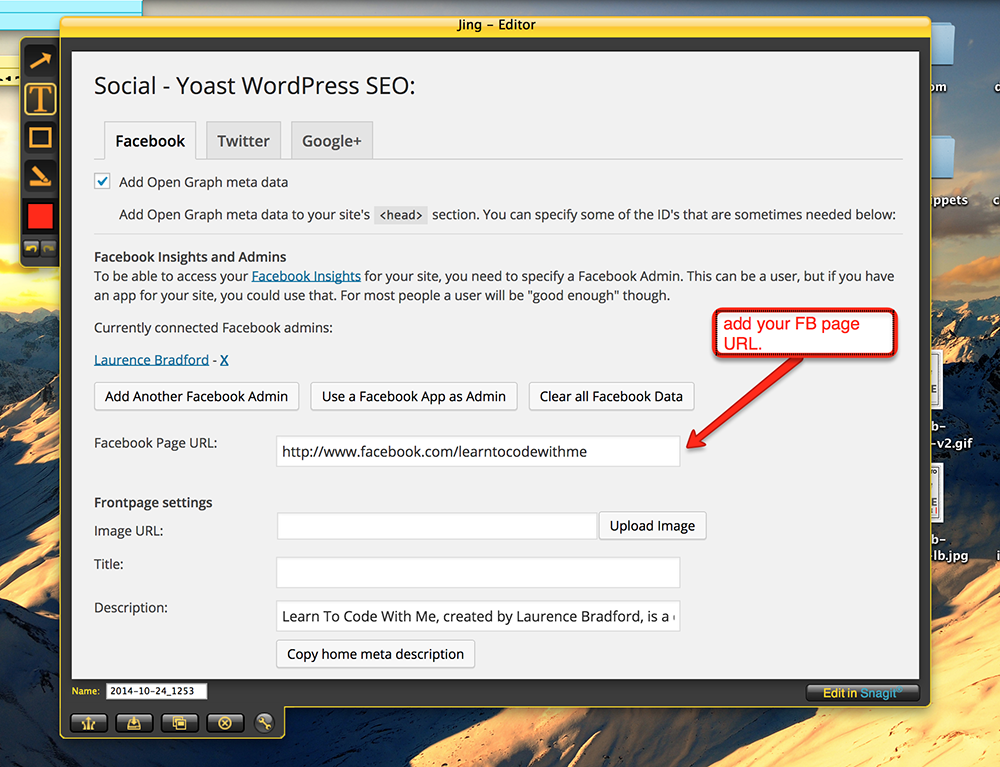 Jing also keeps a folder with all your previous screenshots – so you can go back later!
4. WordPress SEO Plugin by Yoast
If you're using WordPress, you must get this SEO plugin. It's the best.
Aside from LTCWM, I use this plugin on basically every other website I have built on WordPress. It makes setting up SEO-friendly pages and posts so easy. You can write custom SEO titles, meta descriptions, get an analysis of that pages' SEO, and social media specific settings.
Sometimes setting it up can be a bit tedious/confusing. But trust me, it's worth it. (Oh, and here's a step-by-step guide on how to set it up!)
Blogging 101
Want to start blogging? Then you MUST download my ultimate guide!
5. Buffer
Out of all the tools listed, this is the only one I pay for. (However, a free version is available too.)
Buffer is more than just a social media scheduler. Especially when you upgrade to the paid version. The paid Buffer plan …
Can schedule up to 100 posts
Can connect ten social media accounts at once (including Twitter, FB pages, profiles & groups, LinkedIn profiles & pages, app.net, and Google+ pages)
Gives content suggestions (yes, they give recommendations on what to share!)
The option to create your own feed (for instance, a Mashable feed of latest articles from their site)
Setup custom posting schedules for every day of the week
Offers analytics of how your social shares are doing (what's popular and what's not)
A Chrome Extension for easy sharing
… And the list goes on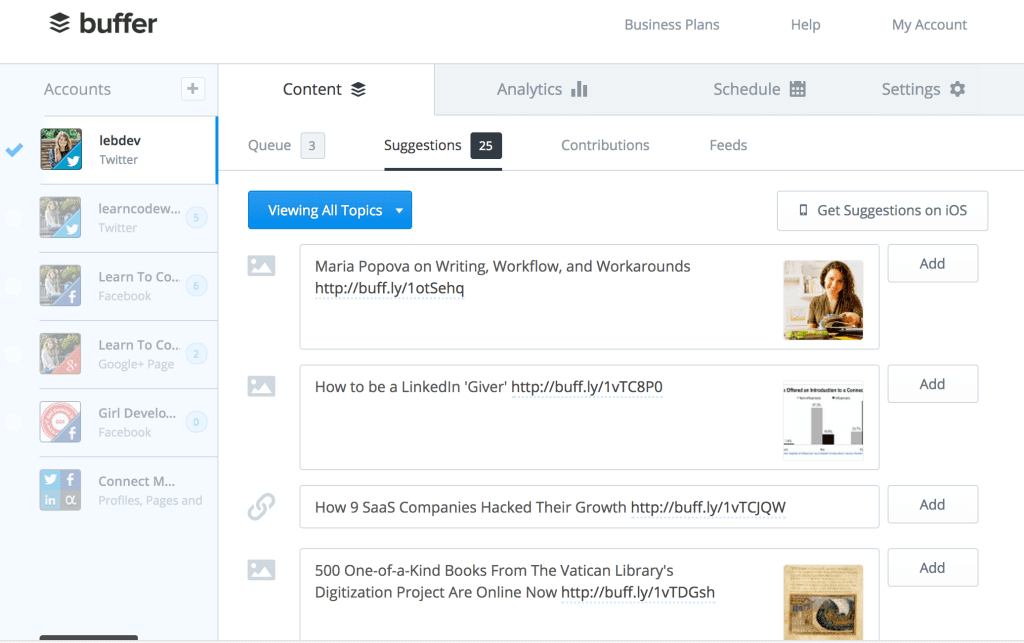 Getting the paid Buffer plan has saved me more time than I could imagine. It's worth the extra $10 bucks a month.
Do you have any favorite tools that make you a more efficient blogger?