Unlike lots of the other coding-related topics I talk about on Learn to Code With Me, Magento is not so widely-used. Truth be told, I sort of have a love/hate relationship with Magento. I love it because knowing how to use Magento has landed me several freelance and contract jobs. I hate it because, quite honestly, I don't really enjoy working on it.
Nonetheless, if you would like to start your own eCommerce site or work for a company who has an online store (like Nike), knowing Magento is very useful.
Before we continue, realize that I am not a Magento Developer. But having Magento know-how has landed me numerous side projects. Why? Because not a whole lot of people work with it! And it's a skill that is in relatively high demand.
What is Magento?
Simply put, Magento is a content management system for eCommerce sites. I assume most people understand the concept of eCommerce. Nonetheless, it's eCommerce is essentially the selling of products/services online. So companies from Amazon to Nasty Gal fall under the eCommerce umbrella.
Magento is a system that allows you to upload products and sell them online. Magento is like WordPress (WP) for eCommerce. The key difference is that WordPress focuses on blog posts, while Magento emphasizes selling goods/services online.
Like WordPress, Magento also gives one control of editing the site's outward appearance. Except unlike WordPress, which is relatively sleek and easy-to-use, Magento is bulky. As a result, figuring out how to navigate the Magento admin panel has a much steeper learning curve.
Furthermore, also unlike WP which is pretty much a one size fits all option (except for their VIP package), Magento has three different editions to choose from: Go, Community and Enterprise.
Magento Go is the cloud-based version, which is good for small businesses without their own server (using Magento Go comes with a monthly fee)
Community is Magento's free and open-source option — it is ideal for medium-sized businesses
Enterprise is Magento's solution for large eCommerce businesses, with lots of additional features and perks. It comes with a hefty $15,000 / year price tag.
The plus side of Magento is that with all versions, you are able to do lots of product and category customization –unlike some of their eCommerce competitors.
Why is Magento Useful/Important?
If you don't have an online store, there is no reason to use Magento. 
But if you do have an eCommerce site, or work for a company trying to build one, there are lots of reasons to use Magento.
Magento is a proven CMS you can trust — it's tried and tested
Lots product hierarchy, with many options and attributes
The community edition is both free and open source (community is great for small to medium businesses)
Ability to control inventory, billing tasks, customers, and so on from a single admin panel
SEO friendly – right as you add products, able to give meta titles and descriptions (unlike WordPress, for instance, where you need to download the Yoast plugin)
For the above reasons and others, Magento is one of the most popular eCommerce platforms. In 2014, Magento has 26% of the marketshare. A faraway second is WooCommerce with a mere 9.7% of marketshare.
Again, when it comes to eCommerce, Magento is basically where it's at.
Who should learn Magento?
Guess what? The first time I worked on a Magento site, I had no idea how to code. Seriously!
The short story: A few years ago my boyfriend was building a Magento site and desperately needed help uploading products. Me, being desperate for money at the time, agreed to help input some products onto the site. Since then, I've worked on a few other websites built on Magento. And, as my coding skills have progressed, so have my Magento tasks. (Fortunately, I am no longer just uploading products! Simply inputting product info gets really boring … )
The point is to just get started with Magento, you don't have to be a person with tons of technical experience. If you've worked with WordPress, Shopify or any other CMS — it is relatively comparable.
Below is a quick snapshot of what the Magento Admin panel looks like. Not too sexy, but it's understandable.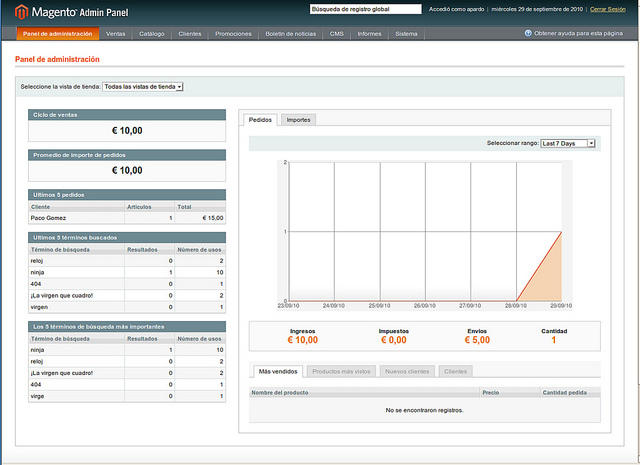 Knowing how to use Magento, even if it's just basic product entry, is truly a great skill for someone looking for extra work. It's a pretty employable skill. While lots of people know HTML, CSS and WordPress, not so many have worked with Magento. So there is less competition.
For example, I've been contacted by recruiters on LinkedIn looking for a Magento developer for large companies they work with — even though I'm not a full-fledged Magento dev!
Example Magento Sites
Here are a few popular sites that use Magento:
See a full list here of popular stores using Magento as their eCommerce solution.
Places to Start Learning Magento
When it comes to Magento, there are relatively few options in comparison to the plethora of resources on other platforms like WP.
But here are a few good places to get started. Some of which I have used personally, others I have not.
In the end, Magento is best for those looking for an eCommerce solution, whether their business is small or enterprise.
If you have a friend who wants to build an online store, but doesn't know how, make sure to send them this article.
Image of Magento Panel via Flickr.