QUESTION
"I've been getting emails from Simplilearn, and have been wondering about quality of their online courses in general. Can you help?"
Answer
Hey there,
I have never heard of Simplilearn previously. So I was excited to put my research skills into use. And as I found it, research on Simplilearn took me down an interesting path.
What is Simplilearn?
For those who don't know, Simplilearn really specialized in professional technical and project management certifications.
Taken from one of their Yelp pages:
"Simplilearn specializes in professional certification training with 200+ courses across Project Management, IT Service Management, Microsoft Certification, Quality Management, Financial Management and more. The company is accredited and approved worldwide by over 20+ leading global bodies."
So, Simplilearn has both in-person centers as well as online courses.
They have reviews on their website. But, of course, all of these reviews they cherry-picked. Naturally, they are all four or five stars.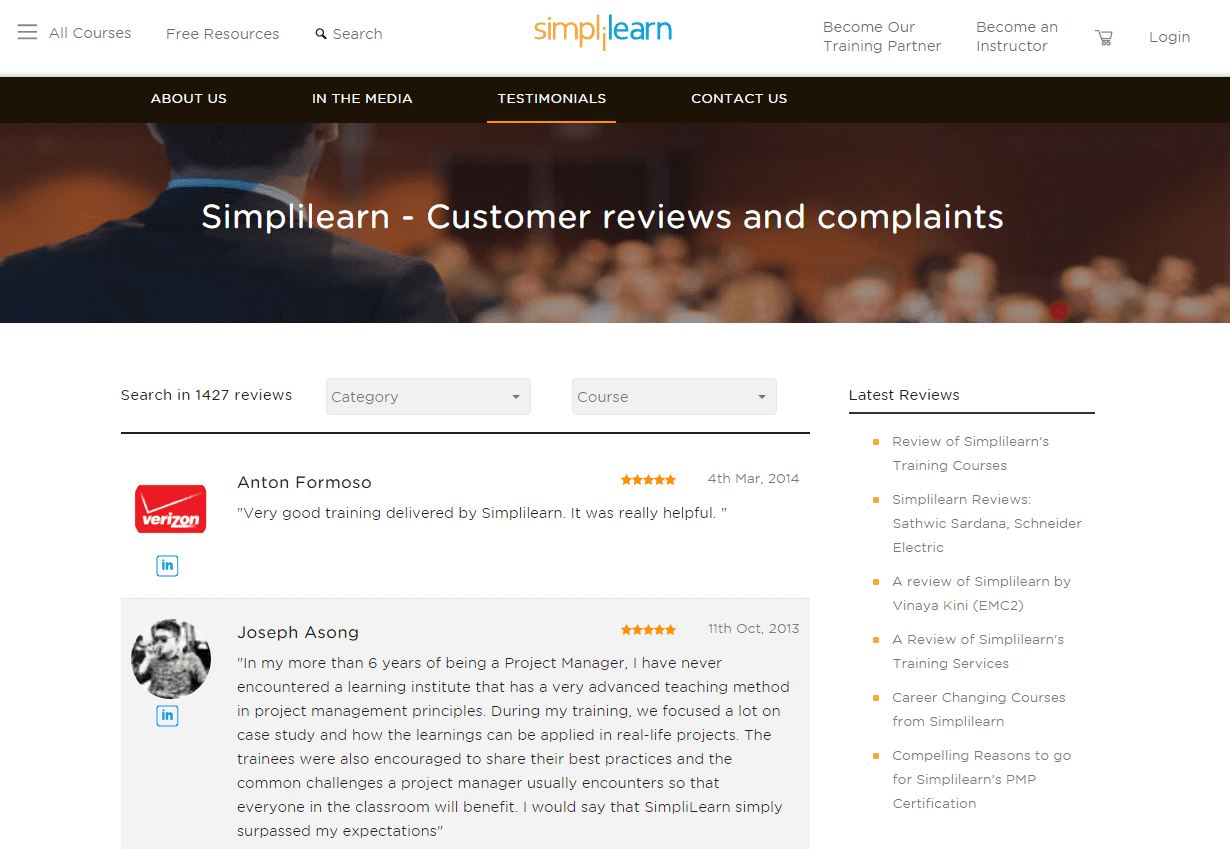 For some unbiased information, let's see what other online forums say.
What Quora says about Simplilearn
Quora is one of my favorite places to see what people think about online courses. It's usually one of the first places I look.
And according to the Quora reviews, Simplilearn is good. Almost too good. If you look closer at the people who left Quora reviews on Simplilearn, you'll see that all of the people have no other Quora activity. As in, this is the only thing these people have posted on Quora. A Simplilearn review. Really?
Which makes me wonder how real these reviews are. Let's keep looking.
What Yelp says about Simplilearn
Because Simplilearn has in-person centers, there are also Yelp reviews. However, most of Simplilearn's Yelp pages are blank, except for their branch in Houston, Texas.
I think we can all agree that Yelp reviews can be pretty dramatic. Plus, I think people are more likely to share their negative experience rather than a positive good one.
However, out of the four reviews on the Houston Simplilearn Yelp page, all were all one-star.
A common thread among these reviews was "spam". In fact, two of the four reviewers never even took a certification course with Simplilearn. However, they still wrote a review because of the spam (emails, phone calls) they received.
I have to be honest: this one, about the restraining order, made me chuckle.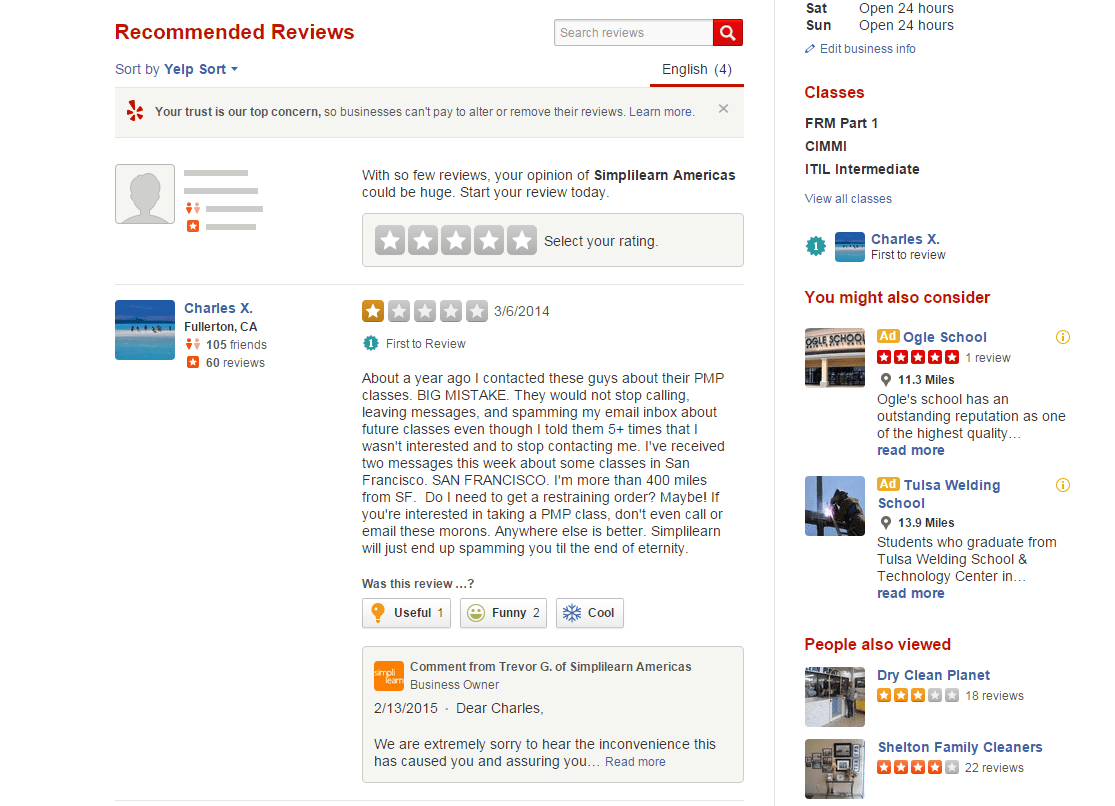 What Newbie Coder Warehouse Said About Simplilearn
Finally, I asked my Facebook group if anyone had experience with Simplilearn.
No one had… but one person pointed out Web of Trust. And that Simplilearn's score was unsatisfactory, or orange.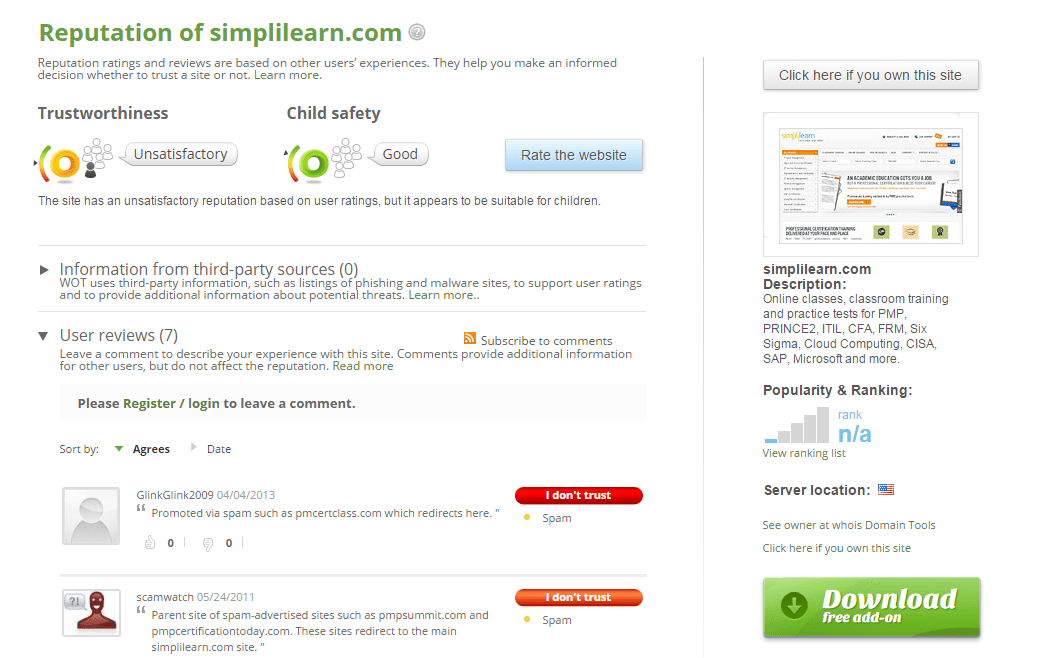 My final consensus: something seems off with Simplilearn
As you can see, a lot of the reviews I am finding are not good. Very bad, in fact.
Here's what I think:
It's a for-profit company. I would imagine upper level people at the company put a lot of emphasis on sales—not on the quality of the experience. (Which makes sense as to why so many people said they got "spammed" by Simplilearn.)
With so many online course options out there, I'd pick an alternative platform with higher reviews and better customer satisfaction.
I hope this helps!
Laurence